Lukáš "Kratos" Kratochvíl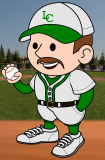 #34

- Lukáš Kratochvíl [ID #291214] Missouri City Czech baseball academy 1B
Home Town: Jihlava, Czech Republic School: none Drafted: 2051, Round #4 by Georgetown Yankees
Veteran (8 years with club)
Bats (R) Throws (R) Positions: 1B of
Attributes
Offense [Form: Hot]
Defense
Age: 30
Hitting:
13
Fielding:
16
Height: 6' 0"
Bat Control:
17
Range:
7
Weight: 205
Plate Discipline:
13
Arm:
7
Experience: 8 years
Power:
13
Skill Index:
95
Salary: $0.65M
Speed:
9
Potential:
12
Scouting Report: He can be a very good hitter. He can develop into an above average slugger. He can be outstanding in the field. He is probably too old to improve much more.
| Year | Team | LL | | G | AB | R | H | 2B | 3B | HR | RBI | BB | HBP | K | SB | CS | SH | FS | SF | AVE | OBP | SLG | OPS | VLHP | VRHP | Home | Away | RISP | GB/FB | GIDP | POTG | Age | SI | Salary |
| --- | --- | --- | --- | --- | --- | --- | --- | --- | --- | --- | --- | --- | --- | --- | --- | --- | --- | --- | --- | --- | --- | --- | --- | --- | --- | --- | --- | --- | --- | --- | --- | --- | --- | --- |
| 2052 | GTW | 6 | | 0 | 0 | 0 | 0 | 0 | 0 | 0 | 0 | 0 | 0 | 0 | 0 | 0 | 0 | 0 | 0 | .000 | .000 | .000 | .000 | .000 | .000 | .000 | .000 | .000 | - | 0 | 0 | 20 | 66 | $0.20M |
| 2053 | GTW | 6 | | 0 | 0 | 0 | 0 | 0 | 0 | 0 | 0 | 0 | 0 | 0 | 0 | 0 | 0 | 0 | 0 | .000 | .000 | .000 | .000 | .000 | .000 | .000 | .000 | .000 | - | 0 | 0 | 21 | 73 | $0.20M |
| 2054 | FLO | 3 | | 0 | 0 | 0 | 0 | 0 | 0 | 0 | 0 | 0 | 0 | 0 | 0 | 0 | 0 | 0 | 0 | .000 | .000 | .000 | .000 | .000 | .000 | .000 | .000 | .000 | - | 0 | 0 | 22 | 80 | $0.20M |
| 2054 | OAK | 6 | | 127 | 502 | 38 | 94 | 15 | 2 | 3 | 47 | 33 | 4 | 82 | 0 | 0 | 3 | 0 | 2 | .187 | .242 | .243 | .485 | .187 | .188 | .208 | .167 | .224 | 1.85 | 9 | 2 | 22 | 82 | $0.20M |
| 2055 | OAK | 6 | | 154 | 610 | 82 | 163 | 44 | 1 | 14 | 82 | 55 | 3 | 78 | 1 | 0 | 5 | 1 | 4 | .267 | .329 | .411 | .740 | .309 | .252 | .281 | .254 | .269 | 1.56 | 15 | 3 | 23 | 87 | $0.50M |
| 2056 | MSC | 6 | | 159 | 640 | 77 | 158 | 50 | 3 | 8 | 57 | 60 | 3 | 67 | 0 | 0 | 1 | 0 | 3 | .247 | .313 | .372 | .685 | .263 | .240 | .265 | .227 | .284 | 1.66 | 6 | 1 | 24 | 94 | $0.60M |
| 2057 | MSC | 6 | | 155 | 632 | 74 | 154 | 45 | 2 | 13 | 55 | 52 | 3 | 70 | 1 | 0 | 2 | 0 | 1 | .244 | .304 | .383 | .687 | .248 | .242 | .254 | .233 | .292 | 1.58 | 9 | 1 | 25 | 96 | $0.90M |
| 2058 | MSC | 6 | | 157 | 441 | 51 | 113 | 34 | 3 | 6 | 46 | 43 | 1 | 37 | 0 | 0 | 2 | 1 | 1 | .256 | .323 | .388 | .711 | .261 | .254 | .256 | .257 | .282 | 2.03 | 12 | 1 | 26 | 96 | $0.75M |
| 2059 | MSC | 6 | | 154 | 415 | 57 | 114 | 26 | 0 | 8 | 62 | 49 | 4 | 38 | 1 | 0 | 0 | 0 | 2 | .275 | .355 | .395 | .750 | .296 | .264 | .298 | .251 | .330 | 2.13 | 12 | 1 | 27 | 96 | $0.65M |
| 2060 | MSC | 6 | | 101 | 273 | 29 | 84 | 20 | 0 | 5 | 34 | 24 | 4 | 26 | 0 | 0 | 0 | 0 | 1 | .308 | .371 | .436 | .807 | .313 | .299 | .342 | .268 | .301 | 1.65 | 4 | 3 | 28 | 96 | $0.70M |
| 2061 | MSC | 6 | | 129 | 334 | 59 | 89 | 20 | 0 | 8 | 55 | 45 | 1 | 29 | 1 | 0 | 0 | 0 | 2 | .266 | .353 | .398 | .752 | .222 | .358 | .255 | .278 | .267 | 1.67 | 10 | 2 | 29 | 95 | $0.65M |
| 2062 | MSC | 6 | | 25 | 57 | 11 | 19 | 3 | 1 | 1 | 9 | 5 | 1 | 4 | 0 | 0 | 0 | 0 | 0 | .333 | .397 | .474 | .871 | .279 | .500 | .313 | .360 | .389 | 2.50 | 2 | 0 | 30 | 95 | $0.65M |
| Total | | | | 1161 | 3904 | 478 | 988 | 257 | 12 | 66 | 447 | 366 | 24 | 431 | 4 | 0 | 13 | 2 | 16 | .253 | .320 | .376 | .695 | .263 | .248 | .267 | .239 | .280 | 1.74 | 79 | 14 | - | - | - |
| Year | Team | | P | % | C | % | 1B | % | 2B | % | 3B | % | SS | % | OF | % | LF | % | CF | % | RF | % | DH | CS% | PB | DP | OA | E | FP |
| --- | --- | --- | --- | --- | --- | --- | --- | --- | --- | --- | --- | --- | --- | --- | --- | --- | --- | --- | --- | --- | --- | --- | --- | --- | --- | --- | --- | --- | --- |
| 2052 | GTW | | 0 | .000 | 0 | .000 | 0 | .000 | 0 | .000 | 0 | .000 | 0 | .000 | 0 | .000 | 0 | .000 | 0 | .000 | 0 | .000 | 0 | 0% | 0 | 0 | 0 | 0 | .000 |
| 2053 | GTW | | 0 | .000 | 0 | .000 | 0 | .000 | 0 | .000 | 0 | .000 | 0 | .000 | 0 | .000 | 0 | .000 | 0 | .000 | 0 | .000 | 0 | 0% | 0 | 0 | 0 | 0 | .000 |
| 2054 | FLO | | 0 | .000 | 0 | .000 | 0 | .000 | 0 | .000 | 0 | .000 | 0 | .000 | 0 | .000 | 0 | .000 | 0 | .000 | 0 | .000 | 0 | 0% | 0 | 0 | 0 | 0 | .000 |
| 2054 | OAK | | 0 | .000 | 0 | .000 | 127 | .984 | 0 | .000 | 0 | .000 | 0 | .000 | 0 | .000 | 0 | .000 | 0 | .000 | 0 | .000 | 0 | 0% | 0 | 61 | 0 | 18 | .984 |
| 2055 | OAK | | 0 | .000 | 0 | .000 | 154 | .991 | 0 | .000 | 0 | .000 | 0 | .000 | 0 | .000 | 0 | .000 | 0 | .000 | 0 | .000 | 0 | 0% | 0 | 111 | 0 | 12 | .991 |
| 2056 | MSC | | 0 | .000 | 0 | .000 | 159 | .995 | 0 | .000 | 0 | .000 | 0 | .000 | 0 | .000 | 0 | .000 | 0 | .000 | 0 | .000 | 0 | 0% | 0 | 76 | 0 | 7 | .995 |
| 2057 | MSC | | 0 | .000 | 0 | .000 | 155 | .993 | 0 | .000 | 0 | .000 | 0 | .000 | 0 | .000 | 0 | .000 | 0 | .000 | 0 | .000 | 0 | 0% | 0 | 86 | 0 | 9 | .993 |
| 2058 | MSC | | 0 | .000 | 0 | .000 | 88 | .990 | 0 | .000 | 0 | .000 | 0 | .000 | 40 | 1.000 | 38 | 1.000 | 0 | .000 | 2 | 1.000 | 29 | 0% | 0 | 21 | 0 | 4 | .992 |
| 2059 | MSC | | 0 | .000 | 0 | .000 | 55 | .995 | 0 | .000 | 1 | 1.000 | 0 | .000 | 1 | .000 | 0 | .000 | 1 | .000 | 0 | .000 | 97 | 0% | 0 | 26 | 0 | 2 | .995 |
| 2060 | MSC | | 0 | .000 | 0 | .000 | 68 | .998 | 0 | .000 | 0 | .000 | 0 | .000 | 6 | 1.000 | 0 | .000 | 0 | .000 | 6 | 1.000 | 27 | 0% | 0 | 27 | 0 | 1 | .998 |
| 2061 | MSC | | 0 | .000 | 1 | 1.000 | 29 | 1.000 | 0 | .000 | 1 | 1.000 | 0 | .000 | 20 | 1.000 | 0 | .000 | 0 | .000 | 20 | 1.000 | 78 | 0% | 0 | 7 | 1 | 0 | 1.000 |
| 2062 | MSC | | 0 | .000 | 0 | .000 | 3 | 1.000 | 0 | .000 | 0 | .000 | 0 | .000 | 8 | 1.000 | 0 | .000 | 0 | .000 | 8 | 1.000 | 14 | 0% | 0 | 1 | 1 | 0 | 1.000 |
| Total | | | 0 | .000 | 1 | 1.000 | 838 | .992 | 0 | .000 | 2 | 1.000 | 0 | .000 | 75 | 1.000 | 38 | 1.000 | 1 | .000 | 36 | 1.000 | 245 | 0% | 0 | 416 | 2 | 53 | .992 |
| Date | Game Date | Team From | Team To | Age | Transaction Type |
| --- | --- | --- | --- | --- | --- |
| 04/16/21 | January 13th 2050 | - | Draft Prospect Pool | 18 | Created as Draft Prospect |
| 08/10/21 | June 12th 2051 | Draft Prospect Pool | Georgetown Yankees | 19 | International Signee |
| 01/13/22 | June 20th 2053 | Georgetown Yankees | Free Agent Pool | 21 | Released |
| 01/18/22 | July 9th 2053 | Waivers | Florence Violets | 21 | Waiver Claim |
| 03/18/22 | May 4th 2054 | Florence Violets | Free Agent Pool | 22 | Released |
| 03/22/22 | May 17th 2054 | Waivers | Oakland Nationals | 22 | Waiver Claim |

Statistics/Graph Selection: