Georgetown Yankees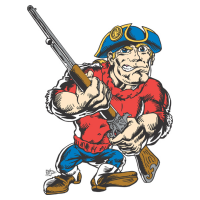 Team: Georgetown Yankees
[ID #141]

Location: Georgetown, DC (Mid-Atlantic)
Owner: Qwantum

[since October 31st 2015 | last seen August 09th 2022]
Rank: #753 - Rating: 33.32
Fan Mood: 50.07
Prestige: 7
Color: Navy
Team Notes:
• Mar 17 2056:
Bernie Dewey
was signed as a free agent.
• Mar 17 2056:
Roberto Gonzalez
was signed as a free agent.
• Mar 04 2056:
Noboru Fujimoto
was signed as a free agent.
• Mar 02 2056:
Micheal Willoughby
was signed as a free agent.
• Mar 02 2056:
Omar Feliciano
was signed as a free agent.
• Feb 08 2056:
Luis Villa
was signed as a free agent.
• Jan 13 2056:
Russell Wharton
was hired as the new coach.
• Jan 13 2056: Coach
Lance Bradley
was let go.
• Jan 13 2056:
Johnnie Waterman
was hired as the new manager.
• Jan 13 2056:
Angel Cazares
was fired as manager.
League Record:
Wins: 0 Losses: 4 Pct: .000 Last10: 0-4 Streak: L4
Ave: 2.3 - 6.3 RS: 9 RA: 25 DIFF: -16 Power Index: 97.9
Cup:
Group 112
[0 | Still Alive]
Press Releases:
Nov 04 2037:
Georgetown Yankees Win League Championship!
-
by Qwantum on October 4th, 2018
It was a long time coming! Georgetown Yankees: 2037 league champions. Thanks to an amazing season by this team of relative newcomers tempered by perennial All-Star veteran and team captain Brett Hughes, Yankee fans have had good reason to rejoice.
Rumored to be retiring after this season, it must be an invigorating feeling for the future hall-of-famer to cap off an amazing career with a championship ring.
"It's a fantastic feeling! I am so grateful to have been a part of this amazing bunch of swell guys.", Hughes stated in the locker room amidst the jovial frenzy of his celebrating teammates.
It was no easy task having to face the dominant New Orleans Knights who were unstoppable and finished their season with the best record in the league.
The Yankee front office made tough, but wise, decisions during the off season which paid dividends later. Having been in a financial black hole for about 4 years, owner Qwantum was forced to release several key veteran players, some who were multiple All-Stars themselves. In their place were young players brought up from the Georgetown farm system as well as some key free agent signings.
The pitching has never been better with both starting lineup and bullpen performing solidly all season.
"Now we turn our eyes toward the the next season in a new league where the competition will be stiff. We need to show that this was not a fluke and that we will be able to match up well versus this new batch of division rivals.", Qwantum was heard declaring during the post-game scrum.
Congratulations, Georgetown Yankees!!
Oct 27 2033:
Strong 2nd-Place Finish for Yanks!
-
by Qwantum on October 3rd, 2017
For their final 10 games of the season - at home, no less - the Georgetown Yankees mustered one last surge to an 8-2 finish resulting in taking 2nd place from the Owasso Tigers. This has got to be gut-wrenching for division rivals Owasso being that they were only 3 games behind the 1st-place Tampa Bay Tornados.
During this 10-game homestand, The Georgetown Stadium crowd was treated to some good, fun baseball. Leading the charge were All-Star players Brett Hughes (RF), Neil Mathews (C) and new acquisition Atsushi Tsuda (LF) finishing their season with impressive stats. All three each hit well over .300 with impressive slugging percentages.
The pitching finally came around as well. After the dismal 2032 season which saw the Yankees relegated to League VI, this comes as good consolation and hope for a better future moving forward.
Aug 27 2032:
Dismal beginning in League 5 calls for changes
-
by Qwantum on July 2nd, 2017
After a superb 2031 season, this 2032 season has not been kind to the Georgetown Yankees. Debuting in League V this year, the Yanks' pitching staff have not come to grips with the stiffer competition in this division. The result has been a stay in dead last for practically the entire season.
All evidence points to a return to League VI via relegation. Certainly an unfortunate turn of events for Georgetown. Changes are needed.
Patrick Valentini had been a breath of fresh air for the team ever since he took over as manager back in 2029 steering them to 3 consecutive .500+ seasons winning the East division last season. However, there had been reports of tensions between Valentini and the bullpen with claims of his coaching style not being particularly "pitcher friendly". Apparently the front office has seen enough proof through how horrible the pitching has become. Patrick Valentini has been given his walking papers and has now been replaced by Rafael Alcaraz who has a reputation of being great with pitchers. The yankees are hoping to bounce back and return to League V in a year's time.
Time will tell how things will turn out.
Nov 04 2031:
Great season for the Yanks!! Congrats to the Wranglers!
-
by Qwantum on May 5th, 2017
After an amazing regular season, the Georgetown Yankees falter to the Amarillo Wranglers. The Yanks can keep their heads up high with the knowledge that they put up a fight to the bitter end. Especially since the Wranglers basically had the Yanks' number during the regular season.
Overall, it has been a wondrous season for Yankees players. Brett Hughes has proven time and again that he is an all-star. Veteran all-star second baseman Lorenzo Padilla continues to shine with his power numbers. Minoru "Mito" Ito's debut season with the team became his breakout season leading the league with 47 homers. Corrales, Mathews and Olsen finished the season strongly.
The pitching is what really stood out this season. Stanley Higgins has solidified his status as the ace of the starting lineup. Fabián Carranza has been consistent as well.
Several other new additions and minor league call-ups performed outstandingly. This has caused quite the dilemma for the Yankees front office since changes to the lineup still need to be made.
Unfortunately, the rumors of a few releases have returned to the fold. According to our sources, more developments and an announcement will come very soon.
May 10 2026:
Georgetown Yanks With Worst Pitching In Division
-
by Qwantum on February 21st, 2016
It seems to have come as a shock to many Georgetown fans. After a promising 2024 season which saw the Yankees finishing in 2nd place in the East, the team now finds itself in 2026 presently 2nd...to last place! This season team is betrayed by the worst pitching rotation it has ever possessed in its history with a division worst
5.99 ERA
. But that seems to have been the recurring narrative for Georgetown in recent years: poor pitching.
The front office is obviously none too pleased. The team owner Qwantum shared some candid words with the press: "Our pitching is horrible. Plain and simple. Changes have to be made and some pitchers need to go but we cannot break the bank with desperate free agent acquisitions nor do we want to bring up our prospects prematurely."
That last point is telling. The previous season (2025) saw the Yankees make high profile free agent signings resulting in a record 7 all-star entries. But that was all based on offensive players. The pitching was not on par with the hitting and proved unreliable in holding leads. Another key issue was the inflated costs in maintaining such a lineup of star-caliber players. Millions of dollars in the hole, the front office was forced with releasing several of these players due to their salaries increasing after impressive performances of the previous season.
This move benefits some of the younger players brought up in the Georgetown system who are finally showing what they are made of. Players like Gene Larsen (3B) and Daniel Callahan (RF) are proving to be revelations this season. They are buffered by some of the veterans who are stars in their own right, such as Clyde Ventura (DH) and Lorenzo Padilla (2B).
Two all-star players who survived the off-season purging are Clyde Sykes (CF) and Charles Sharp (LF). Both players are in their early 30's and are still productive during this present season. Sykes is the highest paid player on the roster with $3.90M so one can speculate that he will be under scrutiny all season since his salary has the most impact on the Yankees' financial freedom.
With their top starting pitcher prospect Ramiro Herrera still being nurtured in AAA, only time will tell when the bullpen will come into it its own.