Deshawn "Ring a Ding" Griffey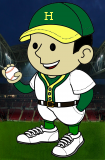 Deshawn Griffey [ID #191987] Waivers OF
Home Town: North Las Vegas, Nevada College: University of Nevada, Las Vegas Drafted: 2039, Round #1 by Jackson Blue Jays
Veteran
Bats (L) Throws (L) Positions: OF 1B
Attributes
Offense [Form: Cold]
Defense
Age: 35
Hitting:
17
Fielding:
11
Height: 5' 11"
Bat Control:
9
Range:
14
Weight: 197
Plate Discipline:
15
Arm:
15
Experience: 8 years
Power:
14
Skill Index:
107
Salary: $4.75M
Speed:
12
Potential:
14
Scouting Report: He can be a great hitter. He can develop into a decent slugger. He has decent speed. He is getting to the age where his skills may decline quickly.
| Year | Team | LL | | G | AB | R | H | 2B | 3B | HR | RBI | BB | HBP | K | SB | CS | SH | FS | SF | AVE | OBP | SLG | OPS | VLHP | VRHP | Home | Away | RISP | GB/FB | GIDP | POTG | Age | SI | Salary |
| --- | --- | --- | --- | --- | --- | --- | --- | --- | --- | --- | --- | --- | --- | --- | --- | --- | --- | --- | --- | --- | --- | --- | --- | --- | --- | --- | --- | --- | --- | --- | --- | --- | --- | --- |
| 2043 | MRF | 1 | | 39 | 109 | 17 | 26 | 8 | 0 | 1 | 16 | 8 | 2 | 34 | 8 | 1 | 0 | 0 | 2 | .239 | .298 | .339 | .637 | .556 | .210 | .216 | .259 | .167 | 1.31 | 2 | 0 | 26 | 90 | $0.20M |
| 2044 | MRF | 1 | | 39 | 48 | 15 | 14 | 4 | 0 | 1 | 8 | 6 | 0 | 10 | 7 | 6 | 0 | 0 | 0 | .292 | .370 | .438 | .808 | .235 | .323 | .345 | .211 | .500 | 1.36 | 0 | 0 | 27 | 95 | $0.50M |
| 2045 | MRF | 1 | | 130 | 452 | 81 | 140 | 38 | 3 | 12 | 58 | 52 | 6 | 107 | 54 | 20 | 0 | 0 | 2 | .310 | .387 | .487 | .873 | .256 | .322 | .296 | .322 | .348 | 1.08 | 3 | 9 | 28 | 100 | $0.50M |
| 2046 | MRF | 2 | | 150 | 546 | 103 | 165 | 38 | 9 | 24 | 95 | 61 | 2 | 100 | 52 | 12 | 0 | 0 | 5 | .302 | .371 | .537 | .908 | .266 | .311 | .340 | .268 | .322 | 0.92 | 10 | 11 | 29 | 112 | $1.40M |
| 2047 | MRF | 2 | | 151 | 645 | 115 | 194 | 51 | 5 | 29 | 95 | 80 | 6 | 137 | 82 | 20 | 0 | 0 | 4 | .301 | .381 | .530 | .911 | .242 | .323 | .321 | .281 | .297 | 0.71 | 6 | 13 | 30 | 120 | $3.25M |
| 2048 | MRF | 1 | | 153 | 437 | 65 | 115 | 30 | 1 | 21 | 55 | 44 | 1 | 73 | 29 | 16 | 0 | 0 | 4 | .263 | .329 | .481 | .810 | .262 | .264 | .299 | .229 | .280 | 0.75 | 7 | 5 | 31 | 120 | $4.70M |
| 2049 | MRF | 2 | | 144 | 546 | 98 | 171 | 40 | 3 | 36 | 102 | 56 | 5 | 133 | 40 | 21 | 0 | 0 | 5 | .313 | .379 | .595 | .974 | .130 | .330 | .346 | .282 | .343 | 0.82 | 8 | 11 | 32 | 119 | $4.00M |
| 2050 | MRF | 2 | | 154 | 478 | 71 | 129 | 38 | 3 | 11 | 68 | 55 | 2 | 108 | 31 | 16 | 0 | 0 | 4 | .270 | .345 | .431 | .776 | .304 | .268 | .297 | .244 | .310 | 0.83 | 7 | 6 | 33 | 118 | $4.55M |
| 2051 | MRF | 3 | | 153 | 444 | 83 | 141 | 42 | 1 | 18 | 72 | 51 | 4 | 88 | 25 | 7 | 0 | 0 | 4 | .318 | .390 | .538 | .928 | .190 | .324 | .336 | .296 | .296 | 0.81 | 8 | 5 | 34 | 114 | $3.45M |
| 2052 | MRF | 2 | | 0 | 0 | 0 | 0 | 0 | 0 | 0 | 0 | 0 | 0 | 0 | 0 | 0 | 0 | 0 | 0 | .000 | .000 | .000 | .000 | .000 | .000 | .000 | .000 | .000 | - | 0 | 0 | 35 | 107 | $3.80M |
| 2052 | FTP | 6 | | 23 | 55 | 8 | 14 | 5 | 0 | 1 | 10 | 6 | 0 | 17 | 2 | 0 | 0 | 0 | 0 | .255 | .328 | .400 | .728 | .200 | .260 | .200 | .286 | .313 | 1.89 | 0 | 0 | 35 | 107 | $4.75M |
| Total | | | | 1136 | 3760 | 656 | 1109 | 294 | 25 | 154 | 579 | 419 | 28 | 807 | 330 | 119 | 0 | 0 | 30 | .295 | .367 | .509 | .877 | .248 | .304 | .317 | .274 | .311 | 0.85 | 51 | 60 | - | - | - |
| Year | Team | | P | % | C | % | 1B | % | 2B | % | 3B | % | SS | % | OF | % | LF | % | CF | % | RF | % | DH | CS% | PB | DP | OA | E | FP |
| --- | --- | --- | --- | --- | --- | --- | --- | --- | --- | --- | --- | --- | --- | --- | --- | --- | --- | --- | --- | --- | --- | --- | --- | --- | --- | --- | --- | --- | --- |
| 2043 | MRF | | 0 | .000 | 0 | .000 | 0 | .000 | 0 | .000 | 0 | .000 | 0 | .000 | 39 | .989 | 2 | 1.000 | 0 | .000 | 37 | .989 | 0 | 0% | 0 | 0 | 3 | 1 | .989 |
| 2044 | MRF | | 0 | .000 | 4 | 1.000 | 0 | .000 | 0 | .000 | 0 | .000 | 0 | .000 | 23 | .978 | 9 | .917 | 1 | 1.000 | 13 | 1.000 | 12 | 0% | 0 | 1 | 4 | 1 | .980 |
| 2045 | MRF | | 0 | .000 | 0 | .000 | 0 | .000 | 0 | .000 | 0 | .000 | 0 | .000 | 130 | .989 | 3 | .000 | 0 | .000 | 127 | .989 | 0 | 0% | 0 | 2 | 10 | 4 | .989 |
| 2046 | MRF | | 0 | .000 | 0 | .000 | 1 | 1.000 | 0 | .000 | 0 | .000 | 0 | .000 | 144 | .992 | 29 | .985 | 0 | .000 | 115 | .994 | 5 | 0% | 0 | 0 | 10 | 3 | .992 |
| 2047 | MRF | | 0 | .000 | 0 | .000 | 0 | .000 | 0 | .000 | 0 | .000 | 0 | .000 | 151 | .995 | 32 | 1.000 | 0 | .000 | 119 | .994 | 0 | 0% | 0 | 2 | 12 | 2 | .995 |
| 2048 | MRF | | 0 | .000 | 0 | .000 | 26 | 1.000 | 0 | .000 | 0 | .000 | 0 | .000 | 127 | 1.000 | 8 | 1.000 | 9 | 1.000 | 110 | 1.000 | 0 | 0% | 0 | 1 | 6 | 0 | 1.000 |
| 2049 | MRF | | 0 | .000 | 0 | .000 | 0 | .000 | 0 | .000 | 0 | .000 | 0 | .000 | 141 | 1.000 | 7 | 1.000 | 51 | 1.000 | 83 | 1.000 | 3 | 0% | 0 | 1 | 12 | 0 | 1.000 |
| 2050 | MRF | | 0 | .000 | 0 | .000 | 124 | .988 | 0 | .000 | 0 | .000 | 0 | .000 | 21 | 1.000 | 5 | 1.000 | 5 | 1.000 | 11 | 1.000 | 9 | 0% | 0 | 64 | 0 | 11 | .988 |
| 2051 | MRF | | 0 | .000 | 0 | .000 | 0 | .000 | 0 | .000 | 0 | .000 | 0 | .000 | 148 | .997 | 7 | 1.000 | 34 | 1.000 | 107 | .997 | 5 | 0% | 0 | 1 | 7 | 1 | .997 |
| 2052 | MRF | | 0 | .000 | 0 | .000 | 0 | .000 | 0 | .000 | 0 | .000 | 0 | .000 | 0 | .000 | 0 | .000 | 0 | .000 | 0 | .000 | 0 | 0% | 0 | 0 | 0 | 0 | .000 |
| 2052 | FTP | | 0 | .000 | 0 | .000 | 8 | 1.000 | 0 | .000 | 0 | .000 | 0 | .000 | 15 | 1.000 | 12 | 1.000 | 2 | 1.000 | 1 | 1.000 | 0 | 0% | 0 | 1 | 1 | 0 | 1.000 |
| Total | | | 0 | .000 | 4 | 1.000 | 159 | .989 | 0 | .000 | 0 | .000 | 0 | .000 | 939 | .995 | 114 | .990 | 102 | 1.000 | 723 | .995 | 34 | 0% | 0 | 73 | 65 | 23 | .993 |

Statistics/Graph Selection: