Scranton Bears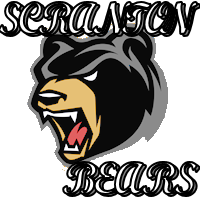 Team: Scranton Bears
[ID #562]

Location: Scranton, PA (Northeast)
Owner: buffmckagan

[since December 22nd 2013 | last seen January 27th 2023]
Rank: #190 - Rating: 122.45
Fan Mood: 91.61
Prestige: 48
Color: Black Pinstripes
Team Notes:
• May 31 2058:
Enrique Calderón
was claimed off of waivers.
• May 25 2058:
Dan Briggs
was claimed off of waivers.
• May 03 2058:
Irving Martino
was released.
• May 03 2058:
Peter Orlando
was released.
• Apr 29 2058:
Armando Abreu
was released.
• Apr 29 2058:
Carson Walsh
was signed as a free agent.
• Apr 10 2058:
Domingo Suárez
was released.
• Apr 10 2058:
Domingo Suárez
was claimed off of waivers.
• Mar 10 2058:
Pedro Fuentes
was claimed off of waivers.
• Jan 13 2058:
Armando Abreu
was claimed off of waivers.
League Record:
Wins: 20 Losses: 25 Pct: .444 Last10: 5-5 Streak: L1
Ave: 3.8 - 4.1 RS: 169 RA: 184 DIFF: -15 Power Index: 104.1
Cup:
Group 47
[1 | Eliminated]
Press Releases:
Feb 19 2048:
Bears brass: "Don't crown us yet"
-
by buffmckagan on November 19th, 2020
SCRANTON — Fresh off a second league title in two years, the Scranton Bears' management says they're taking nothing for granted just yet.
The club is appearing in Legends League play for the first time in franchise history, something owner buffmckagan has sought since the 2016 season -- where the then-Windam Park (IA) Colts began play in League VI.
"100 wins in three straight seasons is quite an accomplishment, but this should be the hardest schedule we'll have ever had," buffmckagan said in a pre-season press conference via Zoom on the eve of Spring Training. "We were all proud to finish number one in the overall rankings, but it's the team who wins the Legends League that truly is atop the game. We haven't done anything yet; don't crown us yet."
The Bears have a shot at five of the game's top 20 teams this season in division play - the 2046 champion
Minneapolis Tigers
; the
Murfreesboro Moo Cows
, back for a second stint, and with experience defeating Scranton in league play; two-time division champion
Bloomington
, and second-year squads
Concord
and
Saratoga
.
The black stripes plan to rely heavily on the starting rotation, headlined by ace
Andrew Long
. The former eighth-round pick-turned Cy Young winner has had a sub-3 ERA the past two seasons, with 17+ wins and 150+ strikeouts both years. He hopes to become the first two-time winner in club history this year.
"The competition's going to be harder, but I'm ready for it," Long said at the press conference. "Hanging 20 wins on these guys would be really special."
Ricky Winter
,
Julio Sierra
,
Darius Maddox
, and
Marcos Tejada
round out the starting-five, with future Hall of Fame closer
Gorman "Mr. Automatic" Farrell
looking to live up to his nickname more commandingly this season after posting a career-worst 3.96 ERA last year.
Offensively, the team looks to see major strides from right fielder
Eddie Merchant
, who took home a Rookie of the Year award last year. Center fielder
Eduardo Agosto
, second baseman
Nathan Humphreys
, designated hitter
Oscar Herrera
, and first baseman
Levi Cowan
all have high hopes for this season.
The Bears open league play with a four-game series against the Murfreesboro Moo Cows. Scranton native and president-elect Joseph R. Biden, Jr. is expected to throw out the first pitch on Opening Day, as Bears fans and Americans alike hope for greater things to come.
Oct 02 2044:
Farrell's historic save streak ends at 58
-
by buffmckagan on March 18th, 2020
WESTON, FL — Scranton Bears closer and Cy Young candidate
Gorman Farrell
's unbelievable save streak came to an end during tonight's game vs. the Weston Wranglers.
"Mr. Automatic" set a franchise record with 58 consecutive save attempts without blowing a save.
The streak began at the end of the 2043 season on his way to his first All-League selection. His prolific streak has all but guaranteed his second straight year with an All-Star appearance and a spot on the All-League squad.
"We had really hoped to be talking about this at the end of the year with an intact streak headed into next year," owner buffmckagan said at the press conference after the game. "Gorman is the best closer in all of Broken Bat. Even the best guys can't always get it done."
Farrell was poised to make it #59 after some late-game heroics from
Donnie Tyree
, who put the Bears back on top with a two-run double in the top of the ninth. Wranglers' veteran
Adrian Storm
did the unthinkable, hitting a solo home run to lead off the bottom of the inning. Scranton went on to
win the game
in 13 innings.
"You can't depend on your teammates to get it done for you," Farrell said. "I had the chance to put the game away and put the pitch in the wrong place."
Farrell remains atop the III.2 leaderboard with 50 saves on the season, as the only Bear to ever earn 50 saves twice.
The team is set to face longtime rival Fall River in a four-game series, as both clubs look to overtake Hilton Head for the division crown.
Jul 21 2041:
Bears announce "I'm Gonna Get a Burger" Night
-
by buffmckagan on July 11th, 2019
SCRANTON — IT'S B-B-B-B-B-B-B-B-B-B-B-B-B-B-BURGER TIME IN SCRANTON!!!!!!!
Star pitcher "Big Dick" Curran shocked the baseball world when he lost a perfect game in the top of the ninth
against the Brownsville Bulldogs
by giving up a walk, and was able to overcome the call to finish with a no-hitter. Nonetheless, team officials say they're fed up with umpiring -- and are using fans to voice their displeasure at the result.
The team announces it will sell its concession stand burgers at half-price at his next home start on July 26th to commemorate the performance on the mound.
Concession officials promise you will intentionally be served a burger cooked so poorly you either get a raw patty that's still bleeding so badly, it'll ruin your team jersey; or overcook your meat so badly it'll break your teeth off.
The team will pass the butthurt onto you by pulling all other food options for the entirety of the game, with the only drinks flat beer and sodas and water that's sat out in the sun all day.
Fans are encouraged to show their displeasure with Big Dick's disappointing finish by harassing the home plate empire, and hissing and booing at anything that's not a strike right down the middle.
"First, he's prevented from going to the All-Star Game for the umpteenth time, and now this??" owner buffmckagan said during a postgame Twitter tirade. "When I said Big Dick would get a**, I meant the love of a woman, not god awful umpiring!"
buffmckagan is expected to serve a three-game suspension on Aug. 3-5.
May 10 2039:
Bears, Roberts part ways after 15+ years
-
by buffmckagan on January 20th, 2019
SCRANTON — The Scranton Bears and longtime manager Billy Bob Roberts have mutually agreed to part ways.
In a release, the team thanked Roberts for his hard work, calling him "the greatest leader our team has known."
He had been on the hot seat for the past two years, as fans called for his firing after being relegated after the 2037 season, but management backed him nonetheless. Privately, the ownership group met with other managers on a casual basis, but no hire was made.
A manager known for dealing best with pitchers, three starters had ERA flirting with or greatly exceeding 6.00. The team also announced it was cutting longtime ace
Young Nam Park
, best known for his Cy Young-winning season in 2033.
Roberts went 1,315-1,114 in his 15+ years with the team, winning two league titles and four divisional pennants.
A.J. Tackett
will take over the team on an immediate, full-time basis, as the team looks to continue its retooling.
Sep 08 2032:
Bruzzone hits 300th career homer in 3-2 loss
-
by buffmckagan on July 5th, 2017
SCRANTON — In front of a sold-out
Dunder-Mifflin Stadium
crowd,
"Bruisin'" Mark Bruzzone
had a different nickname Wednesday night - "Mr. 300."
The 32-year-old slugger became the third player in franchise history to achieve 300 home runs in his career, joining longtime shortstop
Joe Clark
(342) and former teammate
Benito Cardena
l (305).
Bruzzone said it was an "incredible blessing" to reach the career mark, but it is not the time to bask in his achievements.
"It's great to finally get there, but we still lost the game," Bruzzone said. "I've got to keep hitting more of those if we want to keep ourselves out of relegation."
The
Harrisonburg Hydrogen
bested Scranton
3-2
, getting another foot up in a potentially tight relegation battle.