Kennesaw Knights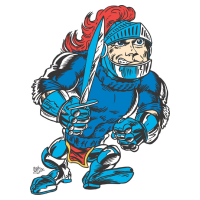 Team: Kennesaw Knights
[ID #12]

Location: Kennesaw, GA (Southeast)
Owner: None
Rank: #298 - Rating: 100.04
Fan Mood: 107.97
Prestige: 10
Color: Navy & Gold
Team Notes:
• Apr 07 2056:
Luis Agosto
was released.
• Apr 07 2056:
Marc Parks
was signed as a free agent.
• Mar 14 2056:
Chase Anthony
was released.
• Mar 14 2056:
Federico Moreno
was signed as a free agent.
• Jan 13 2056:
Sergio Aguilera
was selected to the national team of
Panama
.
• Jan 13 2056:
Gerardo Fernández
was selected to the national team of
Costa Rica
.
• Jan 13 2056:
Albert Smits
was selected to the national team of
Aruba
.
• Nov 02 2055:
Sergio Aguilera
was awarded the Cy Young award.
• Aug 19 2055:
Sheldon Adams
was signed as a free agent.
• Apr 07 2055:
Antone Ellis
was signed as a free agent.
League Record:
Wins: 3 Losses: 6 Pct: .333 Last10: 3-6 Streak: L2
Ave: 5.2 - 8.0 RS: 47 RA: 72 DIFF: -25 Power Index: 102.8
Cup:
Group 34
[0 | Still Alive]
Press Releases:
Jan 21 2038:
second year
-
by Bostonboy2113 on October 9th, 2018
we gonna win watch out
Jun 15 2023:
North Port Stuns Austin; Takes 4 of 5
-
by cqk328 on July 15th, 2015
With this being North Port's 10th straight season in League VI.29 (their 5th under the leadership of cqk328), there is one thing the team knows that has always been constant in this league: the West is better than the East. This definitely showed last year, as the West contained 5 teams over .500, while Independence, the mediocre East's division winner, was 80-80. However, North Port's hard work in player development and focus on a balance between pitching, hitting, and fielding may finally be paying off. In the opening series of inter-divisional play, the Knights dropped only one game to the then 31-19 Ravens. The manager takes full responsibility for the Game 5 loss. "I made a late starting pitcher change hours before gametime," he said. "Mad Dog Martin has been our setup guy recently, so he probably wasn't ready to start on such short notice." North Port is looking very good this year, as they are 28-27 and are the only team besides Summerville with a positive run differential. Today the Knights are in Coeur d Alene to take on the Indians. Vince Caputo (6-1, 2.09 ERA) will be on the hill, while the Indians will start lefty Javier Lozano (2-6, 4.25 ERA).
Jul 14 2021:
Halfway Point
-
by cqk328 on February 17th, 2015
80 games down, 80 to go. Man, these seasons go by so fast...Anyway, can't believe I'm saying this, but the Knights are 2 games over .500 headed into the All-Star break. I knew the 23-9 start was only a fluke, but this is still much better than I expected this team to do this year. Why are we better? Let's see.
Pitching
This year's starting rotation, particularly Thomas and Aguilar, has matured much quicker than expected. Unfortunately, elbow soreness prevents Aguilar from making an All-Star appearance that he would most likely get, but Thomas should definitely get the nod. His 8-7, 3.50 ERA does not tell the whole story. Although this year's offense is much better than anything I have gotten in three years as GM, he has had to endure nights where the bats were simply extinct. With 10 years in the system now, he deserves a second nomination to the team. Hopefully the rotation will continue to improve as we attempt to bring playoff baseball to North Port.
Hitting
Generally, this team's offense had been lethargic for years. However, last year's team showed signs of life in the last 20 games, and this has continued into 2021. Obviously, you cannot forget Dennis White, who leads the league in average at .345. Ottenello and Rojas have also been influential, with 12 and 10 HR's respectively. I believe that although our offense is impressive, it could still be much better. To make the playoffs, our offense still needs to mature in a hurry.
Jul 14 2021:
Double Post...Sorry
-
by cqk328 on February 17th, 2015
Mar 02 2021:
Okay so I'm the only non not left in my division...
-
by cqk328 on January 9th, 2015
Is this good or bad??