"Emperor" Agustín Cintrón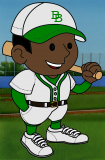 #38

- Agustín Cintrón [ID #267117] Middletown Lions 2B
Home Town: Valledupar, Colombia School: none Drafted: 2046, Round #2
Professional (10 years with club)
Bats (L) Throws (R) Positions: 2B 1b
Attributes
Offense [Form: Average]
Defense
Age: 26
Hitting:
19
Fielding:
16
Height: 6' 1"
Bat Control:
18
Range:
14
Weight: 202
Plate Discipline:
19
Arm:
8
Experience: 4 years
Power:
14
Skill Index:
119
Salary: $4.50M
Speed:
11
Potential:
15
Scouting Report: He can be a great hitter. He can develop into an above average slugger. He can be outstanding in the field. He has very good overall potential. He doesn't have too much room for improvement.
| Year | Team | LL | | G | AB | R | H | 2B | 3B | HR | RBI | BB | HBP | K | SB | CS | SH | FS | SF | AVE | OBP | SLG | OPS | VLHP | VRHP | Home | Away | RISP | GB/FB | GIDP | POTG | Age | SI | Salary |
| --- | --- | --- | --- | --- | --- | --- | --- | --- | --- | --- | --- | --- | --- | --- | --- | --- | --- | --- | --- | --- | --- | --- | --- | --- | --- | --- | --- | --- | --- | --- | --- | --- | --- | --- |
| 2052 | MDT | 3 | | 66 | 242 | 28 | 63 | 13 | 1 | 6 | 27 | 16 | 1 | 48 | 0 | 0 | 3 | 0 | 0 | .260 | .309 | .397 | .706 | .179 | .271 | .250 | .273 | .273 | 2.06 | 6 | 1 | 22 | 97 | $0.20M |
| 2053 | MDT | 3 | | 109 | 415 | 75 | 130 | 32 | 0 | 7 | 47 | 66 | 1 | 49 | 1 | 0 | 2 | 0 | 2 | .313 | .407 | .441 | .848 | .286 | .321 | .307 | .320 | .299 | 1.82 | 4 | 3 | 23 | 105 | $0.50M |
| 2054 | MDT | 3 | | 148 | 570 | 108 | 193 | 57 | 3 | 13 | 84 | 78 | 9 | 64 | 0 | 2 | 6 | 1 | 2 | .339 | .425 | .518 | .942 | .270 | .363 | .389 | .290 | .379 | 1.55 | 12 | 9 | 24 | 117 | $1.20M |
| 2055 | MDT | 3 | | 155 | 609 | 123 | 197 | 53 | 4 | 23 | 107 | 98 | 4 | 63 | 0 | 2 | 0 | 0 | 8 | .323 | .416 | .537 | .953 | .248 | .344 | .366 | .283 | .377 | 1.25 | 5 | 12 | 25 | 119 | $2.90M |
| 2056 | MDT | 3 | | 153 | 640 | 122 | 223 | 66 | 2 | 15 | 105 | 93 | 3 | 70 | 0 | 2 | 0 | 0 | 5 | .348 | .430 | .528 | .959 | .320 | .355 | .360 | .337 | .371 | 1.57 | 15 | 8 | 26 | 119 | $4.50M |
| Total | | | | 631 | 2476 | 456 | 806 | 221 | 10 | 64 | 370 | 351 | 18 | 294 | 1 | 6 | 11 | 1 | 17 | .326 | .411 | .500 | .911 | .274 | .339 | .347 | .304 | .352 | 1.56 | 42 | 33 | - | - | - |
| Year | Team | | P | % | C | % | 1B | % | 2B | % | 3B | % | SS | % | OF | % | LF | % | CF | % | RF | % | DH | CS% | PB | DP | OA | E | FP |
| --- | --- | --- | --- | --- | --- | --- | --- | --- | --- | --- | --- | --- | --- | --- | --- | --- | --- | --- | --- | --- | --- | --- | --- | --- | --- | --- | --- | --- | --- |
| 2052 | MDT | | 0 | .000 | 0 | .000 | 0 | .000 | 5 | 1.000 | 0 | .000 | 0 | .000 | 0 | .000 | 0 | .000 | 0 | .000 | 0 | .000 | 61 | 0% | 0 | 2 | 0 | 0 | 1.000 |
| 2053 | MDT | | 0 | .000 | 0 | .000 | 7 | .981 | 99 | .991 | 0 | .000 | 0 | .000 | 0 | .000 | 0 | .000 | 0 | .000 | 0 | .000 | 3 | 0% | 0 | 62 | 0 | 5 | .990 |
| 2054 | MDT | | 0 | .000 | 0 | .000 | 0 | .000 | 148 | .974 | 0 | .000 | 0 | .000 | 0 | .000 | 0 | .000 | 0 | .000 | 0 | .000 | 0 | 0% | 0 | 80 | 0 | 16 | .974 |
| 2055 | MDT | | 0 | .000 | 0 | .000 | 0 | .000 | 155 | .983 | 0 | .000 | 0 | .000 | 0 | .000 | 0 | .000 | 0 | .000 | 0 | .000 | 0 | 0% | 0 | 81 | 0 | 12 | .983 |
| 2056 | MDT | | 0 | .000 | 0 | .000 | 0 | .000 | 153 | .984 | 0 | .000 | 0 | .000 | 0 | .000 | 0 | .000 | 0 | .000 | 0 | .000 | 0 | 0% | 0 | 82 | 0 | 11 | .984 |
| Total | | | 0 | .000 | 0 | .000 | 7 | .981 | 560 | .982 | 0 | .000 | 0 | .000 | 0 | .000 | 0 | .000 | 0 | .000 | 0 | .000 | 64 | 0% | 0 | 307 | 0 | 44 | .982 |
| Date | Game Date | Team From | Team To | Age | Transaction Type |
| --- | --- | --- | --- | --- | --- |
| 06/13/20 | January 15th 2046 | - | Draft Prospect Pool | 16 | Created as Draft Prospect |
| 07/03/20 | April 7th 2046 | Draft Prospect Pool | Middletown Lions | 16 | Latin American Academy Signee |

Statistics/Graph Selection: