Rickey "The Legend" Ratcliff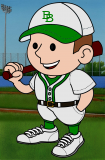 #70

- Rickey Ratcliff [ID #250181] Cincinnati Reds P
Home Town: San Francisco, California High School: Armstrong High School Drafted: 2044, Round #1 by Jeffersonville Crusaders
Veteran
Bats (R) Throws (R) Positions: P
Attributes
Pitching [Form: Very Cold]
Defense
Age: 35
Velocity:
8
Fielding:
12
Height: 6' 1"
Change of Speeds:
16
Range:
8
Weight: 199
Movement:
15
Arm:
10
Experience: 13 years
Control:
12
Skill Index:
97
Salary: $3.30M
Stamina:
15
Potential:
13
Pitch Repertoire: Fastball, Curveball, Changeup, Splitter
Scouting Report: He can have a major league curveball. He will be able to throw all day. He is getting to the age where his skills may decline quickly.
| Year | Team | LL | | G | W | L | S | BS | H | IP | | H | R | ER | BB | HB | K | HR | GS | CG | SHO | QS | ERA | FIP | BAA | VLHB | VRHB | WHIP | ST% | GB/FB | RS | WP | POTG | Age | SI | Salary |
| --- | --- | --- | --- | --- | --- | --- | --- | --- | --- | --- | --- | --- | --- | --- | --- | --- | --- | --- | --- | --- | --- | --- | --- | --- | --- | --- | --- | --- | --- | --- | --- | --- | --- | --- | --- | --- |
| 2049 | JFV | 5 | | 34 | 1 | 1 | 3 | 0 | 4 | 62 | | 61 | 18 | 18 | 18 | 2 | 36 | 4 | 1 | 0 | 0 | 0 | 2.61 | 3.70 | .249 | .215 | .275 | 1.306 | 64.7 | 1.41 | 2.00 | 0 | 0 | 22 | 94 | $0.20M |
| 2050 | JFV | 6 | | 29 | 11 | 9 | 0 | 0 | 0 | 131 | | 113 | 50 | 43 | 36 | 2 | 81 | 11 | 29 | 0 | 0 | 6 | 2.95 | 3.83 | .229 | .257 | .196 | 1.153 | 64.7 | 0.99 | 4.72 | 2 | 8 | 23 | 108 | $0.50M |
| 2051 | JFV | 6 | | 31 | 12 | 6 | 0 | 0 | 0 | 144 | | 120 | 55 | 52 | 55 | 6 | 95 | 8 | 31 | 0 | 0 | 5 | 3.25 | 3.77 | .225 | .229 | .220 | 1.257 | 62.5 | 1.39 | 4.58 | 1 | 8 | 24 | 115 | $0.65M |
| 2052 | JFV | 5 | | 31 | 11 | 6 | 0 | 0 | 0 | 151 | | 144 | 59 | 48 | 42 | 6 | 81 | 9 | 31 | 0 | 0 | 12 | 2.86 | 3.76 | .251 | .273 | .227 | 1.272 | 64.5 | 1.37 | 4.61 | 5 | 5 | 25 | 115 | $1.50M |
| 2053 | JFV | 5 | | 32 | 11 | 7 | 0 | 0 | 0 | 164 | | 152 | 56 | 53 | 52 | 3 | 94 | 7 | 32 | 0 | 0 | 9 | 2.91 | 3.51 | .244 | .251 | .235 | 1.262 | 62.8 | 1.30 | 4.78 | 6 | 4 | 26 | 115 | $2.05M |
| 2054 | JFV | 5 | | 30 | 11 | 6 | 0 | 0 | 0 | 154 | ⅔ | 111 | 51 | 47 | 53 | 2 | 91 | 5 | 30 | 0 | 0 | 8 | 2.73 | 3.39 | .201 | .209 | .189 | 1.073 | 62.6 | 1.33 | 4.03 | 7 | 8 | 27 | 115 | $2.15M |
| 2055 | JFV | 6 | | 31 | 9 | 5 | 0 | 0 | 0 | 165 | ⅓ | 133 | 59 | 52 | 56 | 6 | 82 | 12 | 31 | 0 | 0 | 12 | 2.83 | 4.14 | .216 | .238 | .188 | 1.179 | 63.7 | 1.18 | 5.00 | 1 | 6 | 28 | 115 | $2.20M |
| 2056 | JFV | 6 | | 31 | 10 | 6 | 0 | 0 | 0 | 160 | ⅓ | 120 | 47 | 42 | 55 | 3 | 102 | 7 | 31 | 0 | 0 | 9 | 2.36 | 3.46 | .206 | .201 | .213 | 1.110 | 65.2 | 1.41 | 4.77 | 3 | 6 | 29 | 115 | $2.15M |
| 2057 | JFV | 5 | | 32 | 9 | 5 | 0 | 0 | 0 | 156 | | 118 | 54 | 48 | 58 | 7 | 88 | 8 | 32 | 0 | 0 | 8 | 2.77 | 3.87 | .207 | .228 | .174 | 1.173 | 62.2 | 1.27 | 3.72 | 7 | 4 | 30 | 115 | $2.20M |
| 2058 | JFV | 5 | | 30 | 9 | 4 | 0 | 0 | 0 | 151 | | 135 | 43 | 38 | 47 | 2 | 86 | 6 | 30 | 0 | 0 | 10 | 2.26 | 3.43 | .234 | .254 | .198 | 1.219 | 65.2 | 1.38 | 4.23 | 3 | 8 | 31 | 115 | $2.10M |
| 2059 | JFV | 5 | | 29 | 12 | 8 | 0 | 0 | 0 | 157 | ⅔ | 112 | 49 | 47 | 49 | 2 | 81 | 7 | 29 | 0 | 0 | 15 | 2.68 | 3.62 | .196 | .215 | .169 | 1.034 | 64.9 | 1.20 | 3.41 | 7 | 9 | 32 | 112 | $2.15M |
| 2060 | JFV | 6 | | 32 | 12 | 8 | 0 | 0 | 0 | 168 | ⅓ | 126 | 53 | 49 | 42 | 5 | 100 | 6 | 32 | 0 | 0 | 7 | 2.62 | 3.21 | .204 | .224 | .153 | 1.028 | 64.8 | 1.52 | 3.66 | 3 | 9 | 33 | 109 | $2.20M |
| 2061 | JFV | 5 | | 32 | 8 | 8 | 0 | 0 | 0 | 161 | ⅓ | 127 | 50 | 48 | 68 | 4 | 82 | 6 | 32 | 0 | 0 | 8 | 2.68 | 3.85 | .212 | .215 | .208 | 1.233 | 63.1 | 1.41 | 3.66 | 2 | 5 | 34 | 103 | $2.35M |
| 2062 | JFV | 5 | | 0 | 0 | 0 | 0 | 0 | 0 | 0 | | 0 | 0 | 0 | 0 | 0 | 0 | 0 | 0 | 0 | 0 | 0 | - | - | .000 | .000 | .000 | - | - | - | - | 0 | 0 | 35 | 97 | $2.30M |
| 2062 | CIN | 5 | | 2 | 0 | 2 | 0 | 0 | 0 | 7 | ⅓ | 6 | 5 | 5 | 2 | 0 | 4 | 1 | 2 | 0 | 0 | 0 | 6.14 | 4.60 | .214 | .222 | .200 | 1.091 | 61.5 | 1.25 | 4.50 | 0 | 0 | 35 | 97 | $3.30M |
| Total | | | | 406 | 126 | 81 | 3 | 0 | 4 | 1934 | | 1578 | 649 | 590 | 633 | 50 | 1103 | 97 | 373 | 0 | 0 | 109 | 2.75 | 3.66 | .220 | .232 | .203 | 1.169 | 63.8 | 1.31 | 4.26 | 47 | 80 | - | - | - |
| Year | Team | | P | % | C | % | 1B | % | 2B | % | 3B | % | SS | % | OF | % | LF | % | CF | % | RF | % | DH | CS% | PB | DP | OA | E | FP |
| --- | --- | --- | --- | --- | --- | --- | --- | --- | --- | --- | --- | --- | --- | --- | --- | --- | --- | --- | --- | --- | --- | --- | --- | --- | --- | --- | --- | --- | --- |
| 2049 | JFV | | 34 | 1.000 | 0 | .000 | 0 | .000 | 0 | .000 | 0 | .000 | 0 | .000 | 0 | .000 | 0 | .000 | 0 | .000 | 0 | .000 | 0 | 0% | 0 | 1 | 0 | 0 | 1.000 |
| 2050 | JFV | | 29 | 1.000 | 0 | .000 | 0 | .000 | 0 | .000 | 0 | .000 | 0 | .000 | 0 | .000 | 0 | .000 | 0 | .000 | 0 | .000 | 0 | 0% | 0 | 0 | 0 | 0 | 1.000 |
| 2051 | JFV | | 31 | 1.000 | 0 | .000 | 0 | .000 | 0 | .000 | 0 | .000 | 0 | .000 | 0 | .000 | 0 | .000 | 0 | .000 | 0 | .000 | 0 | 0% | 0 | 1 | 0 | 0 | 1.000 |
| 2052 | JFV | | 31 | 1.000 | 0 | .000 | 0 | .000 | 0 | .000 | 0 | .000 | 0 | .000 | 0 | .000 | 0 | .000 | 0 | .000 | 0 | .000 | 0 | 0% | 0 | 2 | 0 | 0 | 1.000 |
| 2053 | JFV | | 32 | .933 | 0 | .000 | 0 | .000 | 0 | .000 | 0 | .000 | 0 | .000 | 0 | .000 | 0 | .000 | 0 | .000 | 0 | .000 | 0 | 0% | 0 | 1 | 0 | 2 | .933 |
| 2054 | JFV | | 30 | 1.000 | 0 | .000 | 0 | .000 | 0 | .000 | 0 | .000 | 0 | .000 | 0 | .000 | 0 | .000 | 0 | .000 | 0 | .000 | 0 | 0% | 0 | 5 | 0 | 0 | 1.000 |
| 2055 | JFV | | 31 | .977 | 0 | .000 | 0 | .000 | 0 | .000 | 0 | .000 | 0 | .000 | 0 | .000 | 0 | .000 | 0 | .000 | 0 | .000 | 0 | 0% | 0 | 3 | 0 | 1 | .977 |
| 2056 | JFV | | 31 | .968 | 0 | .000 | 0 | .000 | 0 | .000 | 0 | .000 | 0 | .000 | 0 | .000 | 0 | .000 | 0 | .000 | 0 | .000 | 0 | 0% | 0 | 4 | 0 | 1 | .968 |
| 2057 | JFV | | 32 | .935 | 0 | .000 | 0 | .000 | 0 | .000 | 0 | .000 | 0 | .000 | 0 | .000 | 0 | .000 | 0 | .000 | 0 | .000 | 0 | 0% | 0 | 0 | 0 | 2 | .935 |
| 2058 | JFV | | 30 | 1.000 | 0 | .000 | 0 | .000 | 0 | .000 | 0 | .000 | 0 | .000 | 0 | .000 | 0 | .000 | 0 | .000 | 0 | .000 | 0 | 0% | 0 | 4 | 0 | 0 | 1.000 |
| 2059 | JFV | | 29 | 1.000 | 0 | .000 | 0 | .000 | 0 | .000 | 0 | .000 | 0 | .000 | 0 | .000 | 0 | .000 | 0 | .000 | 0 | .000 | 0 | 0% | 0 | 4 | 0 | 0 | 1.000 |
| 2060 | JFV | | 32 | 1.000 | 0 | .000 | 0 | .000 | 0 | .000 | 0 | .000 | 0 | .000 | 0 | .000 | 0 | .000 | 0 | .000 | 0 | .000 | 0 | 0% | 0 | 3 | 0 | 0 | 1.000 |
| 2061 | JFV | | 32 | 1.000 | 0 | .000 | 0 | .000 | 0 | .000 | 0 | .000 | 0 | .000 | 0 | .000 | 0 | .000 | 0 | .000 | 0 | .000 | 0 | 0% | 0 | 0 | 0 | 0 | 1.000 |
| 2062 | JFV | | 0 | .000 | 0 | .000 | 0 | .000 | 0 | .000 | 0 | .000 | 0 | .000 | 0 | .000 | 0 | .000 | 0 | .000 | 0 | .000 | 0 | 0% | 0 | 0 | 0 | 0 | .000 |
| 2062 | CIN | | 2 | .000 | 0 | .000 | 0 | .000 | 0 | .000 | 0 | .000 | 0 | .000 | 0 | .000 | 0 | .000 | 0 | .000 | 0 | .000 | 0 | 0% | 0 | 0 | 0 | 0 | .000 |
| Total | | | 406 | .985 | 0 | .000 | 0 | .000 | 0 | .000 | 0 | .000 | 0 | .000 | 0 | .000 | 0 | .000 | 0 | .000 | 0 | .000 | 0 | 0% | 0 | 28 | 0 | 6 | .985 |
| Date | Game Date | Team From | Team To | Age | Transaction Type |
| --- | --- | --- | --- | --- | --- |
| 10/25/19 | January 15th 2043 | - | Draft Prospect Pool | 16 | Created as Draft Prospect |
| 01/28/20 | March 25th 2044 | Draft Prospect Pool | Little Rock Twisters | 17 | High School Draftee |
| 10/27/23 | January 13th 2062 | Jeffersonville Crusaders | Free Agent Pool | 35 | Released |
| 10/30/23 | January 13th 2062 | Free Agent Pool | Cincinnati Reds | 35 | Free Agent Signee |

Statistics/Graph Selection: