Fall River Naughty Dawgs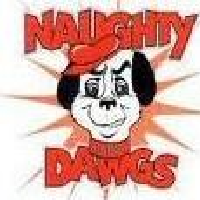 Team: Fall River Naughty Dawgs
[ID #547]

Location: Fall River, MA (New England)
Owner: Brewnoe

[since March 25th 2014 | last seen January 28th 2023]
Rank: #6 - Rating: 265.44
Fan Mood: 104.49
Prestige: 71
Color: Red & Black
Team Notes:
• May 29 2058:
Chung Ho Lee
was released.
• Mar 04 2058:
Omar Feliciano
was signed as a free agent.
• Feb 05 2058:
Enrique Corona
was claimed off of waivers.
• Jan 13 2058:
Micheal Sims
was claimed off of waivers.
• Jan 13 2058:
Sidney Kennedy
was hired as the new coach.
• Jan 13 2058: Coach
James Edwards
was let go.
• Jan 13 2058:
Bae Jeong
was selected to the national team of
South Korea
.
• Jan 13 2058:
Gerardo Guillen
was selected to the national team of
Puerto Rico
.
• Jan 13 2058:
Lorenzo Lemus
was selected to the national team of
Dominican Republic
.
• Jan 13 2058:
Mikkel Christiansen
was selected to the national team of
Denmark
.
League Record:
Wins: 15 Losses: 29 Pct: .341 Last10: 6-4 Streak: W1
Ave: 4.6 - 5.3 RS: 204 RA: 235 DIFF: -31 Power Index: 105.2
Cup:
Group 115
[2 | Still Alive]
Press Releases:
Jul 13 2040:
40th Anniversary team
-
by Brewnoe on April 23rd, 2019
C -
Phil "The Hell Mouth" Rasmussen
1B -
Anthony "Psycho" Perkins
2B - had a few ... tough call
Ryan Brooks
should have been a 3B (bad default manager)
Juan
should have been a 2B - bad me
Scooter Chase
- would also work
Really gotta bee -
"Mario" Vitali
SS-
Dan "The Man" Conley
- only USA national team member so far
3B - tough call for the other reason
Lenny "Hugsem and" Paxton
RF -
"Tank" Cazares
(trust the process)
CF -
"Roman" Gabriel "dunks on" Jordan
LF - easy one
"Boom Boom" Canepa
DH - toughest call
"Downtown" Robert Gregory
or
Jesse Galvin
RH SP -
"Graham" Chapman
LH SP -
Alfredo "Broccoli and Chicken"
aka Elias and Barnes
RP - easiest choice
"Moose" Baker
May 03 2033:
Knight Night
-
by Brewnoe on August 18th, 2017
Before the Dawgs head to Florida, join us for a celebration of the career of
Jacob "Shadow" Knight
... the last member of the first day club.
Drafted 17 years ago out of Caledon High School in Ontario and rescued from FA H,E-double hockey sticks by a great scout, SK hit the majors to stay in 2021 and won the Rookie of the Year award as a second baseman.
When Scooter Chase joined the team in 2022, SK became the prototype for the modern super-utility man, spending the first half of his prime bouncing between 1B, 2B, LF and DH.
With the release of Ivan Lynn in July 2026, Knight became our full-time 1B and took off.
Over the next 5 seasons, he picked had 2 all-star selections and picked up 2 gold gloves as the rare right-handed 1B as we rose from LL.5 in 2021 to Legends in 2029.
Maybe not surprisingly, as Knight lost his edge, so did the Dawgs. After providing some of the greatest highlights of our painful fall down the standings SK took some time off before re-signing last August as a backup/bench coach.
Jake is taking another break with far too many accomplishments to list here ... though we hope he may come back some day to teach
Psycho
how to put the ball in the air.
Sep 26 2020:
And Farewell VI.15
-
by Brewnoe on December 15th, 2014
The Dawgs are movin on up.
Kung Fu Masters
Smack that behind and discipline the mind.
Mar 02 2019:
Farewell Quincy
-
by Brewnoe on August 1st, 2014
We had a good season, but ...
You couldn't sell out the stadium for even one single game of our final series with the division title on the line. That is understandable with the Sox cruising to yet another World Series title, but we need people in our stadium too
(our management does agrees that Owens deserved the Cy Young .. Koji teaching Hembree that splitter was just unfair)
For the Dawg's truly loyal fans, we will be offering a complementary shuttle from the Lakeville T-stop to our beautiful new waterfront stadium at the former home of New England Power's Brayton Point location until the SouthCoast rail project is finished.
If you aren't a 2018 season ticket holder ...
I-93 South to Rt 24 South to I-195 West ... bring your bathing suit for the after party