Brian "Canadian Assault" Vaughan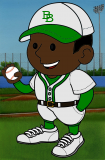 #8

- Brian Vaughan [ID #248940] Hillsboro Pikas OF
Home Town: Victoria, British Columbia College: Simon Fraser University Drafted: 2047, Round #1 by Blacksburg Bulldogs
Veteran (10 years with club)
Bats (R) Throws (R) Positions: OF
Attributes
Offense [Form: Cold]
Defense
Age: 34
Hitting:
15
Fielding:
11
Height: 6' 0"
Bat Control:
15
Range:
12
Weight: 199
Plate Discipline:
17
Arm:
13
Experience: 11 years
Power:
16
Skill Index:
114
Salary: $3.30M
Speed:
15
Potential:
14
Scouting Report: He can be a good hitter. He can develop into a decent slugger. He is really quick. He is getting to the age where his skills may decline quickly.
| Year | Team | LL | | G | AB | R | H | 2B | 3B | HR | RBI | BB | HBP | K | SB | CS | SH | FS | SF | AVE | OBP | SLG | OPS | VLHP | VRHP | Home | Away | RISP | GB/FB | GIDP | POTG | Age | SI | Salary |
| --- | --- | --- | --- | --- | --- | --- | --- | --- | --- | --- | --- | --- | --- | --- | --- | --- | --- | --- | --- | --- | --- | --- | --- | --- | --- | --- | --- | --- | --- | --- | --- | --- | --- | --- |
| 2048 | HRB | 3 | | 15 | 34 | 6 | 3 | 0 | 0 | 1 | 3 | 0 | 0 | 7 | 1 | 1 | 0 | 0 | 1 | .088 | .086 | .176 | .262 | .000 | .107 | .000 | .125 | .200 | 0.35 | 0 | 0 | 21 | 90 | $0.20M |
| 2049 | HRB | 4 | | 29 | 76 | 13 | 16 | 6 | 0 | 3 | 9 | 3 | 1 | 16 | 3 | 3 | 0 | 0 | 1 | .211 | .247 | .408 | .655 | .148 | .245 | .161 | .244 | .316 | 0.64 | 0 | 2 | 22 | 98 | $0.50M |
| 2051 | HLB | 6 | | 90 | 321 | 52 | 78 | 27 | 2 | 17 | 52 | 43 | 1 | 44 | 16 | 9 | 0 | 0 | 3 | .243 | .332 | .498 | .830 | .243 | .243 | .262 | .227 | .267 | 0.57 | 5 | 9 | 24 | 109 | $0.50M |
| 2052 | HLB | 6 | | 87 | 347 | 63 | 85 | 21 | 2 | 16 | 57 | 47 | 0 | 40 | 26 | 13 | 1 | 2 | 5 | .245 | .331 | .455 | .786 | .220 | .268 | .275 | .216 | .218 | 0.59 | 1 | 3 | 25 | 115 | $0.60M |
| 2053 | HLB | 6 | | 136 | 530 | 126 | 163 | 43 | 4 | 27 | 113 | 90 | 0 | 58 | 44 | 17 | 2 | 0 | 10 | .308 | .402 | .557 | .958 | .302 | .311 | .327 | .291 | .289 | 0.68 | 6 | 10 | 26 | 118 | $0.70M |
| 2054 | HLB | 5 | | 153 | 566 | 99 | 149 | 29 | 6 | 30 | 109 | 80 | 7 | 80 | 34 | 21 | 3 | 2 | 11 | .263 | .355 | .495 | .850 | .260 | .265 | .292 | .232 | .287 | 0.56 | 3 | 8 | 27 | 119 | $1.70M |
| 2055 | HLB | 5 | | 154 | 556 | 112 | 150 | 40 | 4 | 30 | 98 | 90 | 4 | 59 | 41 | 14 | 4 | 0 | 5 | .270 | .373 | .518 | .891 | .326 | .240 | .296 | .243 | .255 | 0.62 | 2 | 10 | 28 | 119 | $2.35M |
| 2056 | HLB | 4 | | 154 | 594 | 113 | 162 | 43 | 6 | 30 | 100 | 75 | 3 | 74 | 30 | 6 | 4 | 1 | 7 | .273 | .353 | .517 | .870 | .253 | .283 | .264 | .281 | .282 | 0.61 | 2 | 7 | 29 | 119 | $2.65M |
| 2057 | HLB | 4 | | 142 | 553 | 84 | 149 | 41 | 6 | 29 | 87 | 74 | 0 | 74 | 40 | 10 | 4 | 1 | 6 | .269 | .352 | .523 | .875 | .308 | .256 | .269 | .270 | .231 | 0.76 | 4 | 13 | 30 | 119 | $2.60M |
| 2058 | HLB | 4 | | 155 | 568 | 102 | 142 | 36 | 3 | 33 | 102 | 83 | 7 | 70 | 27 | 11 | 5 | 2 | 4 | .250 | .350 | .498 | .849 | .305 | .236 | .249 | .251 | .291 | 0.54 | 6 | 8 | 31 | 118 | $2.75M |
| 2059 | HLB | 3 | | 150 | 590 | 98 | 185 | 51 | 4 | 32 | 127 | 67 | 0 | 74 | 9 | 6 | 6 | 1 | 9 | .314 | .378 | .576 | .955 | .347 | .300 | .289 | .338 | .389 | 0.61 | 6 | 16 | 32 | 117 | $2.55M |
| 2060 | HLB | 3 | | 149 | 570 | 85 | 156 | 43 | 2 | 28 | 110 | 73 | 2 | 70 | 9 | 4 | 3 | 3 | 10 | .274 | .353 | .504 | .856 | .251 | .283 | .207 | .337 | .300 | 0.68 | 8 | 7 | 33 | 116 | $3.40M |
| 2061 | HLB | 3 | | 47 | 115 | 16 | 26 | 7 | 1 | 5 | 19 | 17 | 0 | 12 | 0 | 0 | 3 | 0 | 3 | .226 | .319 | .435 | .753 | .240 | .200 | .203 | .250 | .237 | 0.52 | 3 | 1 | 34 | 114 | $3.30M |
| Total | | | | 1461 | 5420 | 969 | 1464 | 387 | 40 | 281 | 986 | 742 | 25 | 678 | 280 | 115 | 35 | 12 | 75 | .270 | .356 | .512 | .868 | .276 | .267 | .269 | .271 | .285 | 0.62 | 46 | 94 | - | - | - |
| Year | Team | | P | % | C | % | 1B | % | 2B | % | 3B | % | SS | % | OF | % | LF | % | CF | % | RF | % | DH | CS% | PB | DP | OA | E | FP |
| --- | --- | --- | --- | --- | --- | --- | --- | --- | --- | --- | --- | --- | --- | --- | --- | --- | --- | --- | --- | --- | --- | --- | --- | --- | --- | --- | --- | --- | --- |
| 2048 | HRB | | 0 | .000 | 10 | 1.000 | 0 | .000 | 0 | .000 | 0 | .000 | 0 | .000 | 4 | 1.000 | 1 | .000 | 0 | .000 | 3 | 1.000 | 1 | 18.2% | 1 | 1 | 0 | 0 | 1.000 |
| 2049 | HRB | | 0 | .000 | 23 | 1.000 | 1 | .000 | 0 | .000 | 0 | .000 | 0 | .000 | 4 | 1.000 | 1 | .000 | 2 | .000 | 1 | 1.000 | 1 | 24.1% | 1 | 0 | 0 | 0 | 1.000 |
| 2051 | HLB | | 0 | .000 | 13 | .988 | 0 | .000 | 0 | .000 | 2 | 1.000 | 5 | .909 | 65 | .987 | 56 | .985 | 0 | .000 | 9 | 1.000 | 5 | 37.5% | 0 | 3 | 2 | 5 | .980 |
| 2052 | HLB | | 0 | .000 | 10 | .974 | 2 | .941 | 0 | .000 | 8 | .938 | 15 | .942 | 50 | .988 | 11 | 1.000 | 39 | .986 | 0 | .000 | 2 | 30% | 2 | 6 | 3 | 10 | .971 |
| 2053 | HLB | | 0 | .000 | 1 | 1.000 | 0 | .000 | 0 | .000 | 0 | .000 | 0 | .000 | 131 | .985 | 80 | .988 | 51 | .983 | 0 | .000 | 4 | 0% | 1 | 0 | 7 | 5 | .986 |
| 2054 | HLB | | 0 | .000 | 0 | .000 | 0 | .000 | 0 | .000 | 0 | .000 | 0 | .000 | 153 | .990 | 97 | .988 | 56 | .994 | 0 | .000 | 0 | 0% | 0 | 1 | 4 | 4 | .990 |
| 2055 | HLB | | 0 | .000 | 0 | .000 | 0 | .000 | 0 | .000 | 0 | .000 | 0 | .000 | 154 | .993 | 95 | .991 | 59 | .995 | 0 | .000 | 0 | 0% | 0 | 1 | 5 | 3 | .993 |
| 2056 | HLB | | 0 | .000 | 15 | 1.000 | 15 | .977 | 0 | .000 | 0 | .000 | 0 | .000 | 42 | .980 | 5 | .900 | 0 | .000 | 37 | .989 | 82 | 9.5% | 1 | 13 | 8 | 5 | .984 |
| 2057 | HLB | | 0 | .000 | 0 | .000 | 0 | .000 | 0 | .000 | 0 | .000 | 0 | .000 | 112 | .989 | 77 | .995 | 0 | .000 | 35 | .974 | 30 | 0% | 0 | 3 | 6 | 3 | .989 |
| 2058 | HLB | | 0 | .000 | 0 | .000 | 0 | .000 | 0 | .000 | 0 | .000 | 0 | .000 | 155 | .998 | 127 | 1.000 | 0 | .000 | 28 | .987 | 0 | 0% | 0 | 1 | 3 | 1 | .998 |
| 2059 | HLB | | 0 | .000 | 0 | .000 | 0 | .000 | 0 | .000 | 0 | .000 | 0 | .000 | 150 | .994 | 100 | .995 | 0 | .000 | 50 | .992 | 0 | 0% | 0 | 1 | 7 | 2 | .994 |
| 2060 | HLB | | 0 | .000 | 0 | .000 | 0 | .000 | 0 | .000 | 0 | .000 | 0 | .000 | 149 | .997 | 37 | 1.000 | 0 | .000 | 112 | .996 | 0 | 0% | 0 | 1 | 8 | 1 | .997 |
| 2061 | HLB | | 0 | .000 | 0 | .000 | 0 | .000 | 0 | .000 | 0 | .000 | 0 | .000 | 46 | 1.000 | 45 | 1.000 | 1 | .000 | 0 | .000 | 1 | 0% | 0 | 1 | 1 | 0 | 1.000 |
| Total | | | 0 | .000 | 72 | .993 | 18 | .973 | 0 | .000 | 10 | .944 | 20 | .934 | 1215 | .992 | 732 | .993 | 208 | .990 | 275 | .991 | 126 | 21.3% | 6 | 32 | 54 | 39 | .990 |
| Date | Game Date | Team From | Team To | Age | Transaction Type |
| --- | --- | --- | --- | --- | --- |
| 10/25/19 | January 15th 2043 | - | Draft Prospect Pool | 16 | Created as Draft Prospect |
| 09/18/20 | April 7th 2047 | Draft Prospect Pool | Harrisonburg Cardinals | 20 | College Draftee |
| 07/08/21 | February 5th 2051 | Harrisonburg Cardinals | Free Agent Pool | 24 | Released |
| 07/10/21 | March 2nd 2051 | Waivers | Hillsboro Pikas | 24 | Waiver Claim |

Statistics/Graph Selection: