Fernando "The Bull" Martinez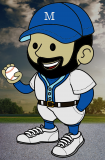 #17

- Fernando Martinez [ID #165400] Utica Dragons 2B
Home Town: Panama City, Panama School: none Drafted: 2034, Round #2
Veteran (14 years with club)
Bats (R) Throws (R) Positions: 2B
Attributes
Offense [Form: Very Hot]
Defense
Age: 32
Hitting:
16
Fielding:
14
Height: 6' 0"
Bat Control:
14
Range:
14
Weight: 203
Plate Discipline:
16
Arm:
5
Experience: 10 years
Power:
9
Skill Index:
102
Salary: $1.95M
Speed:
14
Potential:
14
Scouting Report: He can be a great hitter. He is really quick. He can be outstanding in the field. He is getting to the age where his skills may decline quickly.
| Year | Team | LL | | G | AB | R | H | 2B | 3B | HR | RBI | BB | HBP | K | SB | CS | SH | FS | SF | AVE | OBP | SLG | OPS | VLHP | VRHP | Home | Away | RISP | GB/FB | GIDP | POTG | Age | SI | Salary |
| --- | --- | --- | --- | --- | --- | --- | --- | --- | --- | --- | --- | --- | --- | --- | --- | --- | --- | --- | --- | --- | --- | --- | --- | --- | --- | --- | --- | --- | --- | --- | --- | --- | --- | --- |
| 2040 | UTI | 6 | | 80 | 248 | 34 | 65 | 17 | 2 | 3 | 22 | 16 | 0 | 39 | 33 | 9 | 1 | 0 | 3 | .262 | .303 | .383 | .686 | .230 | .301 | .238 | .288 | .226 | 1.95 | 4 | 4 | 22 | 91 | $0.20M |
| 2041 | UTI | 6 | | 153 | 659 | 124 | 210 | 50 | 12 | 13 | 66 | 52 | 6 | 100 | 63 | 26 | 0 | 0 | 5 | .319 | .371 | .490 | .861 | .368 | .301 | .317 | .320 | .312 | 1.86 | 4 | 10 | 23 | 99 | $0.50M |
| 2042 | UTI | 6 | | 154 | 646 | 113 | 190 | 38 | 7 | 9 | 84 | 80 | 4 | 68 | 88 | 25 | 0 | 0 | 5 | .294 | .373 | .416 | .789 | .309 | .288 | .289 | .299 | .321 | 1.89 | 8 | 8 | 24 | 113 | $1.10M |
| 2043 | UTI | 6 | | 151 | 633 | 116 | 183 | 40 | 7 | 11 | 67 | 87 | 4 | 59 | 99 | 26 | 0 | 0 | 3 | .289 | .377 | .427 | .803 | .315 | .277 | .270 | .304 | .338 | 1.93 | 7 | 14 | 25 | 114 | $1.75M |
| 2044 | UTI | 6 | | 158 | 657 | 113 | 187 | 49 | 6 | 9 | 65 | 82 | 9 | 69 | 91 | 18 | 0 | 0 | 5 | .285 | .369 | .419 | .788 | .291 | .280 | .292 | .278 | .312 | 1.85 | 5 | 8 | 26 | 114 | $1.85M |
| 2045 | UTI | 6 | | 145 | 596 | 86 | 162 | 31 | 6 | 11 | 55 | 76 | 4 | 66 | 75 | 28 | 0 | 0 | 4 | .272 | .356 | .399 | .755 | .314 | .247 | .259 | .285 | .248 | 1.71 | 5 | 6 | 27 | 114 | $1.70M |
| 2046 | UTI | 6 | | 150 | 633 | 114 | 193 | 42 | 7 | 22 | 86 | 62 | 8 | 64 | 69 | 19 | 0 | 0 | 2 | .305 | .373 | .498 | .871 | .313 | .301 | .304 | .306 | .349 | 1.88 | 9 | 17 | 28 | 113 | $1.65M |
| 2047 | UTI | 6 | | 160 | 688 | 125 | 201 | 47 | 15 | 13 | 88 | 96 | 7 | 74 | 69 | 34 | 0 | 0 | 2 | .292 | .383 | .461 | .844 | .318 | .282 | .296 | .289 | .316 | 1.59 | 6 | 18 | 29 | 112 | $1.80M |
| 2048 | UTI | 5 | | 156 | 646 | 98 | 165 | 41 | 5 | 9 | 50 | 93 | 6 | 80 | 68 | 32 | 0 | 0 | 4 | .255 | .352 | .376 | .729 | .228 | .270 | .260 | .251 | .224 | 1.45 | 11 | 10 | 30 | 111 | $1.90M |
| 2049 | UTI | 5 | | 159 | 688 | 104 | 198 | 43 | 4 | 10 | 71 | 80 | 3 | 82 | 75 | 24 | 0 | 0 | 5 | .288 | .362 | .406 | .768 | .224 | .307 | .295 | .281 | .292 | 1.55 | 9 | 15 | 31 | 108 | $2.20M |
| 2050 | UTI | 5 | | 110 | 473 | 70 | 142 | 31 | 3 | 12 | 49 | 58 | 3 | 73 | 44 | 25 | 0 | 0 | 1 | .300 | .379 | .455 | .834 | .252 | .320 | .293 | .306 | .264 | 2.00 | 9 | 7 | 32 | 102 | $1.95M |
| Total | | | | 1576 | 6567 | 1097 | 1896 | 429 | 74 | 122 | 703 | 782 | 54 | 774 | 774 | 266 | 1 | 0 | 39 | .289 | .367 | .432 | .799 | .290 | .288 | .286 | .291 | .298 | 1.76 | 77 | 117 | - | - | - |
| Year | Team | | P | % | C | % | 1B | % | 2B | % | 3B | % | SS | % | OF | % | LF | % | CF | % | RF | % | DH | CS% | PB | DP | OA | E | FP |
| --- | --- | --- | --- | --- | --- | --- | --- | --- | --- | --- | --- | --- | --- | --- | --- | --- | --- | --- | --- | --- | --- | --- | --- | --- | --- | --- | --- | --- | --- |
| 2040 | UTI | | 0 | .000 | 2 | 1.000 | 31 | .978 | 1 | 1.000 | 26 | .950 | 0 | .000 | 9 | .923 | 6 | .923 | 0 | .000 | 3 | .000 | 11 | 0% | 1 | 5 | 0 | 8 | .972 |
| 2041 | UTI | | 0 | .000 | 0 | .000 | 26 | .963 | 127 | .975 | 0 | .000 | 0 | .000 | 0 | .000 | 0 | .000 | 0 | .000 | 0 | .000 | 0 | 0% | 0 | 84 | 0 | 22 | .972 |
| 2042 | UTI | | 0 | .000 | 0 | .000 | 0 | .000 | 154 | .977 | 0 | .000 | 0 | .000 | 0 | .000 | 0 | .000 | 0 | .000 | 0 | .000 | 0 | 0% | 0 | 68 | 0 | 16 | .977 |
| 2043 | UTI | | 0 | .000 | 0 | .000 | 0 | .000 | 151 | .966 | 0 | .000 | 0 | .000 | 0 | .000 | 0 | .000 | 0 | .000 | 0 | .000 | 0 | 0% | 0 | 75 | 0 | 24 | .966 |
| 2044 | UTI | | 0 | .000 | 0 | .000 | 0 | .000 | 158 | .988 | 0 | .000 | 0 | .000 | 0 | .000 | 0 | .000 | 0 | .000 | 0 | .000 | 0 | 0% | 0 | 66 | 0 | 8 | .988 |
| 2045 | UTI | | 0 | .000 | 0 | .000 | 0 | .000 | 145 | .969 | 0 | .000 | 0 | .000 | 0 | .000 | 0 | .000 | 0 | .000 | 0 | .000 | 0 | 0% | 0 | 66 | 0 | 21 | .969 |
| 2046 | UTI | | 0 | .000 | 0 | .000 | 0 | .000 | 150 | .973 | 0 | .000 | 0 | .000 | 0 | .000 | 0 | .000 | 0 | .000 | 0 | .000 | 0 | 0% | 0 | 85 | 0 | 18 | .973 |
| 2047 | UTI | | 0 | .000 | 0 | .000 | 0 | .000 | 160 | .984 | 0 | .000 | 0 | .000 | 0 | .000 | 0 | .000 | 0 | .000 | 0 | .000 | 0 | 0% | 0 | 81 | 0 | 13 | .984 |
| 2048 | UTI | | 0 | .000 | 0 | .000 | 0 | .000 | 156 | .983 | 0 | .000 | 0 | .000 | 0 | .000 | 0 | .000 | 0 | .000 | 0 | .000 | 0 | 0% | 0 | 70 | 0 | 12 | .983 |
| 2049 | UTI | | 0 | .000 | 0 | .000 | 0 | .000 | 159 | .978 | 0 | .000 | 0 | .000 | 0 | .000 | 0 | .000 | 0 | .000 | 0 | .000 | 0 | 0% | 0 | 72 | 0 | 16 | .978 |
| 2050 | UTI | | 0 | .000 | 0 | .000 | 0 | .000 | 110 | .977 | 0 | .000 | 0 | .000 | 0 | .000 | 0 | .000 | 0 | .000 | 0 | .000 | 0 | 0% | 0 | 39 | 0 | 12 | .977 |
| Total | | | 0 | .000 | 2 | 1.000 | 57 | .971 | 1471 | .977 | 26 | .950 | 0 | .000 | 9 | .923 | 6 | .923 | 0 | .000 | 3 | .000 | 11 | 0% | 1 | 711 | 0 | 170 | .977 |
| Date | Game Date | Team From | Team To | Age | Transaction Type |
| --- | --- | --- | --- | --- | --- |
| 10/20/17 | March 14th 2034 | Draft Prospect Pool | Utica Meteors | 16 | Latin American Academy Signee |

Statistics/Graph Selection: