Kalamazoo Bloody Tigers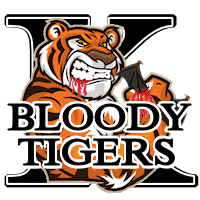 Team: Kalamazoo Bloody Tigers
[ID #754]

Location: Kalamazoo, MI (Midwest)
Owner: Tiger504

[since June 17th 2014 | last seen September 20th 2023]
Rank: #68 - Rating: 165.58
Fan Mood: 108.95
Prestige: 69
Color: Orange
Team Notes:
• May 29 2061:
Willie McCoy
was signed as a free agent.
• May 03 2061:
John Kelley
was released.
• May 03 2061:
Sammie Kline
was signed as a free agent.
• Apr 25 2061:
Elvis Hacker
was claimed off of waivers.
• Apr 18 2061:
Deshawn Stallworth
was released.
• Apr 14 2061:
Jayson Bergstrom
was claimed off of waivers.
• Mar 30 2061:
Doug Boehm
was claimed off of waivers.
• Mar 25 2061:
Jesús Lujan
was claimed off of waivers.
• Mar 25 2061:
John Kelley
was claimed off of waivers.
• Mar 12 2061:
Nicolas Mares
was signed as a free agent.
League Record:
Wins: 31 Losses: 29 Pct: .517 Last10: 7-3 Streak: W1
Ave: 5.5 - 5.5 RS: 330 RA: 329 DIFF: +1 Power Index: 102.9
Cup:
Group 9
[0 | Eliminated]
Press Releases:
Oct 24 2033:
Preparing to Promote: III.4. Legacy
-
by Tiger504 on October 3rd, 2017
After 7 successive seasons in III.4, and a previous stint, it is interesting to look at the league records and find that the Bloody Tigers left their mark in that time.
On the batting side, Alex Crespo is on the board in Games, At Bats, Hits, Doubles and Runs. Long time former SS Rick Cooper is low on the BA board. Long time former 2B Sanchez and C/3B Art Rowland leave their stamp on the Game MVP board.
On the pitching side Chin Mae Park is on season record boards with 218 strikeouts, 23 wins and Game MVPs along with Gil Lester. Career marks include former Iowa Hawkeye Mike "Herky" Holland in Holds. Lester and Park both show prominently on the Career boards of Wins, Innings Pitched, Strikeouts, ERA, WHIP and are at the top of Game MVPS along with Oscar "Ossie" Guzman.
If you're going to spend 7 seasons in a league, you might as well leave some marks and scars. Best of luck to this tough league in the future. The Bloody Tigers would prefer to not return too quickly.
Oct 20 2033:
Park Sets Franchise Record
-
by Tiger504 on October 1st, 2017
Starting pitcher Chin Mae Park won a franchise record 23 games this season. He is leading the league in Wins and ERA. Expectations are high that he can bring home the team's first Cy Young Award since 2026.
Jul 21 2028:
Woes in Kalamazoo
-
by Tiger504 on August 19th, 2016
General Manager Tiger504 is just shaking his head these days.
"I don't know what to do. This is the most solid defense I've ever put on the field. I've added 2 bats to help against RHP which was our weakness....I thought, when we were 31-19 in divisional play. Now we're 11-24 against the West, we've fallen in the standings and it doesn't appear were done falling yet. Everyone else on the East seems to be holding up againt the other division. Our pitching has to come together. If we score 2, they score 3. If we score 8, they score 9. We give up runs early, we blow leads late. We've been star crossed. Here's the plan folks, we are going to have to stay this course. Beyond moving a pitcher or two around, that's it. This is your 2028 team."
May 21 2027:
100th Victory For Humphries
-
by Tiger504 on May 11th, 2016
Russell Humphries notched his 100th career win with a 4 hit shutout. Humphries has just returned from a 35 day stay on the DL. Hopefully the Tigers can turn this season around from lackluster offense and hanging around .500. Interdivisional play will be crucial again this season. The East Division appears to either have excellent pitching staffs or poor offenses. Playing the West should show which of those is the case.
Nov 04 2026:
2026 Post Season Honors See Humphries Notch 3rd Cy Young
-
by Tiger504 on April 8th, 2016
Leading post season awards in IV.7 for Kalamazoo is Cy Young Winner Russell Humphries who also was named All League. At 98 wins, two no hitters and now three Cy Young awards, Humphries is well on his way to the Kalamazoo HOF. General Manager Tiger504 reminisced about drafting Humphries. "I just knew we had a franchise pitcher in that goofy kid. I remember bragging about him to the other general managers down at the country club. And you know what they said? 'He'll probably be a decent number three or fourth starter, nice catch'. And 'he's got a strange build'. But I believed in him, I really did. And quite frankly we didn't have a lot else in the pipeline at that time. Today, I couldn't be more proud."
Additionally, Dean Carney, former Iowa State Cyclone made all league in his first season as Tiger. Again Tiger504 commented "Frankly Carney was one heckuva find. I thought he'd be a gap filler. And to think I almost passed on him because he was just a Cyclone and not an Iowa Hawkeye."
We are equally proud that the Tigers had a pair of Gold Glove outfielders in Team Captain Alex Crespo in RF and CF Kyle Rice. Rice was an early season addition. "He's an odd duck, that's for sure" said Tiger504. "You know he really can't hit much and he's only semi fast but he's smart. He's got a great eye, gets on base, stole 31 bases and anchored down the defense with his glove and probably the best range in all of baseball. I don't know why he was available but he won't likely be available ever again."
Kalamazoo has not had a Rookie of the Year under Tiger504 and this season is no exception. But this year Angel Rosas made a good run at it finishing 3rd. According to Tiger504 "That kid got jobbed. Oh I know those other guys looked pretty and all but Rosas is the real deal. No seriously, that 22 year old with Simi Valley is something else, amazing even, we're just excited about Angel."
It was a dang fine 2026.