Tombstone Pistoleros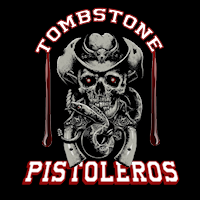 Team: Tombstone Pistoleros
[ID #481]

Location: Tombstone, AZ (Southwest)
Owner: FreddyThe2nd

[since June 08th 2020 | last seen December 04th 2023]
Rank: #28 - Rating: 193.67
Fan Mood: 101.65
Prestige: 64
Color: Red & Black
Team Notes:
• Jun 04 2062:
Albert Dutton
was released.
• Jun 04 2062:
Mauricio Ruiz
was claimed off of waivers.
• May 06 2062:
Jesse Murray
was claimed off of waivers.
• May 06 2062:
Marco Oliva
was signed as a free agent.
• Apr 21 2062:
Phil Greenfield
was released.
• Apr 21 2062:
Jim Sisk
was claimed off of waivers.
• Mar 30 2062:
Phil Greenfield
was claimed off of waivers.
• Mar 25 2062:
Aníbal Estep
was released.
• Mar 25 2062:
Marco Oliva
was released.
• Mar 25 2062:
Lincoln Galvin
was claimed off of waivers.
League Record:
Wins: 23 Losses: 27 Pct: .460 Last10: 4-6 Streak: W2
Ave: 4.3 - 4.6 RS: 215 RA: 229 DIFF: -14 Power Index: 102.8
Cup:
Group 71
[2 | Still Alive]
Press Releases:
Sep 08 2047:
More roster movement
-
by FreddyThe2nd on October 29th, 2020
Roster update:
With a 12 game league lead we started a movement towards playing younger guys that may eventually start but then we won a waiver for
Nishioka
.
He will be the DH/back up SS for next season.
Unfortunately he carries a 6.5m salary and we will only be an IV team next season at best.
Money is not much of a consideration in BB land but we still try to turn a profit every season at every level.
So with all that in mind:
Lee
was called up from AAA to play OF.
Choi
will get the call after the update and will play OF.
Harrell
(32,lhb,OF) was a very useful player but has been cut.
Colburn
(33,OF) has had a career year but will be cut after todays games and before the update.
Trevino
(31,LHP) The toughest cut as pitching is never easy to come by. He also has pitched well but is #4 on our LHP depth chart and the oldest of the four. Cut.
The three above cuts free up 5.55m so we can keep Nishioka for a couple more seasons and continue to make money.
Aug 31 2047:
2047 waiver wins / roster update
-
by FreddyThe2nd on October 27th, 2020
As another waiver season ends we will post an update. It's funny how you can sometimes "win" a 50 claimer that isn't much more than a back up player while others that are useful as starters for many seasons just slip through the cracks at 10-15 claims.
Roster additions via waivers:
21 claims and 15 claims
: speculative young rhp's
Wenger
and
Ramirez
(not real high on either)
13 and 11 claims
: rhp starter
Van Dyke
, lhp
Pelligrino
(my favorite claims both in their prime and gave us some real pitching depth)
13 claim
: super DH 31 year old
Nishioka
(low claims due to uber high salary)
Also noteworthy:
2 claims
: back up 28yr catcher
Tracy
and utility man 33yr
Colburn
(whom has had such a career year, it's gonna be tough to drop him)
The rest of our claims were all speculative minor league pot 11 and 12 kids.
Apr 21 2047:
V.5, 2047
-
by FreddyThe2nd on September 22nd, 2020
2046 review:
90-70 1st div VI.10
Cup
: Made knock out round eliminated round 1.
Flipped almost the whole roster and manager.
Draft:
Ratliff
,
Pineda
Notes:
Young pitchers Jacoby, Escamilla, Meeks, Epps and Avery have good seasons.
SEASON 2047:
Ranked 5th in V.5
New Free Agents:
http://brokenbat.org/player/178244
Draft:
Choi

,
Jordan
Start
: 12-4 all four losses in bottom of 9th or extra innings.
Cup:
3-9
Notable rookies
: pitchers
http://brokenbat.org/player/246334,
and
http://brokenbat.org/player/230316
will each be given as many cup and league innings as possible.
Note: we are currently playing 8 straight games (in 7 days) vs. divisional (and cup) opponent Bremertin.
Mar 14 2046:
New Owners in Tombstone
-
by FreddyThe2nd on June 25th, 2020
2046 Tombstone Red Devils
The big news:
The off season in Tombstone has been a turbulent time.
Over 50% of the roster has changed including the owner and on field coach.
There is not much more room for movement until we come off our roster restrictions, but there will be much more movement expected throughout the rest of the season.-
GM FreddyTheEye
Line-up:
We plan to start the season with a mix of youth and veterans.
Our star is 26 yr CF Michael Gustafson.
Other youth of note (we hope) could be 3B Zavala, 1B Hurtado, C Irizarry.
Hopefully we can find a spot for a few of them but position builds are not all ideal.
Pitching:
Our top two young P prospects are Cueto and Jacoby but they are unfortunately both out with 36 day injuries.
A couple of the 23 and 24 yr olds will start at AAA this season as we have quite a few cabable veteran starters including our big free agent signing, 29 yr old LHP Louis Epps.
We will carry a few young armed relievers though and hopefully somebody unexpected steps up.
In the minors:
Our minors are currently filled with mostly place holders.
Veterans waiting to be cut, a few young prospects that may play for the big club, and a bunch of young arms we would like to take a long look at.
Hal Roth could be a pretty good SS if he can learn the position quickly.
Goals:
Win the division
Develop some young guys
Among our biggest goals and hopes this season is to draft well.
2 or 3 pot 13 keepers would help to replenish the minor system.
Good luck to all in 2046!!