Grand Forks Frogs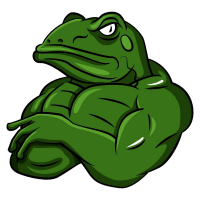 Team: Grand Forks Frogs
[ID #296]

Location: Grand Forks, ND (Plains)
Owner: occham

[since November 07th 2011 | last seen August 10th 2022]
Rank: #167 - Rating: 125.79
Fan Mood: 109.21
Prestige: 31
Color: Black & Neon Green
Team Notes:
• Mar 30 2056:
Lorenzo Frias
was claimed off of waivers.
• Mar 28 2056:
Reuben Erwin
was hired as the new coach.
• Mar 28 2056:
Laurence Lovato
was hired as the new manager.
• Mar 28 2056:
Ramiro Cano
was fired as manager.
• Mar 18 2056:
Bartolomé Guerrero
was signed as a free agent.
• Mar 18 2056:
Lawrence Haynes
was released.
• Mar 18 2056:
Raymond Baker
was claimed off of waivers.
• Mar 18 2056:
Seo Jun Pak
was claimed off of waivers.
• Mar 16 2056:
Jose Pantoja
was claimed off of waivers.
• Mar 04 2056:
George Clement
was signed as a free agent.
League Record:
Wins: 2 Losses: 2 Pct: .500 Last10: 2-2 Streak: W1
Ave: 4.8 - 6.3 RS: 19 RA: 25 DIFF: -6 Power Index: 102.7
Cup:
Group 84
[0 | Still Alive]
Press Releases:
Oct 19 2043:
Good luck, final push!
-
by occham on January 5th, 2020
Four teams within 4 games with 4 to play.
Good luck all.
Sep 21 2036:
Promotion!
-
by occham on July 8th, 2018
After three seasons (including the restart), the Frogs have gained promotion. A super season, including making it to the round of 64 in Cup play, culminated in a division win and promotion.
Wholesale changes were immediately made, brining up rookies and late developers for some end of season practice.
Oct 20 2032:
Good luck Manchester
-
by occham on July 16th, 2017
157 games in, 1 game lead.
Good Luck Manchester. Ironic and appropriate that a final three game series will determine the outcome of the season. But don't forget Syracuse
Jun 25 2032:
Midseason Review
-
by occham on June 16th, 2017
2032 has definitely been a seasons of ups and downs. Hopes were running pretty high after relegation that the stay in VI would be short lived but the Manchester Patriots have other ideas and have been leading the division much of the season.
The offense has been outstanding. With a team average of 0.310 and 6.6 runs per game of run support, the Frogs are making sweet music. The only position of any complaint is short stop where a revolving door of players have been given the opportunity to shine but have all fallen ...short.
The pitching, however has been atrocious. Without the phenomenal offensive production, the staff would look worse, with a team ERA over 5. Brad Tidwell and Carmelo Ventura probably both need to go find something else to do.
Training has been going better this season and the minors have some relatively good talent coming up the ranks. Unfortunately, the best players seem to all be hitters - and for a team already loaded with offense and in need of pitching, that means more 'first to 20 runs wins!' type games.
Jun 27 2031:
2031 Midseason Review
-
by occham on April 1st, 2017
The Good! New Manager / Training camp! After a few weeks of scouring the new managers, the Frogs landed Walter "Radar" Reilly. Since then, the team has trained quite well, even squeezing a few points out of veterans (13 POT Diego Lozono became 14 POT!). The BAD: A horrific start. From first to worst, every pitcher seemed to slump badly from the outset, with the Frogs loosing 80% of their games over the first few months of the season. It's pretty awful when winning 8 out of 10 STILL leaves you at 0.369 and dead last by 6 games. With demotion all but guaranteed, an older vet or two is probably going to get cut to save cash.