Vermillion Dragons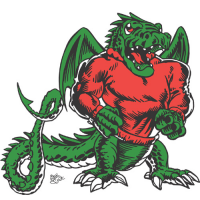 Team: Vermillion Dragons
[ID #168]

Location: Vermillion, SD (Plains)
Owner: None
Rank: #323 - Rating: 97.14
Fan Mood: 116.80
Prestige: 33
Color: Red & Black
Team Notes:
• Apr 07 2058:
Antonio Cuevas
was released.
• Apr 07 2058:
Crespin Salas
was signed as a free agent.
• Mar 14 2058:
Juan Pablo Alvarez
was released.
• Mar 14 2058:
Roman Cobb
was released.
• Mar 14 2058:
Tony Kane
was signed as a free agent.
• Jan 13 2058:
Dominik Staněk
was selected to the national team of
Czech Republic
.
• Jan 13 2058:
Sandy Sims
was selected to the national team of
Bahamas
.
• Jan 13 2058:
Ties Beekman
was selected to the national team of
Aruba
.
• Nov 02 2057:
Spencer Fischer
was named the Rookie Pitcher of the Year.
• Jul 21 2057:
Jung Hwan Cho
was signed as a free agent.
League Record:
Wins: 30 Losses: 22 Pct: .577 Last10: 7-3 Streak: L1
Ave: 7.0 - 6.0 RS: 364 RA: 313 DIFF: +51 Power Index: 99.1
Cup:
Group 40
[1 | Eliminated]
Press Releases:
Oct 22 2049:
A Successful Year to Build On
-
by blackfire83 on April 12th, 2021
Perhaps the early season success and time spent atop Eastern Division leaderboard have made this season's 3rd place finish feel slightly underwhelming, but owner Dan Snyder considers this season a great success.
The Dragons finished 90-70 in a very tough division, marking a 4-win improvement over last year, and the second straight winning season for manager Anthony Norwood and team.
Many young players took some tremendous steps this year, and the future looks great for the Dragons. With an average roster age of just 27 years old, continual improvement seems likely.
Oct 04 2040:
A South Dakota Celebration!
-
by blackfire83 on May 16th, 2019
Champagne corks were popping well into the night as the Vermillion Dragons celebrated clinching the Eastern Division title after their victory over Kearny last night. Manager Scot Allen praised the team for their effort in recovering from a mid-year slump to rattle off 17 wins in their last 20 games.
Owner Dan Snyder praised the General Manager for coming in mid-season and making moves that both shored up the veteran roster, and began a build-up of the farm system. Upper management is excited about several of their draft picks from this year, as well as the development of younger players such as Jordan "Big Country" Patrick, who had a stellar pitching performance just the other night.
Coach Scot Allen said that the team will continue to push hard and prepare for the eventual playoffs, but will cycle some younger players into the major league lineup to get them some valuable big league experience.
May 03 2040:
New Management in South Dakota
-
by blackfire83 on April 5th, 2019
Dan Snyder took over baseball operations of the Vermillion Dragons recently. He stated that he seems a team with potential to win now, but also noted that the window to win will probably be closing soon. He inherits a fairly bare farm system and will be working closely with his scouts in order to find young players to develop in the minor leagues.
From Day 1, Snyder clashed with manager Quentin Morgan, who presided over a 115 loss team last year. Despite a better start to the 2040 season, Snyder dumped Morgan and brought in Scot Allen, who has a reputation as a solid big league manager, but who also has a better eye on development of younger players.
Aug 29 2027:
Bye Bye Woods
-
by jreynoldson913 on June 6th, 2016
The Vermillion Dragons have parted ways with 34 year old outfielder Jay Woods. Jay Woods was then Inductd into the Hall of Fame after his contract was termitated.
GM Jreynoldson913 says Hall of Famer Woods was cut to clear room for younger players.
NOTE-Wodds had been riding the bench for most of the year.
Woods' response to the GM's comments were I understand why I was cut.
Aug 04 2027:
Were Back
-
by jreynoldson913 on May 31st, 2016
GM of the Vermillion Dragons jreynoldson913 has just come out of an unannounced retirement Vermillion reporter Jeff Hawk reports.