Joaquín "The Jet" Almeida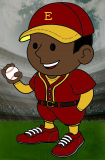 #13

- Joaquín Almeida [ID #249045] Texas City Tornados SS
Home Town: Santiago de Veraguas, Panama School: none Drafted: 2048, Round #1
Veteran (8 years with club)
Bats (R) Throws (R) Positions: SS
Attributes
Offense [Form: Average]
Defense
Age: 29
Hitting:
14
Fielding:
16
Height: 6' 3"
Bat Control:
10
Range:
15
Weight: 216
Plate Discipline:
15
Arm:
14
Experience: 5 years
Power:
18
Skill Index:
121
Salary: $2.55M
Speed:
19
Potential:
15
Scouting Report: He can be a good hitter. He can develop into a prolific slugger. He is really quick. He can be outstanding in the field. He has very good overall potential. He is probably too old to improve much more.
| Year | Team | LL | | G | AB | R | H | 2B | 3B | HR | RBI | BB | HBP | K | SB | CS | SH | FS | SF | AVE | OBP | SLG | OPS | VLHP | VRHP | Home | Away | RISP | GB/FB | GIDP | POTG | Age | SI | Salary |
| --- | --- | --- | --- | --- | --- | --- | --- | --- | --- | --- | --- | --- | --- | --- | --- | --- | --- | --- | --- | --- | --- | --- | --- | --- | --- | --- | --- | --- | --- | --- | --- | --- | --- | --- |
| 2049 | TXC | 6 | | 7 | 25 | 5 | 5 | 3 | 0 | 0 | 1 | 3 | 0 | 6 | 2 | 0 | 0 | 0 | 0 | .200 | .286 | .320 | .606 | .000 | .200 | .500 | .143 | .200 | 1.00 | 0 | 0 | 22 | 86 | $0.20M |
| 2050 | TXC | 6 | | 5 | 1 | 3 | 0 | 0 | 0 | 0 | 0 | 0 | 0 | 0 | 3 | 0 | 0 | 0 | 0 | .000 | .000 | .000 | .000 | .000 | .000 | .000 | .000 | .000 | 0.00 | 0 | 0 | 23 | 93 | $0.50M |
| 2051 | TXC | 6 | | 25 | 101 | 13 | 21 | 5 | 2 | 1 | 6 | 11 | 1 | 31 | 9 | 0 | 0 | 0 | 0 | .208 | .292 | .327 | .619 | .139 | .246 | .227 | .171 | .227 | 0.96 | 1 | 0 | 24 | 98 | $0.50M |
| 2052 | TXC | 6 | | 160 | 570 | 89 | 137 | 37 | 7 | 25 | 111 | 61 | 1 | 120 | 39 | 8 | 0 | 0 | 8 | .240 | .311 | .461 | .772 | .268 | .230 | .207 | .271 | .288 | 0.58 | 3 | 15 | 25 | 106 | $0.50M |
| 2053 | TXC | 6 | | 150 | 544 | 105 | 145 | 35 | 8 | 36 | 95 | 72 | 2 | 110 | 50 | 6 | 0 | 0 | 8 | .267 | .350 | .559 | .909 | .224 | .282 | .270 | .263 | .280 | 0.66 | 5 | 19 | 26 | 117 | $0.85M |
| 2054 | TXC | 6 | | 156 | 592 | 101 | 147 | 44 | 8 | 38 | 129 | 63 | 2 | 109 | 43 | 12 | 0 | 1 | 11 | .248 | .317 | .542 | .860 | .248 | .248 | .271 | .226 | .277 | 0.41 | 3 | 13 | 27 | 121 | $1.80M |
| 2055 | TXC | 6 | | 159 | 613 | 99 | 160 | 56 | 10 | 22 | 105 | 75 | 0 | 116 | 67 | 10 | 1 | 1 | 13 | .261 | .335 | .493 | .828 | .299 | .248 | .287 | .238 | .250 | 0.59 | 3 | 10 | 28 | 121 | $2.40M |
| 2056 | TXC | 6 | | 157 | 609 | 126 | 175 | 45 | 10 | 42 | 121 | 80 | 3 | 97 | 59 | 18 | 2 | 0 | 13 | .287 | .366 | .601 | .967 | .356 | .262 | .312 | .264 | .277 | 0.46 | 1 | 18 | 29 | 121 | $2.55M |
| Total | | | | 819 | 3055 | 541 | 790 | 225 | 45 | 164 | 568 | 365 | 9 | 589 | 272 | 54 | 3 | 2 | 53 | .259 | .334 | .523 | .857 | .274 | .253 | .269 | .249 | .272 | 0.54 | 16 | 75 | - | - | - |
| Year | Team | | P | % | C | % | 1B | % | 2B | % | 3B | % | SS | % | OF | % | LF | % | CF | % | RF | % | DH | CS% | PB | DP | OA | E | FP |
| --- | --- | --- | --- | --- | --- | --- | --- | --- | --- | --- | --- | --- | --- | --- | --- | --- | --- | --- | --- | --- | --- | --- | --- | --- | --- | --- | --- | --- | --- |
| 2049 | TXC | | 0 | .000 | 0 | .000 | 0 | .000 | 0 | .000 | 0 | .000 | 7 | .955 | 0 | .000 | 0 | .000 | 0 | .000 | 0 | .000 | 0 | 0% | 0 | 3 | 0 | 1 | .955 |
| 2050 | TXC | | 0 | .000 | 0 | .000 | 0 | .000 | 0 | .000 | 0 | .000 | 1 | 1.000 | 4 | .000 | 3 | .000 | 0 | .000 | 1 | .000 | 0 | 0% | 0 | 0 | 0 | 0 | 1.000 |
| 2051 | TXC | | 0 | .000 | 0 | .000 | 0 | .000 | 0 | .000 | 0 | .000 | 25 | .963 | 0 | .000 | 0 | .000 | 0 | .000 | 0 | .000 | 0 | 0% | 0 | 4 | 0 | 3 | .963 |
| 2052 | TXC | | 0 | .000 | 0 | .000 | 1 | .889 | 0 | .000 | 0 | .000 | 158 | .977 | 1 | 1.000 | 0 | .000 | 0 | .000 | 1 | 1.000 | 0 | 0% | 0 | 83 | 0 | 17 | .976 |
| 2053 | TXC | | 0 | .000 | 0 | .000 | 0 | .000 | 0 | .000 | 0 | .000 | 150 | .978 | 0 | .000 | 0 | .000 | 0 | .000 | 0 | .000 | 0 | 0% | 0 | 78 | 0 | 14 | .978 |
| 2054 | TXC | | 0 | .000 | 0 | .000 | 0 | .000 | 0 | .000 | 0 | .000 | 156 | .981 | 0 | .000 | 0 | .000 | 0 | .000 | 0 | .000 | 0 | 0% | 0 | 71 | 0 | 12 | .981 |
| 2055 | TXC | | 0 | .000 | 0 | .000 | 0 | .000 | 0 | .000 | 0 | .000 | 159 | .984 | 0 | .000 | 0 | .000 | 0 | .000 | 0 | .000 | 0 | 0% | 0 | 73 | 0 | 10 | .984 |
| 2056 | TXC | | 0 | .000 | 0 | .000 | 0 | .000 | 0 | .000 | 0 | .000 | 157 | .988 | 0 | .000 | 0 | .000 | 0 | .000 | 0 | .000 | 0 | 0% | 0 | 83 | 0 | 8 | .988 |
| Total | | | 0 | .000 | 0 | .000 | 1 | .889 | 0 | .000 | 0 | .000 | 813 | .981 | 5 | 1.000 | 3 | .000 | 0 | .000 | 2 | 1.000 | 0 | 0% | 0 | 395 | 0 | 65 | .981 |
| Date | Game Date | Team From | Team To | Age | Transaction Type |
| --- | --- | --- | --- | --- | --- |
| 10/25/19 | January 15th 2043 | - | Draft Prospect Pool | 16 | Created as Draft Prospect |
| 11/28/20 | March 15th 2048 | Draft Prospect Pool | Texas City Tornados | 21 | Latin American Academy Signee |

Statistics/Graph Selection: