Dennis "La malice" Van der Berg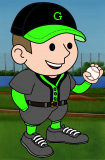 #35

- Dennis Van der Berg [ID #172574] Savannah Titans OF
Home Town: Newport, Curaçao School: none Drafted: 2035, Round #4
Veteran (17 years with club)
Bats (R) Throws (R) Positions: OF
Attributes
Offense [Form: Hot]
Defense
Age: 34
Hitting:
16
Fielding:
7
Height: 6' 2"
Bat Control:
7
Range:
18
Weight: 218
Plate Discipline:
17
Arm:
19
Experience: 12 years
Power:
6
Skill Index:
104
Salary: $0.80M
Speed:
14
Potential:
13
Scouting Report: He can be a very good hitter. He has decent speed. He will always be an atrocious fielder. He is getting to the age where his skills may decline quickly.
| Year | Team | LL | | G | AB | R | H | 2B | 3B | HR | RBI | BB | HBP | K | SB | CS | SH | FS | SF | AVE | OBP | SLG | OPS | VLHP | VRHP | Home | Away | RISP | GB/FB | GIDP | POTG | Age | SI | Salary |
| --- | --- | --- | --- | --- | --- | --- | --- | --- | --- | --- | --- | --- | --- | --- | --- | --- | --- | --- | --- | --- | --- | --- | --- | --- | --- | --- | --- | --- | --- | --- | --- | --- | --- | --- |
| 2041 | SAV | 5 | | 44 | 95 | 10 | 23 | 4 | 1 | 0 | 8 | 14 | 1 | 18 | 9 | 4 | 0 | 0 | 1 | .242 | .342 | .305 | .648 | .269 | .179 | .182 | .325 | .241 | 1.48 | 0 | 0 | 22 | 90 | $0.20M |
| 2042 | SAV | 5 | | 48 | 64 | 14 | 15 | 2 | 0 | 2 | 8 | 9 | 0 | 12 | 8 | 2 | 0 | 0 | 1 | .234 | .324 | .359 | .684 | .261 | .220 | .216 | .259 | .357 | 1.16 | 4 | 0 | 23 | 93 | $0.50M |
| 2043 | SAV | 5 | | 97 | 306 | 44 | 75 | 16 | 3 | 4 | 37 | 32 | 1 | 55 | 19 | 7 | 0 | 0 | 1 | .245 | .318 | .356 | .674 | .331 | .191 | .213 | .282 | .304 | 0.94 | 3 | 3 | 24 | 96 | $0.50M |
| 2044 | SAV | 5 | | 158 | 523 | 72 | 136 | 33 | 4 | 9 | 60 | 63 | 1 | 105 | 45 | 14 | 0 | 0 | 4 | .260 | .338 | .390 | .728 | .286 | .245 | .257 | .263 | .326 | 1.17 | 10 | 3 | 25 | 101 | $0.50M |
| 2045 | SAV | 5 | | 155 | 647 | 101 | 192 | 40 | 4 | 17 | 81 | 76 | 6 | 131 | 58 | 24 | 0 | 0 | 5 | .297 | .373 | .450 | .823 | .296 | .297 | .275 | .317 | .286 | 1.13 | 10 | 7 | 26 | 106 | $0.50M |
| 2046 | SAV | 4 | | 143 | 558 | 89 | 149 | 33 | 1 | 9 | 59 | 73 | 3 | 122 | 44 | 20 | 0 | 0 | 6 | .267 | .352 | .378 | .730 | .297 | .253 | .243 | .289 | .290 | 1.13 | 10 | 9 | 27 | 106 | $1.05M |
| 2047 | SAV | 5 | | 156 | 523 | 80 | 144 | 34 | 4 | 5 | 58 | 68 | 2 | 104 | 54 | 17 | 0 | 0 | 5 | .275 | .358 | .384 | .742 | .307 | .255 | .267 | .283 | .280 | 1.26 | 6 | 4 | 28 | 106 | $1.30M |
| 2048 | SAV | 6 | | 156 | 522 | 91 | 135 | 27 | 1 | 5 | 31 | 74 | 2 | 101 | 60 | 24 | 0 | 0 | 2 | .259 | .352 | .343 | .695 | .277 | .248 | .243 | .275 | .217 | 1.06 | 8 | 3 | 29 | 106 | $1.35M |
| 2049 | SAV | 6 | | 143 | 543 | 93 | 165 | 33 | 6 | 10 | 59 | 58 | 5 | 98 | 64 | 17 | 0 | 0 | 2 | .304 | .375 | .442 | .817 | .284 | .316 | .278 | .329 | .339 | 1.20 | 5 | 7 | 30 | 106 | $1.05M |
| 2050 | SAV | 6 | | 149 | 585 | 89 | 166 | 30 | 3 | 11 | 66 | 62 | 2 | 136 | 70 | 24 | 0 | 0 | 6 | .284 | .351 | .402 | .753 | .286 | .283 | .284 | .283 | .278 | 1.09 | 9 | 7 | 31 | 106 | $1.05M |
| 2051 | SAV | 6 | | 160 | 579 | 101 | 157 | 24 | 3 | 12 | 57 | 62 | 1 | 108 | 53 | 14 | 0 | 0 | 3 | .271 | .341 | .385 | .726 | .298 | .258 | .246 | .297 | .292 | 1.23 | 7 | 3 | 32 | 105 | $0.90M |
| 2052 | SAV | 6 | | 110 | 362 | 57 | 96 | 13 | 0 | 5 | 39 | 51 | 6 | 69 | 40 | 16 | 0 | 0 | 4 | .265 | .362 | .343 | .704 | .303 | .238 | .309 | .223 | .279 | 0.94 | 6 | 3 | 33 | 105 | $0.95M |
| 2053 | SAV | 5 | | 91 | 260 | 37 | 76 | 12 | 0 | 4 | 34 | 37 | 1 | 58 | 23 | 5 | 0 | 0 | 4 | .292 | .377 | .385 | .762 | .248 | .329 | .326 | .254 | .274 | 0.86 | 0 | 0 | 34 | 104 | $0.80M |
| Total | | | | 1610 | 5567 | 878 | 1529 | 301 | 30 | 93 | 597 | 679 | 31 | 1117 | 547 | 188 | 0 | 0 | 44 | .275 | .354 | .390 | .744 | .291 | .265 | .263 | .286 | .290 | 1.12 | 78 | 49 | - | - | - |
| Year | Team | | P | % | C | % | 1B | % | 2B | % | 3B | % | SS | % | OF | % | LF | % | CF | % | RF | % | DH | CS% | PB | DP | OA | E | FP |
| --- | --- | --- | --- | --- | --- | --- | --- | --- | --- | --- | --- | --- | --- | --- | --- | --- | --- | --- | --- | --- | --- | --- | --- | --- | --- | --- | --- | --- | --- |
| 2041 | SAV | | 0 | .000 | 0 | .000 | 0 | .000 | 0 | .000 | 0 | .000 | 0 | .000 | 43 | 1.000 | 0 | .000 | 43 | 1.000 | 0 | .000 | 1 | 0% | 0 | 0 | 3 | 0 | 1.000 |
| 2042 | SAV | | 0 | .000 | 0 | .000 | 0 | .000 | 0 | .000 | 0 | .000 | 0 | .000 | 47 | .982 | 6 | 1.000 | 10 | .875 | 31 | 1.000 | 1 | 0% | 0 | 0 | 0 | 1 | .982 |
| 2043 | SAV | | 0 | .000 | 2 | 1.000 | 1 | 1.000 | 0 | .000 | 0 | .000 | 0 | .000 | 91 | 1.000 | 14 | 1.000 | 76 | 1.000 | 1 | .000 | 3 | 100% | 0 | 2 | 4 | 0 | 1.000 |
| 2044 | SAV | | 0 | .000 | 0 | .000 | 0 | .000 | 0 | .000 | 0 | .000 | 0 | .000 | 158 | .986 | 5 | 1.000 | 151 | .986 | 2 | 1.000 | 0 | 0% | 0 | 3 | 8 | 7 | .986 |
| 2045 | SAV | | 0 | .000 | 0 | .000 | 0 | .000 | 0 | .000 | 0 | .000 | 0 | .000 | 155 | .983 | 0 | .000 | 155 | .983 | 0 | .000 | 0 | 0% | 0 | 2 | 13 | 9 | .983 |
| 2046 | SAV | | 0 | .000 | 0 | .000 | 0 | .000 | 0 | .000 | 0 | .000 | 0 | .000 | 143 | .986 | 0 | .000 | 126 | .986 | 17 | .980 | 0 | 0% | 0 | 3 | 13 | 7 | .986 |
| 2047 | SAV | | 0 | .000 | 2 | .900 | 0 | .000 | 0 | .000 | 0 | .000 | 0 | .000 | 154 | .995 | 0 | .000 | 57 | .981 | 97 | 1.000 | 0 | 25% | 0 | 1 | 14 | 3 | .992 |
| 2048 | SAV | | 0 | .000 | 0 | .000 | 0 | .000 | 0 | .000 | 0 | .000 | 0 | .000 | 156 | .984 | 64 | .985 | 0 | .000 | 92 | .983 | 0 | 0% | 0 | 2 | 7 | 6 | .984 |
| 2049 | SAV | | 0 | .000 | 0 | .000 | 0 | .000 | 0 | .000 | 0 | .000 | 0 | .000 | 143 | 1.000 | 30 | 1.000 | 53 | 1.000 | 60 | 1.000 | 0 | 0% | 0 | 3 | 10 | 0 | 1.000 |
| 2050 | SAV | | 0 | .000 | 0 | .000 | 0 | .000 | 0 | .000 | 0 | .000 | 0 | .000 | 148 | .989 | 0 | .000 | 58 | .991 | 90 | .988 | 1 | 0% | 0 | 3 | 12 | 5 | .989 |
| 2051 | SAV | | 0 | .000 | 0 | .000 | 0 | .000 | 0 | .000 | 0 | .000 | 0 | .000 | 160 | .969 | 28 | .947 | 22 | .965 | 110 | .976 | 0 | 0% | 0 | 4 | 23 | 14 | .969 |
| 2052 | SAV | | 0 | .000 | 0 | .000 | 1 | 1.000 | 0 | .000 | 3 | .000 | 0 | .000 | 105 | .992 | 39 | .989 | 4 | 1.000 | 62 | .994 | 1 | 0% | 0 | 2 | 12 | 2 | .992 |
| 2053 | SAV | | 0 | .000 | 0 | .000 | 0 | .000 | 0 | .000 | 0 | .000 | 0 | .000 | 91 | .981 | 35 | .973 | 4 | 1.000 | 52 | .990 | 0 | 0% | 0 | 1 | 5 | 4 | .981 |
| Total | | | 0 | .000 | 4 | .923 | 2 | 1.000 | 0 | .000 | 3 | .000 | 0 | .000 | 1594 | .987 | 221 | .979 | 759 | .988 | 614 | .989 | 7 | 40% | 0 | 26 | 124 | 58 | .987 |
| Date | Game Date | Team From | Team To | Age | Transaction Type |
| --- | --- | --- | --- | --- | --- |
| 03/23/18 | May 29th 2035 | Draft Prospect Pool | Savannah Titans | 16 | Latin American Academy Signee |

Statistics/Graph Selection: