Marcos "The Tactician" Guzman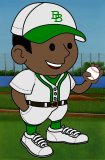 Marcos Guzman [#2100] Cincinnati Stormtroopers Manager
Birthplace: Río Grande, Puerto Rico
Manager (8 years with club)
Attributes
Tactical
Developmental
Age: 72
Offense:
16
Player Dev.:
12
Experience: 24 years
Defense:
18
Fielding Dev.:
10
Salary: $4.35M
Pitching:
3
Pitcher Dev.:
10
Reputation: He is good at managing hitters. He is good at coaching defense. He is below average at handling pitchers. He is a good teacher of the game.
| Year | Team | LL | League: | W | L | Pct | Playoff: | W | L | Pct | PW | Cup: | W | L | Pct | CW | Salary |
| --- | --- | --- | --- | --- | --- | --- | --- | --- | --- | --- | --- | --- | --- | --- | --- | --- | --- |
| 2024 | HMP | 3 | | 84 | 76 | .525 | | 0 | 0 | .000 | 0 | | 14 | 10 | .583 | 0 | $0.50M |
| 2025 | HMP | 3 | | 77 | 83 | .481 | | 0 | 0 | .000 | 0 | | 10 | 10 | .500 | 0 | $0.50M |
| 2026 | ATH | 3 | | 29 | 39 | .426 | | 0 | 0 | .000 | 0 | | 14 | 8 | .636 | 0 | $0.50M |
| 2026 | PTA | 3 | | 40 | 45 | .471 | | 0 | 0 | .000 | 0 | | 0 | 0 | .000 | 0 | $0.50M |
| 2027 | BIL | 6 | | 0 | 0 | .000 | | 0 | 0 | .000 | 0 | | 0 | 0 | .000 | 0 | $0.50M |
| 2027 | KWD | 6 | | 71 | 89 | .444 | | 0 | 0 | .000 | 0 | | 4 | 16 | .200 | 0 | $0.50M |
| 2028 | CHV | 6 | | 74 | 86 | .463 | | 0 | 0 | .000 | 0 | | 15 | 9 | .625 | 0 | $0.60M |
| 2029 | CHV | 6 | | 76 | 84 | .475 | | 0 | 0 | .000 | 0 | | 6 | 14 | .300 | 0 | $0.75M |
| 2030 | CHV | 6 | | 87 | 73 | .544 | | 4 | 3 | .571 | 1 | | 8 | 12 | .400 | 0 | $0.85M |
| 2031 | CHV | 5 | | 61 | 99 | .381 | | 0 | 0 | .000 | 0 | | 8 | 12 | .400 | 0 | $1.20M |
| 2032 | CHV | 6 | | 101 | 59 | .631 | | 0 | 0 | .000 | 0 | | 14 | 8 | .636 | 0 | $1.30M |
| 2033 | CHV | 6 | | 110 | 50 | .688 | | 4 | 3 | .571 | 1 | | 9 | 11 | .450 | 0 | $1.50M |
| 2034 | CHV | 5 | | 80 | 80 | .500 | | 0 | 0 | .000 | 0 | | 17 | 6 | .739 | 0 | $1.90M |
| 2035 | CHV | 5 | | 76 | 84 | .475 | | 0 | 0 | .000 | 0 | | 15 | 10 | .600 | 0 | $2.05M |
| 2036 | KNT | 6 | | 73 | 87 | .456 | | 0 | 0 | .000 | 0 | | 5 | 15 | .250 | 0 | $2.20M |
| 2037 | KNT | 6 | | 76 | 84 | .475 | | 0 | 0 | .000 | 0 | | 5 | 15 | .250 | 0 | $2.35M |
| 2038 | KNT | 6 | | 64 | 96 | .400 | | 0 | 0 | .000 | 0 | | 6 | 14 | .300 | 0 | $2.45M |
| 2039 | KNT | 6 | | 70 | 90 | .438 | | 0 | 0 | .000 | 0 | | 2 | 18 | .100 | 0 | $2.60M |
| 2040 | KNT | 6 | | 75 | 85 | .469 | | 0 | 0 | .000 | 0 | | 6 | 14 | .300 | 0 | $2.70M |
| 2041 | KNT | 6 | | 64 | 96 | .400 | | 0 | 0 | .000 | 0 | | 10 | 10 | .500 | 0 | $2.80M |
| 2042 | KNT | 6 | | 29 | 30 | .492 | | 0 | 0 | .000 | 0 | | 6 | 14 | .300 | 0 | $2.95M |
| 2042 | BH | 6 | | 18 | 16 | .529 | | 0 | 0 | .000 | 0 | | 0 | 0 | .000 | 0 | $2.95M |
| 2043 | CIN | 5 | | 43 | 117 | .269 | | 0 | 0 | .000 | 0 | | 11 | 9 | .550 | 0 | $3.00M |
| 2044 | CIN | 6 | | 81 | 79 | .506 | | 0 | 0 | .000 | 0 | | 14 | 11 | .560 | 0 | $3.10M |
| 2045 | CIN | 6 | | 78 | 82 | .488 | | 0 | 0 | .000 | 0 | | 9 | 11 | .450 | 0 | $3.30M |
| 2046 | CIN | 6 | | 70 | 90 | .438 | | 0 | 0 | .000 | 0 | | 9 | 11 | .450 | 0 | $3.45M |
| 2047 | CIN | 6 | | 88 | 76 | .537 | | 0 | 0 | .000 | 0 | | 9 | 11 | .450 | 0 | $3.55M |
| 2048 | CIN | 6 | | 71 | 89 | .444 | | 0 | 0 | .000 | 0 | | 9 | 11 | .450 | 0 | $3.70M |
| 2049 | CIN | 6 | | 88 | 72 | .550 | | 4 | 2 | .667 | 1 | | 11 | 9 | .550 | 0 | $3.85M |
| 2050 | CIN | 5 | | 65 | 95 | .406 | | 0 | 0 | .000 | 0 | | 14 | 11 | .560 | 0 | $4.20M |
| 2051 | CIN | 6 | | 20 | 20 | .500 | | 0 | 0 | .000 | 0 | | 7 | 13 | .350 | 0 | $4.35M |
| Total | | | | 2039 | 2251 | .475 | | 12 | 8 | .600 | 3 | | 267 | 323 | .453 | 0 | - |