Brockton Bombers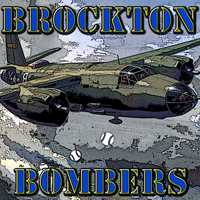 Team: Brockton Bombers
[ID #81]
Location: Brockton, MA (New England)
Owner: Gambler75

[since February 23rd 2017 | last seen May 26th 2018]
Rank: #299 - Rating: 102.12
Fan Mood: 131.11
Prestige: 12
Color: Navy & Gold
Team Notes:
• Feb 19 2036:
Chad Vogel
was claimed off of waivers.
• Jan 15 2036:
Richard Bernard
was released.
• Nov 04 2035:
Billy Grant
was named the Rookie Pitcher of the Year.
• Jul 28 2035:
Martín Caldera
was claimed off of waivers.
• Jul 28 2035:
Dan Bechtel
was released.
• Jul 28 2035:
Kazu Ikeda
was released.
• Jul 28 2035:
Xavier Meda
was signed as a free agent.
• Jul 21 2035:
Takeru Oota
was released.
• Jun 27 2035:
Claudio Garza
was released.
• Apr 25 2035:
Charlie Sheppard
was released.
League Record:
Wins: 14 Losses: 0 Pct: 1.000 Last10: 10-0 Streak: W14
Ave: 5.3 - 1.4 RS: 74 RA: 20 DIFF: +54
Cup:
Group 19
[0 | Still Alive]
Press Releases:
Jun 10 2033:
Cardiac kids win streak ends.
-
by Gambler75 on August 29th, 2017
The Brockton Bombers best win streak in history came to an end at 14 games, with a 6-4 loss on Sunday. After a decent start by team ace O'Leary, star reliever Cruz Acevedo (2.01 ERA, 0.89 WHIP) finally got beat surrendering back to back doubles followed by a 2 run blast. The 14 game streak eclipsed the former mark of 11 straight wins, set by the then Hattiesburg Wildcats in 2027.
The streak featured six one run wins, five of them 9th inning walk offs. The final four games were all one run Ws. Asked about his team's penchant for the dramatic, first year manager Carl Wells had this to say, "Tight defense and solid pitching is going to create a lot of close games, our offense is still a bit of a work in progress but it was nice to see our guys come up with big hits when it mattered most."
Brockton begins interleague play tonight with the West leading Del Mar Marlins, with both teams lefty aces facing off.
Sep 08 2029:
Buck_McCoy
-
by JamesD on November 17th, 2016
whiny loser
Jun 25 2027:
INDUCTEE
-
by Buck_McCoy on May 19th, 2016
A new player
entered
the Hall of Fame today after nine loyal years.
Jan 15 2026:
BREAKING NEWS
-
by Buck_McCoy on January 25th, 2016
The team's first
inductee
was made today upon him reaching the end of his contract.
Aug 29 2025:
Looking Ahead
-
by Buck_McCoy on January 4th, 2016
The future is reflected throughout the squad after a busy week of trades, so current form (12-4) will have to be resumed later!!