Online Baseball Game & Simulation
Broken Bat is an online strategic management game and computer baseball simulation that lets you be the owner/manager of a franchise. Managers acquire players, guide them through the minor leagues and then manage their major league club, competing against other managers. Each team competes against other teams in their division with the winners promoting up a pyramid of leagues and the losers dropping down. Additionally, there are playoff games at the end of each season for the division winners and a national cup tournament which all teams, regardless of their league level, are eligible.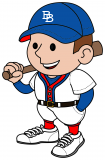 Broken Bat is entirely free!

It's around the clock, so you can manage your team online 24 hours a day. Baseball games are simulated constantly and with a schedule of almost 200 ball games per season, there is always another game coming right up.

The game engine is quite advanced and provides realistic baseball results and requires in depth tactical play. The overall game design requires managers to make long term strategic decision, yet is simple enough that it's not an all consuming endeavor.

Broken Bat has Casey!
Broken Bat is always growing and expanding. After initial beta testing in 2010, the game has seen a number of upgrades and improvements to the site and the game engine. You are welcome and encouraged to check out the site and to offer feedback. You can also follow progress on Twitter or check us out on Facebook!
Now simulated 4,967,564 games and counting!