Naperville Knights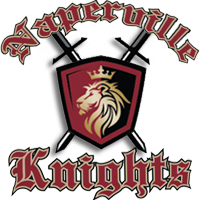 Team: Naperville Knights
[ID #742]
Location: Naperville, IL (Central)
Owner: Mojak81

[since November 26th 2016 | last seen October 18th 2017]
Rank: #534 - Rating: 58.68
Fan Mood: 100.88
Prestige: 9
Color: Red & Black
Team Notes:
• Feb 19 2034:
Quentin Tanner
was claimed off of waivers.
• Jan 26 2034:
César Bonilla
was signed as a free agent.
• Jan 26 2034:
Matías Naranjo
was signed as a free agent.
• Jan 26 2034:
Pablo Navarro
was released.
• Jan 26 2034:
Kurt Knapp
was signed as a free agent.
• Jan 15 2034:
Ryan Clement
was claimed off of waivers.
• Jan 15 2034:
Leib Levy
was selected to the national team of
Israel
.
• Oct 28 2033:
Myung Dae Song
was released.
• Aug 09 2033:
Fabian Salas
was claimed off of waivers.
• Jul 23 2033:
Angelo Oliva
was claimed off of waivers.
League Record:
Wins: 0 Losses: 0 Pct: .000 Last10: 0-0 Streak: -
Ave: 0.0 - 0.0 RS: 0 RA: 0 DIFF: 0
Cup:
Group 103
[0 | Still Alive]
Press Releases:
Mar 08 2032:
2nd Verse, Same As The First ...
-
by Mojak81 on May 16th, 2017
Only a little more expensive and a little bit worse.
Well that season didn't go well. I guess the good news first; statistically we did improve. Batting ave, slugging, ERA, runs against, all improved ... slightly. All said and done, we didn't improve where it mattered most: win %. Don't know if 2 seasons can create a trend, but if it can post all star break seems to be our downfall. We may have been above .500 before interleague began. Main problem areas remain the same; batting ave and OBP are respectable, but slugging and runs scored are low. We just don't have the power bats to drive in runs at any time. And pitching, oh the pitching. Second half our starters had trouble staying past the 5th and the bullpen just wasn't reliable. The closer situation was particularly heinous. 37 for 68 in save opportunities and no one, NO ONE, got more than 9 saves.
Once again, I have to rely on an active offseason in the market to fill gaps, which is usually not a good sign. However, I'm cautiously optimistic. I think I got some big bats that can actually hit the ball, and I've gotten a little more precise about which pitchers I try to get. That being said I've opened up the purse strings quite a bit to the tune of a $10 million increase in payroll. Let's see if we can turn that price tag into wins.
Mar 10 2031:
Recap and Looking Forward
-
by Mojak81 on March 1st, 2017
A little late in putting this out, but oh well.
As 2030 was our first season, I tried to keep expectations realistic. That being said, I feel we did fall a little short. I had hoped to get in the .450s for win% and we fell a little shy of that at .425, not to mention a last place finish. We were doing really well until a 4 game set against Tallahassee where we were outscored 44-4. Never felt like we ever really recovered after that spanking. Overall, offense did fairly well (if you don't look at slugging) and I feel our developing players still have more productivity to show. Our pitching, well, we had problems and still have some going forward, though I'm not going to blame personnel solely; I think there's some learning to be had on the management side.
Looking forward, I had several goals, more than I wanted in the acquisitions department. I'm calling offensive pickups a success; we were last in slugging last year so power was a priority. OF Griffey should by all rights murder the ball and switch-hitting 1B Rivera should likewise be eyeing 15+ homers. Combine them with 3B/DH Tyler and 3B/SS Hudson and we may see a quick reversal in the long ball game. Unfortunately, I don't feel we took many steps forward on the mound. I was hoping for a solid ace that would allow for more flexibility with the starters and a power throwing lefty to come outta the pen. Neither needs have been met yet. I've probably bid on over 50 pitchers so far, but I guess sunny Naperville isn't as attractive as I thought. Not giving up, though.
All in all, looking forward to 2031, eyeing a .500 season. Go Knights!