Parkersburg Miners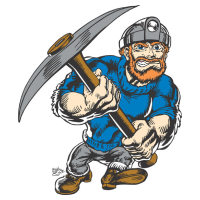 Team: Parkersburg Miners
[ID #362]
Location: Parkersburg, WV (Central)
Owner: None
Rank: #395 - Rating: 87.39
Fan Mood: 97.54
Prestige: 5
Color: Green
Team Notes:
• Mar 14 2043:
Jorge Velarde
was released.
• Jan 15 2043:
Raymond Maduro
was selected to the national team of
Curaçao
.
• May 29 2042:
Aoto Murakami
was signed as a free agent.
• Apr 07 2042:
Min Jun Park
was signed as a free agent.
• Mar 14 2042:
Paul Elliott
was released.
• Mar 14 2042:
Wally Booth
was signed as a free agent.
• May 29 2041:
Enrique Toca
was signed as a free agent.
• Mar 14 2041:
César Gonzales
was released.
• Nov 04 2040:
Glenn Conti
was named the league MVP.
• Sep 12 2040:
Kirk Burch
was released.
League Record:
Wins: 0 Losses: 0 Pct: .000 Last10: 0-0 Streak: -
Ave: 0.0 - 0.0 RS: 0 RA: 0 DIFF: 0
Cup:
Group 50
[0 | Still Alive]
Press Releases:
Apr 07 2031:
A Warmful Welcome from Level 5
-
by li2150 on March 10th, 2017
Miners have finished their first 10 games in level 5 league, and the record is 0-10.
"I knew it's going to be difficult, but even I did not see this coming." So said Louis Mann, the manager of Parkersburg Miners, "The pitching was bad, but it is improving. The lineup is the main problem now. We should have planned carefully in Spring Training, sign some players we can use right now in regular games. Now it is much more difficult."
Although it is normal for a new team to be struggling in Level 5, this kind of record is still very rare. Will Parkersburg go back to level 6 at the end of this season? The next ten games will tell.
Oct 16 2030:
Going back to Level 5
-
by li2150 on February 11th, 2017
Parkersburg was a Level 5 team when the club was founded in 2001, then demoted immediately after the first season. They came back once in 2008, but demoted again in 2013, and they have stayed in VI. 32 for 18 years since then.
Li2150 acquired Parkersburg Miners at the middle of 2029 season. He took a while to get in the team, knowing managers and players. He hired "Smokey" Louis Mann as a new manager, shifted a lot of players especially pitchers during 2030 season. All these efforts finally gain rewards, Miners are going back to level 5.
"Certainly this is a big step, I'm just not sure if we are ready to accept it. Level 5 can be a very different world. " Louis Mann said, "We will need more changes to stay there next year."
Li2150, the owner of Miners shows more confidence: "The good thing is that we have some money, even after we extend the stadium. We can afford a few good players, and Louis has done wonderful work training young players. Certainly it will be very challenging to stay in Level 5, but I believe Miners can make it happen."
Aug 19 2030:
Inter-divisional record 38-22
-
by li2150 on January 27th, 2017
Inter-divisional games have finished, Parkersburg Miners got 38-22 in this season. This record brought them from the fifth position to the top of VI.32 - West league.
The first several games were still bad, Bridgeport almost swept Parkersburg in Bridgeport Park. But then Parkersburg changed the way they use pitchers, and finally started to settle down. Although Parkersburg suffered (and still suffering) a lot from injuries, they kept their momentum by recruiting some good starters.
It has to be pointed out that Daytona Beach, the leader of VI.32 - East, defeated Parkersburg with two 3-2 records, reminding Miners they still have a long way to go. Their bullpen and lineups are still very unsteady, which costs them quite a few games. If they cannot address these issues accordingly, they may find their division rivals are more powerful than expected.
May 10 2030:
Turn our focus into future
-
by li2150 on December 31st, 2016
At the beginning of this season, we had some good time. However, as time passes, we find that we are struggling in games. We just got 6 straight losses in cup and league, the content of games were very disappointing as well. Our pitchers made mistakes, our hitter cannot put balls into game. Lots of young players need to go back to minors to learn more, and we need more solid pitchers. Considering we just got a new manager who is good at teaching games, maybe putting our focus into future is the best strategy for now.
Jun 08 2023:
DRAFT
-
by jackiepoo on July 13th, 2015
Jack Baldridge and Hesperia, have drafted William Lane from the USA, He will start in AAA next week.