East St. Louis Leprechauns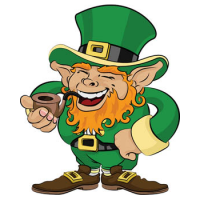 Team: East St. Louis Leprechauns
[ID #337]
Location: East St. Louis, IL (Central)
Owner: Papa

[since February 11th 2017 | last seen November 25th 2020]
Rank: #494 - Rating: 71.24
Fan Mood: 120.68
Prestige: 14
Color: Green
Team Notes:
• Mar 08 2048:
Dalton Schwartz
was signed as a free agent.
• Mar 02 2048:
Juan Montero
was signed as a free agent.
• Feb 19 2048:
Caesar Sáenez
was claimed off of waivers.
• Feb 05 2048:
George Orr
was claimed off of waivers.
• Jan 29 2048:
Joseph Hunter
was signed as a free agent.
• Jan 29 2048:
Everett Short
was released.
• Jan 22 2048:
Minh Hoang
was claimed off of waivers.
• Jan 15 2048:
Min Ho Chung
was signed as a free agent.
• Jan 15 2048:
Wyatt Larsson
was signed as a free agent.
• Jan 15 2048:
Elián Polanco
was released.
League Record:
Wins: 0 Losses: 0 Pct: .000 Last10: 0-0 Streak: -
Ave: 0.0 - 0.0 RS: 0 RA: 0 DIFF: 0
Cup:
Group 42
[0 | Still Alive]
Press Releases:
Apr 10 2044:
I Fought the Law and the Law Won
-
by Papa on January 31st, 2020
It has been 14 years since BJ Law put on the uniform of a Leprechaun, or any uniform for that matter. But to bring East St Louis back to the proud winning ways of the past the ownership has went deep back into the archives and signed 'The Judge" to manage the Irish one win at a time. Only time will tell, Father Time, as the combination of Law with the Old Man of Broken Bat. Pops Jenkins show these young pups how to play. ...more to come.
Apr 07 2043:
The Leprechauns look again to Pops
-
by Papa on November 15th, 2019
After a dismal 1-8 start with a minus 30 run differential 46 year old Pops Jenkins has been called back up from Triple A to fill the role of Pitching Coach and Missing Bullpen Link. This should be the spark that ignites Manager "Drunken" Karl Conley's bench alcohol and brings the Leprechauns back to the top of the league.
Mar 16 2042:
Pops continues to AMAZE
-
by Papa on August 23rd, 2019
Just when the common East St. Louis fan thinks that he or she has seen everything. Manager Drunken Conley has made a move to improve the team. Pops Jenkins has been promoted to team pitching coach. Now the HOF Pops is Pitching Coach, part time mascot, and Setup Man 2. To prove his 45 year old arm can teach and command...he has posted a 4-1 record this spring with a 2.89 era. If this old man can straighten out Conley's pitching staff the Leprechauns can make a solid showing this season.
Mar 02 2041:
Forever the Leprechaun
-
by Papa on May 31st, 2019
In the first game of his 25th yes 25th Spring Training Wesley "Pops" Jenkins had a scoreless outing and earned a big ole spring training "W". Fans have gathered outside the Irish Spring Dome throwing an impromptu East St Louis BBQ to show their appreciation of the Old Leprechaun.
Jul 16 2033:
All Star Congrats
-
by Papa on September 6th, 2017
From the Leprechaun Baseball Operations overlooking the Mighty Mississippi from the great state of Illinois we want to congratulate all of the All Stars East and West! But especially our own "Skeeter" Jacobs and Jose Enriquez get special recognition. And at the ripe old age of 34 Jose had the West's lone stolen base and perhaps the oldest player to swipe an All-Star bag. Let's have a great 2nd have Ladies and Gentlemen!