Strongsville Prowlers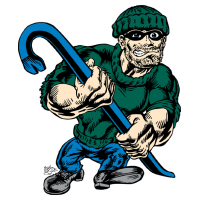 Team: Strongsville Prowlers
[ID #90]

Location: Strongsville, OH (Central)
Owner: None
Rank: #569 - Rating: 71.01
Fan Mood: 89.63
Prestige: 10
Color: Black & White
Team Notes:
• Mar 14 2060:
Blake Morrow
was released.
• Jan 13 2060:
Thierry Jerome
was selected to the national team of
Haiti
.
• Nov 02 2059:
Jeffrey Pease
was named the league MVP.
• Aug 19 2059:
Jose Gonzalez
was released.
• Aug 19 2059:
Jarrod Layton
was signed as a free agent.
• Jun 25 2059:
Jacob Seibert
was signed as a free agent.
• Apr 07 2059:
Russell Hearn
was released.
• Apr 07 2059:
Marcelo Montes
was signed as a free agent.
• Mar 14 2059:
Enrique Hurtado
was released.
• Mar 14 2059:
Rodrigo Contreras
was signed as a free agent.
League Record:
Wins: 0 Losses: 0 Pct: .000 Last10: 0-0 Streak: -
Ave: 0.0 - 0.0 RS: 0 RA: 0 DIFF: 0 Power Index: 99.2
Cup:
Group 52
[0 | Still Alive]
Press Releases:
Oct 24 2043:
Strongsville out of playoff hunt
-
by BUDude on January 6th, 2020
After keeping it very close around the All-Star break and giving fans all around Strongsville hope that the team might miraculously sneak into the top spot in the West, they find themselves seven games back and El Monte has clinched the top spot in the division. Still, there is cause to celebrate the finish. Strongsville added 13 to their win tally from last season, despite a relatively quiet offseason. Such a shift goes to show BUDude is somewhat competent at the helm when he's actually paying attention to the team's day to day operations.
Regretfully, it is shaping up to be a boring offseason as the pipeline from the minors is still catching up from the aforementioned BUDude's unexplained absence from his GM duties. The team's front office suggests they will continue to make small changes to the team as needed, but to not expect a major shakeup for at least another season. You can realistically expect a few aging veterans and underperformers to be let go of with everything else staying mostly the same.
Thanks for another great season, congrats to El Monte on their division win, and enjoy your off-season!
Sep 22 2043:
Vince Holden's Impressive Outing
-
by BUDude on December 29th, 2019
Congrats to Vince Holden for his impressive 8 inning one-hitter this afternoon. The young left-hander earned his first selection to the all-star team in his sophomore season and has been a key part of Strongsville's starting rotation with a 2.85 ERA in 157 & 2/3 innings. 14 of his 26 starts have been recorded as quality starts and he has a team leading 16 wins.
Jul 16 2043:
Recognizing our all-stars
-
by BUDude on December 12th, 2019
The Razorbacks were represented by three first time all-stars this year. All three are products of the Strongsville farm system and earned their first selections to the all-star team this year.
Melvin Caruso was honored as the starter for the West, who won the game 4-3. In his seventh season with the club, Caruso has a BAA of .240 and has 11 quality starts and 3 complete games, one of which is a shutout, in 17 starts this season.
The youngster Vince holden has a 3.07 ERA, 6 Quality Starts, and 8 wins in his 15 starts in his sophomore season with Strongsville. He has only allowed 3 homeruns in 88 innings this season.
Mark Turnbull represented the Razorback's in the DH position. Turnbull was selected due to his line of .355/.434/.502 over 77 games. Turnbull also has 33 walks with only 31 strikeouts so far this year. The 28 year old is in his 8th season with the club.
Congrats to all the All-Stars from this season, but a special thank you to the three Razorbacks who helped the West earn an impressive victory in this year's All-Star game!
Jun 20 2043:
Midseason Roster Moves
-
by BUDude on December 5th, 2019
Strongsville's struggles at 1B continue with Min Jun Park's subpar performance so far. After slashing .155/.197/.172 in 58 appearances at the league level, the new signee from South Korea was sent back down to AAA to work on his hitting.
Park is being replaced in the lineup by George Crouch. Management is hopeful that Crouch will bring a much needed boost to the team's OBP and can make a real difference on the base paths, despite not seeing much major league action in the last couple seasons.
To make room for Crouch, the club let go of Fernando Rodriquez, the third baseman from Puerto Rico. Rodriquez was slashing a meager .157/.221/.271 with Strongsville this season. Management cited frustration with his lack of progression as the reason for his release in addition to a crowded infield.
Mar 30 2042:
New Season Underway
-
by BUDude on August 28th, 2019
Strongsville kicked off the new season with a depressing Cup start, then began regular season play with a series win in their opening set. The word from the FO, though, is that fans should probably just cave in to the crippling despair that is the rebuilding process and not bother. The team is bad, and all efforts are being placed into the acquisition of young talent to fill out the minor league depth charts.