Bryan Yankees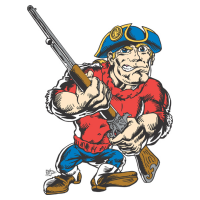 Team: Bryan Yankees
[ID #87]

Location: Bryan, TX (Southwest)
Owner: None
Rank: #736 - Rating: 43.02
Fan Mood: 79.32
Prestige: 11
Color: Navy Pinstripes
Team Notes:
• Jan 13 2053:
Fermin Flores
was selected to the national team of
Philippines
.
• Aug 19 2052:
Mel Vitali
was signed as a free agent.
• Jul 21 2052:
Fermin Flores
was signed as a free agent.
• May 29 2052:
Paul Chappell
was signed as a free agent.
• May 03 2052:
Francisco Frias
was signed as a free agent.
• Nov 02 2051:
Kiké Ulloa
was named the league MVP.
• Aug 19 2051:
Lee Glass
was released.
• Aug 02 2051: Team relinquished by
JKELLYSR63
.
• Sep 21 2050:
Eli Bowman
was released.
• Jul 26 2050:
Stuart Rodgers
was signed as a free agent.
League Record:
Wins: 0 Losses: 0 Pct: .000 Last10: 0-0 Streak: -
Ave: 0.0 - 0.0 RS: 0 RA: 0 DIFF: 0 Power Index: 100.8
Cup:
Group 77
[0 | Still Alive]
Press Releases:
Mar 10 2050:
WELCOME COLTON HANKIN AS THE NEW MANAGER!
-
by JKELLYSR63 on April 27th, 2021
WE WELCOME COLTON HANKIN ABOARD AS THE NEW MANAGER OF THE BRYAN YANKEES! HE IS 44 AND HAS SEVERAL YEARS EXPERIENCE.
WITH ALL THE OTHER CHANGES THAT HAVE HAPPENED AND MORE THAT WILL GOING FORWRD, THE TEAM THOUGHT IT WAS TIME FOR A CHANGE AND A NEW THOUGHT/IDEAS APPROACH TO THE GAME.
WE HOPE YOU ENJOY THE NEW EDITION OF THE BRYAN YANKEES THIS SEASON!
Mar 05 2050:
REBUILD
-
by JKELLYSR63 on April 25th, 2021
THE BRYAN YANKEES HAVE UPGRADED THEIR PITCHING AND POSITION PLAYERS. HOPEFULLY THE INFUSION OF YOUNG ARMS AND BATS WILL HELP BUILD A COMPETING TEAM GOING FORWARD.
WE HOPE THE FANS WILL ENJOY AN IMPROVED PRODUCT! THERE WILL MOST LIKELY BE SOME MORE CHANGES GOING THROUGH THE SEASON. PLEASE ENJOY THE GAMES AND STAY SAFE!
Jul 20 2047:
Closer Christian Moran has 21 saves and no runs against him!
-
by JKELLYSR63 on October 15th, 2020
Closer Christian Moran has 21 saves and no runs against him! 211/2 innings of no runs given up!
Closer Christian Moran L 0 0 21 0.00
Jan 15 2038:
Disappointments lead to move
-
by Lacisum Utama on October 6th, 2018
After acquiring the team and Moving to Mililani, the team seems to have fallen off a cliff. Each year worse than the last and multiple managers coming and going as the team looks for its future. As the old timers retire and a new young crop takes their places it seemed only fitting to move once more and roll the dice. The Stadium is under construction and hopefully will help the team in this upcoming season.
After drafting their #1 prospect today in Pitcher Sean Fulton and a few others knocking at the door, the team hopes to return to their winning ways and seek promotion this season before reestablishing themselves and making a long push for the future and a championship
Sep 22 2035:
Teams Response to Sep 14 2035 Press Release
-
by Lacisum Utama on April 22nd, 2018
After the owner released a statement on Sep 14 2035, the teams response was a big one; going 7-0, outscoring opponents 56-17, and gaining 6.5 games on the division leader. The team sits 4 games back and is poised to make a push for a championship run after all. After many meetings between the owner and current management and players, a few shake ups and rumors the ownership has been interviewing and scouting new managers and talent, the team is playing not only for the season, but for their jobs. After sweeping the previous series against the division leader, they look forward to the last series they have with them to hopefully close the gap and take the lead once again. The fire has been lit and the last few weeks of the season will determine if the team burns down with it or they channel the heat and propel them to victory!!