Midwest City Mavericks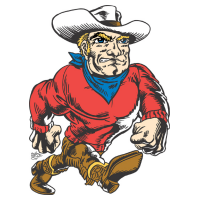 Team: Midwest City Mavericks
[ID #708]

Location: Midwest City, OK (Plains)
Owner: None
Rank: #688 - Rating: 54.77
Fan Mood: 75.06
Prestige: 21
Color: Navy Pinstripes
Team Notes:
• May 03 2058:
Sebastián Salinas
was released.
• May 03 2058:
Evan Coyne
was signed as a free agent.
• Apr 07 2058:
Evan Tan
was released.
• Apr 07 2058:
Jaime Rendon
was signed as a free agent.
• Mar 14 2058:
Oswaldo Rios
was released.
• Mar 14 2058:
Jim Byrne
was released.
• Mar 14 2058:
Ben Esposito
was signed as a free agent.
• Feb 05 2058: Team relinquished by
speeent_
.
• Jan 13 2058:
Evan Tan
was selected to the national team of
Singapore
.
• Nov 02 2057:
Owen Potts
was named the league MVP.
League Record:
Wins: 14 Losses: 29 Pct: .326 Last10: 2-8 Streak: L6
Ave: 6.0 - 7.3 RS: 257 RA: 312 DIFF: -55 Power Index: 98.8
Cup:
Group 108
[0 | Eliminated]
Press Releases:
Oct 22 2055:
Yeah about that "competitive season" part...
-
by speeent_ on July 18th, 2022
Well, 2055 was definitely -a- season.
The first half of the season was
atrocious
to say the least, with just about every journeyman taken in to bolster the roster not panning out. The second half of the season was more or less on par with what the ownership had hoped for the whole season, but it was too little too late.
The youth development program is now chugging along, bringing in 1-2 future key pieces to the major league roster per season, unless major setbacks set us back.
"Doc" Madrid had not enjoyed the Oklahoma climate, and a mutual decision was made to let the old manager return to his peaceful east coast life, with Walter Reilly taking the helm as a new signee. The raw player development may take a tiny hit, but his overall talent set should be a great fit for the Emricks.
And with that, Midwest City starts looking forward to the 2056 season, this time with only the promise of good, solid fundamental baseball to the fanbase. Results be damned.
Mar 30 2055:
Third year, third city
-
by speeent_ on May 25th, 2022
2055 is upon us, and with it another relocation in our efforts to find an identity both on the field and out.
Careful roster moves have been made, and the minor program is showing promise. The Midwest City "Emricks" look forward to a closely contested season, with hopes of potentially landing 4th in the division.
Jul 19 2054:
Half season roundup
-
by speeent_ on April 9th, 2022
Newly minted Newburgh Rats have had a
slightly better than the last
season so far. Runs Allowed still look just plain bad, but better, and Runs For are a solid .7 above last season's end.
Previous season's sole beacon, #1 pitcher Mata seems to have hit a bit of a slump, sitting at 4-4 and missing the All-Stars this season, but the rest of the rotation as well as the bullpen is a lot stronger than a year ago.
1B Truman Strong and DH Sebastián got the gold star this year, and the lineup doesn't seem to have any straight up
bad
apples, even if some of the hitters seem to suffer from peaks and valleys throughout the season.
Going to be a tough rest of the season to finish with a better record than the last. Under -200 DIFF seems like a realistic goal to still have as well.
Good luck to all competitors, and may your injuries be few and short.
-Cheers, speeent_
and the rest of the Rat Pack management
Jun 10 2053:
Bittersweet day for Pierre, SD
-
by speeent_ on January 11th, 2022
After numerous seasons which the fans have described "... As if on autopilot ..." the Pierre Condors are under new ownership. The ongoing season will see -some- activity, but no significant changes will be made mid-season.
The management conglomerate has, however, made it clear that the team will be relocating from Pierre at the end of the season.
Jan 15 2043:
Green & White World classic representation
-
by Alanmobile on October 27th, 2019
Green, white representation is what we aim for. And is what we did. 8 Total players are in the World classic Italy[1] Ireland[4] & Nigeria[3]. GO Green & White.