Atlantic City Broadwalkers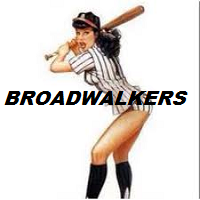 Team: Atlantic City Broadwalkers
[ID #694]

Location: Atlantic City, NJ (Northeast)
Owner: metalbat13

[since January 18th 2016 | last seen January 27th 2023]
Rank: #373 - Rating: 90.87
Fan Mood: 89.00
Prestige: 37
Color: Black Pinstripes
Team Notes:
• May 25 2058:
Alfredo Mesa
was released.
• May 10 2058:
Tao Zheng
was claimed off of waivers.
• May 10 2058:
Roy Lawson
was released.
• Apr 21 2058:
Parker Honeycutt
was hired as the new coach.
• Apr 21 2058: Coach
Oscar Grayson
was let go.
• Mar 25 2058:
Ramiro Ramirez
was claimed off of waivers.
• Feb 12 2058:
Jose Pacheco
was released.
• Feb 05 2058:
Brant Tolbert
was claimed off of waivers.
• Jan 22 2058:
Fernando Gutiérrez
was claimed off of waivers.
• Jan 13 2058:
Hector Johnson
was claimed off of waivers.
League Record:
Wins: 15 Losses: 28 Pct: .349 Last10: 3-7 Streak: L1
Ave: 5.2 - 6.6 RS: 225 RA: 284 DIFF: -59 Power Index: 103.1
Cup:
Group 102
[1 | Eliminated]
Press Releases:
Sep 28 2052:
Cold Beer Calling My Name
-
by metalbat13 on November 22nd, 2021
Reality finally hit home for Atlantic City. After leading the Eastern Division of League II.2 for nearly 80% of the season, the Broadwalker pitching staff surrendered double digit runs in four of the team's last eight contests. The latest debacle was a 28-7 thrashing by Orlando, dropping AC three full games behind Brockton.
"Yeah, we gave up four touchdowns," grimaced manager Barry "Dairy" Friese. "But heck, you'd think we could have at least blocked one of their extra point kick attempts!"
Friese then hopped into his vintage 1990 Chevy Suburban and drove across town to drown his sorrows at the Bare Exposure Strip Bar (recently purchased by AC owner Milo Metalbat), while singing:
"Gonna sip a little somethin'
Gonna worry about nothin'
Cause there's a cold beer callin' my name."
Nov 02 2051:
This Would Never Happen to Chip Hilton
-
by metalbat13 on September 15th, 2021
Atlantic City's baseball team today suffered a collapse worse than the massive Los Angles sinkhole in the new NBC TV series, "La Brea."
Leading Lahaina (HI), three games to zero, in the championship series of League III.3, the Broadwalkers inexplicably dropped four straight contests, all by one run (3-2, 7-6, 5-4, and 1-0).
"I feel like I'm trapped in the middle of an old black and white movie on TCM, and just got kicked in the head by the Lahaina mascot, Francis the Talking Mule!" grunted AC owner, Milo Metalbat. "Every player on our roster will now spend the entire off-season running wind sprints in the tar pits while watching reruns of unintelligible Joe Biden press conferences!"
Sep 08 2051:
House of Cards, Head of Bricks
-
by metalbat13 on September 1st, 2021
Two weeks ago, Atlantic City was comfortably leading the Eastern Division of League III.3 by 13 games.
Unfortunately, after a foot injury to manager Barry "Dairy" Friese, the Broadwalkers descended into a Black Hole darker than the allegations regarding Bishop Sycamore's high school football program. As a result, AC now leads the Athens Gold by just five games with 37 yet to play.
Friese was placed on the 30-day disabled list when his neon shoelaces got tangled in the faulty transmission of a $3.2 million surplus M2 Bradley Fighting Vehicle recently ransomed from Afghanistan. To "encourage" Broken Bat participants to get COVID-19 vaccination shots, Joe Biden had donated the broken Bradley (armed with a 25 mm chain gun and a semi-defective TOW missile launcher) to the Broadwalkers, where it was prominently displayed at one of GM Milo Metalbat's massage parlors.
In addition to its other shortcomings, the Bradley is now off-limits to the entire league because of a leaking exhaust system. When its engine is running, no players or other non-military personnel may approach within twenty feet of the mechanized monstrosity unless they wear N95 respirator face masks and a sign stating, "Don't Blame Me -- I Voted for Frank Underwood."
Mar 08 2049:
Broadwalker Coach Streaks at Superbowl
-
by metalbat13 on February 9th, 2021
AC owner and GM Milo Metalbat today disavowed any "casino-related conspiracy theories" associated with the recent Superbowl incident involving a partially-clad streaker accoutered in a pink thong leotard. The unshaven and semi-swivel-hipped individual, identified as 31-year-old Yuri Andrade, is currently employed as a pitching coach for the Broadwalkers' Class A minor-league franchise (the Athol, Idaho Afterburners).
"Although Yuri is one of my employees, I had no prior knowledge that this embarrassing on-field episode would ever occur!" claimed Metalbat.
The massage parlor magnate emphatically denied accusations that he had placed a $50,000 "prop" bet with Draft Kings at 7.5-1 odds that the game would be interrupted by a streaker.
"I want to ensure the public that I have no connections whatsoever with any members of the Russian mafia!" insisted Milo. "Nor am I the majority owner of the online adult entertainment site advertised on Andrade's leotard."
Jan 15 2049:
Zumba Gets the Roomba Treatment
-
by metalbat13 on January 31st, 2021
After ten seasons with Atlantic City, manager Jose "Zumba" Zambrano was given his unconditional release today. The colorful dugout maestro compiled a mostly mediocre 822-764 record with the Broadwalkers, and recently celebrated his 65th birthday on Jan 14 (National Take a Missionary to Lunch Day). Controversial AC owner and GM Milo Metalbat revealed that Zambrano was terminated as a result of: a) 69 different off-season encounters with Nancy Pelosi in a nude dance exercise class while not wearing a medical facemask, and b) unauthorized use of a rubber ducky in several uncensored Safe Step walk-in bathtub commercials with Pat Boone.
"Mr. Zambrano has also been accused of shorting 100,000 shares of stock in my massage parlor and adult entertainment business (ticker symbol MMXXX) on Robinhood!" claimed Metalbat. "Is that the thanks I get for overpaying him a $5.2 million annual salary?"
Barry "Dairy" Friese, a 45-year old Broken Bat newcomer who once starred in several Reddi-Wip TV ads, was appointed as Zambrano's replacement. Friese will make $4.7 less per season than his predecessor.
As part of a campaign to improve home attendance, the Broadwalkers will immediately implement "Six Buck Chuck Sundays." For just six dollars, all fans (21 and over), will be able to purchase a complete meal, including a double cheeseburger, fries, a small DQ sundae, and a 750 ml bottle of Charles Shaw wine. In addition, they will receive a coupon good for 10% off their next visit to either Trader Joe's and/or any M&M entertainment establishment.