Waterloo Dinosaurs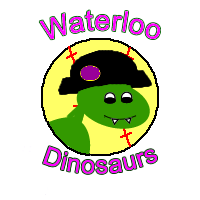 Team: Waterloo Dinosaurs
[ID #659]

Location: Waterloo, IA (Midwest)
Owner: Seca

[since May 05th 2014 | last seen August 04th 2021]
Rank: #96 - Rating: 153.20
Fan Mood: 99.10
Prestige: 80
Color: Purple
Team Notes:
• May 21 2051:
Eugene Bain
was signed as a free agent.
• May 03 2051:
Billy Green
was signed as a free agent.
• May 03 2051:
Will Leung
was signed as a free agent.
• May 03 2051:
Jorge Batista
was released.
• Apr 29 2051:
D`Andre Karr
was signed as a free agent.
• Apr 29 2051:
Eugene Bain
was signed as a free agent.
• Apr 18 2051:
Lloyd McDowell
was claimed off of waivers.
• Apr 16 2051:
Allen Flynn
was released.
• Mar 30 2051:
Jorge Batista
was signed as a free agent.
• Mar 30 2051:
Nicholas Caldwell
was released.
League Record:
Wins: 18 Losses: 22 Pct: .450 Last10: 5-5 Streak: W1
Ave: 4.5 - 4.8 RS: 179 RA: 193 DIFF: -14
Cup:
Group 91
[0 | Eliminated]
Press Releases:
Oct 10 2050:
Flynn Reaches 2k
-
by Seca on June 24th, 2021
A line drive up the middle from Flynn.
Not unusual. Flynn's had a lot of hits. This 7th inning base rap set up Leo Armenta for a 2 run home run, giving the Dinos a fleeting lead in a game destined to be lost.
What was unusual was that this was hit 2000 in the career of shortstop
Allen Flynn
. The 34 year old becomes the first Dino to reach that plateau.
Like other Dinos before him Flynn did not limp to his career mark. He carries a .273/.350/.458 slash into the final 10 games of 2050, having gone deep 23 times. He has been instrumental in a second half resurgence of the team, leading both on and off the field.
Long a wizard with the glove, there are no questions of if Flynn will return to Waterloo next season. There are questions if he will continue to man shortstop, perhaps moving to an ancillary role as age takes its toil.
But that's next season. The Dino organization and fans congratulate the great Allen Flynn on his unique Dino accomplishment.
Jul 28 2050:
McCanonized
-
by Seca on June 6th, 2021
The Waterloo Dinosaurs are pleased to announce the addition of team legend
Greg McCarty
to its hall of fame.
The signing of McCarty was a coup for Waterloo, as the then 26 year old SS chose the Dinos over 110 other suitors. The left handed hitting McCarty immediately provided a heavily RHB lineup with some balance, and was the missing piece that helped propel the Dinos to their first Legends title, and 3 pennants over the next 5 seasons.
McCarty had it all; a smooth swing, speed, power, a discerning eye, soft hands at short. While he was a multiple all-star and all-league player, he didn't win an MVP with the Dinos until his age 35 season. It was during that MVP season that McCarty seamlessly shifted to 3B to accommodate rising star
Allen Flynn
. He remained productive through the end of his age 38 year.
McCarty is arguably the greatest player in Legends league history. His 1840 hits at that level are nearly 100 more than next best (teammate Rich Butler, 98 behind). He is the only player to have scored more than 1000 runs (1128) in Legends. He has the most walks (868) in Legends. The 2nd most extra base hits (803) in Legends. All while providing solid defense at the game's most difficult position.
The Dino organization tip their caps - not just one of the greatest Dinos, but to one of the greatest.
Aug 09 2043:
Marino Hangs 'Em Up
-
by Seca on December 18th, 2019
Dinos OF
Chris Marino
has retired.
When drafted in the 6th round, Marino was viewed and groomed as the team's shortstop of the future. However, the team's acquisition of
Greg McCarty
meant a move for Marino to the OF. He would ultimately play 14 seasons out there, and was a multiple gold glove winner, all-star, and all-league in CF.
Marino was the prototypical lead-off batter; a switch hitter with excellent contact skills, a discerning eye, and enough speed to keep opposing pitchers distracted when he reached the basepaths.
Marino retires as the team leader in games by a position player (1875), hits (1939), walks (914) and stolen bases (552). He is a certain addition to the team's hall of fame.
The organization and fans thank Chris for his contributions to the Dinos, and wish him well in his retirement.
Apr 07 2043:
Killer Bs Inducted
-
by Seca on November 15th, 2019
In a group ceremony Waterloo has added its vaunted 2020 draft class – the Killer Bs Vince Bagley, Pat Booth, and Ray Butler – to the team's hall of fame.
Vince Bagley
began his career in the shadow of team icon Eric Hardy. It was after Hardy's retirement that Bagley assumed the roles of workhorse and ace of the staff. Bagley won all hardware available to pitchers (rookie of the year, all-star, all-league, Cy Young). He was twice a 20 game winner, and team all-time ranks 2nd in wins, IP, Ks (all behind Hardy). Though he never threw a no-hitter, Bagley came close several times with 1 hitters.
Dino management was determined to make
Pat Booth
a starting pitcher. But after 2 failed seasons in the rotation Booth moved to the bullpen where he flourished. A long time member of the US national team Booth finished his career with a team record 1443 games played. He's 2nd all time in both holds and saves, and 5th all time in wins and Ks.
Ray Butler
wasn't gifted with the greatest raw power, but he made up for it with lots of slash and dash. A solid defender at both infield corners, it was hoped Butler would be the first Dino to collect 2000 hits. He came up short, but his 1742 hits does rank him 4th in team history. He's also 4th in games, 2nd in doubles, 3rd in runs and RBIs. He played a pivotal role in the Dinos first Legends championship hitting over 1200 OPS in a 4 game sweep of Thunder Bay.
All 3 players spent their entire Dino careers in Legends, where the team won 3 East titles (and another 4 2nd place finishes) and 2 championships during their tenure. Dino staff and fans with to thank the Killer Bs for their unforgettable contributions to the franchise.
Jun 27 2041:
Memories of Lou James
-
by Seca on July 6th, 2019
The Dinos have signed an expensive bat first 2B recently of a Legends West team in hopes of stabilizing the position and perhaps the season.
That was the news back in 2024 when Waterloo brought in
Lou James
. James provided some starch for the middle of the order, hitting 25 HRs and earning an all star selection while helping the Dinos to a 3rd place finish in their inaugural Legends season.
Poor defensive play led to James and the Dinos parting ways during the 2025 season, but he returned to the club in 2029 and was part of the club's first Legends pennant and championship.
The James story is playing out again in 2041 with the Dinos signing expensive bat first 2B
Juan Tirado
, recently of a Western division rival.
"This season has taken an unexpected turn, as we've added a number of ML ready prospects off the wire." said GM Seca. "With a lot of youth at the bottom of the order, it's really important to get some production from our veterans. In truth, we can only afford Tirado for a payday or two. Hopefully Juan can help turn our fortunes in that time."