Waterloo Dinosaurs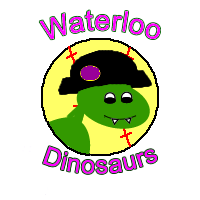 Team: Waterloo Dinosaurs
[ID #659]

Location: Waterloo, IA (Midwest)
Owner: Seca

[since May 05th 2014 | last seen January 28th 2022]
Rank: #26 - Rating: 206.53
Fan Mood: 119.97
Prestige: 80
Color: Purple
Team Notes:
• Aug 19 2053:
Mark Katz
was signed as a free agent.
• Aug 18 2053:
Jaime Hernandez
was signed as a free agent.
• Aug 18 2053:
Edgar Banda
was released.
• Jul 21 2053:
Preston Freedman
was hired as the new manager.
• Jul 21 2053:
Tyler Hussey
was fired as manager.
• Jun 27 2053:
Jake Burdette
was hired as the new coach.
• Jun 27 2053: Coach
Juan Carlos Dos Santos
was let go.
• Jun 09 2053:
Ron Short
was hired as the new coach.
• Jun 09 2053: Coach
Eduardo Rincon
was let go.
• Jun 08 2053:
Mike Bell
was claimed off of waivers.
League Record:
Wins: 68 Losses: 42 Pct: .618 Last10: 6-4 Streak: W2
Ave: 5.1 - 4.1 RS: 560 RA: 454 DIFF: +106 Power Index: 102.8
Cup:
Group 111
[0 | Eliminated]
Press Releases:
Sep 13 2052:
The White Era Begins
-
by Seca on November 19th, 2021
One of the hallmarks of GM Seca's time with the Waterloo franchise has been strong play from the SS position.
Edgar Baez
was claimed as a 17 year old early in Seca's first season as GM. SS was a bit of a mess for the Dinos until Baez broke in 2023, but from then on it has been a strength of the team.
Baez won a gold glove at SS in 2028 before the
McCarty
era began in 2029. The blockbuster signing of McCarty forced Baez to move to 2B (where he won a gold glove the following season in 2029).
McCarty gave Waterloo a decade of all-league caliber play from SS, with the team winning consecutive Legends Championships in his first 2 seasons with the club. McCarty won a well deserved MVP in 2038 - the last season he would serve as the team's starting SS before moving to 3B.
The move to 3B was forced by the arrival of
Allen Flynn
. The Californian would go on to give Waterloo 13 seasons at SS, was a frequent all-star, won 8 consecutive gold gloves, and became the first and only Dino to reach the 2000 hit plateau.
Unfortunately Flynn's retirement came a couple season's before the
next one
was ready. While
Ariel Rosa
and some other veterans have held down the position in the meantime, it is with great excitement that Waterloo welcomes
Tavon White
to the team.
Expectations are high. Fans can't wait to see how the White era stacks up to those of McCarty and Flynn.
Jul 02 2052:
Domo Arigato Mr. Lovato
-
by Seca on October 31st, 2021
It ultimately did not require a clever disguise - just a lot of patience. Top Dino prospect
Adrian Lovato
has finally escaped from the minor leagues and joined the big club.
Lovato was drafted in the 2nd round of the 2046 draft. To give a sense of Lovato's slow development, the player drafted ahead of him,
Hubert Keller
, is in his 4th season with the big club despite both players being the same age and having the same initial placement.
Lovato, a switch hitting OF, has a smooth stroke, a decent eye, and showed improved pop in AAA. He is expected to play LF (at Keller's expense) and bat near the top of the order vs. both LH and RH.
So far so good for the still young Lovato. He has gone 6/14 with a homerun in his first 3 games for Waterloo.
Jun 15 2052:
欢迎 (Huān Yíng ... Welcome!)
-
by Seca on October 27th, 2021
Lads in the Dino locker room are picking up bits of Mandarin after Waterloo's recent addition and call up of rookie pitcher
Jian Kang
.
Originally from Dalian China, the promising southpaw was inserted directly into Waterloo's starting rotation and made a fine showing in his
debut
- 6 IP, 6 H, 2 BB for just 1 ER against.
"We are pleased to inject a little more youth into the rotation." said manager Tyler Hussey. "We're being carried by a couple meths (methuselahs). Banda and Bellomo won't be around forever."
Speaking through an interpreter Kang stated "I am pleased to be here. Pleased to get an opportunity. Pleased to show the fans in Iowa what I can do." He went on to challenge teammate Tony Andrew. "Andrew is good. He has a head start. Now he will have to work if he wants the rookie pitcher award."
Apr 12 2052:
Bellomo Bellissimo
-
by Seca on October 9th, 2021
Recent Dino signing
Brad Bellomo
made team history April 12 throwing what is believed to be the team's first
no hitter
.
Dino legends
Eric Hardy
and
Vince Bagley
both topped out at 1 hitters. *
Journeyman
Grayson Sinclair
also had one for the club. There have also been numerous combined 1 hitters.
Congratulations to Bellomo on the accomplishment! And welcome to the team!
* Hardy might have had one. I have several shutout games saved in my Tools from his era that can't be accessed. If he did I really should have made a press release. Memory isn't what it was. Quite certain Bagley had 2 1 hitters.
Oct 10 2050:
Flynn Reaches 2k
-
by Seca on June 24th, 2021
A line drive up the middle from Flynn.
Not unusual. Flynn's had a lot of hits. This 7th inning base rap set up Leo Armenta for a 2 run home run, giving the Dinos a fleeting lead in a game destined to be lost.
What was unusual was that this was hit 2000 in the career of shortstop
Allen Flynn
. The 34 year old becomes the first Dino to reach that plateau.
Like other Dinos before him Flynn did not limp to his career mark. He carries a .273/.350/.458 slash into the final 10 games of 2050, having gone deep 23 times. He has been instrumental in a second half resurgence of the team, leading both on and off the field.
Long a wizard with the glove, there are no questions of if Flynn will return to Waterloo next season. There are questions if he will continue to man shortstop, perhaps moving to an ancillary role as age takes its toil.
But that's next season. The Dino organization and fans congratulate the great Allen Flynn on his unique Dino accomplishment.