Yankton Yankees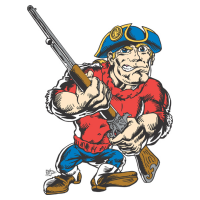 Team: Yankton Yankees
[ID #571]

Location: Yankton, SD (Plains)
Owner: None
Rank: #713 - Rating: 49.30
Fan Mood: 85.05
Prestige: 15
Color: Black
Team Notes:
• Mar 14 2056:
Edgar Banda
was released.
• Aug 19 2055:
Lázaro Amador
was released.
• Aug 19 2055:
Cole Thomas
was signed as a free agent.
• Jul 21 2055:
Rueben Bauta
was released.
• Jul 21 2055:
Tyler Wright
was released.
• Jun 27 2055: Team relinquished by
LTW0515
.
• Mar 30 2055: Team acquired by
LTW0515
.
• Mar 20 2055: Team relinquished by
BGOMER
.
• Mar 20 2055: Team relinquished by
BGOMER
.
• Jul 02 2054: Team acquired by
BGOMER
.
League Record:
Wins: 4 Losses: 3 Pct: .571 Last10: 4-3 Streak: L1
Ave: 5.1 - 3.9 RS: 36 RA: 27 DIFF: +9 Power Index: 99.0
Cup:
Group 50
[0 | Still Alive]
Press Releases:
Oct 16 2041: -
by Blackbeard on August 4th, 2019
Jan 15 2041:
Claudio "Big Papi" Alvarado Retires!
-
by Blackbeard on May 26th, 2019
Claudio "Big Papi" Alvarado agreed with team management that it was time to retire. The team needed to reduce it's payroll and they need spots for younger players that hopefully will be coming in via the draft, waiver and free agent market.
The team released a number of other old veterans in order to open up roster spots and also to reduce a bloated payroll. The released players had a larger than expected decline in their skills and along with their large salaries it was deemed to be financially unfeasible to keep them on the roster. Big Papi's skills declined the most because of advancing age and it made the possibility of him being the teams full time DH be not worth the return on the investment on him. His 4 million salary this season was just too much for the team to absorb due mainly to sentimental feelings. A reduction of 7 million in salaries can be better used in the teams rebuilding process. This is a business after all and from time to time the old needs to be removed to make room for the new. So, good bye veterans, we hope you enjoy your retirement.
Alvarado was inducted in to the teams Hall Of Fame and he departs on good terms. Big Papi has nothing to prove any longer and he will remain one of the best players and home run hitters in team history. As the season gets underway, more oldsters may be sent packing in order to make room for new talent. The team is now in full rebuilding mode. Good luck in retirement Claudio...
Sep 29 2040:
Alvarado Reaches 300 Career Homers!
-
by Blackbeard on May 14th, 2019
Palm Coast Twisters catcher Claudio "Big Papi" Alvarado has reached a milestone for home runs today. "Big Papi" has been very hot of late as he slammed his 31st home run of the season to give him 300 dingers in his career.
Alvarado has spent his entire 9 year career with the franchise. "Big Papi" says that he wants to stay around for another season. Although the catcher is experiencing diminishing skills, the 33 year old thinks that he can help the team next season (possibly at DH) and add to some already very impressive career hitting totals.
In addition to the 300 home runs Alvarado has appeared in 1302 games with the team. He has appeared at the plate 5012 times, has scored 836 runs and he has 1507 hits with more expected to come next season.
In addition, "Big Papi" has hit 384 doubles and he has 957 runs batted in! Alvarados goal for next season will be to get to the magical number of 1000 RBI! "Big Papi" possesses a career .301 batting average.
The Twisters are looking forward to having Alvarado back next season for his 10th season with the team and in the majors. After that, Alvarado will probably retire at the ripe old age or 34. The team expects "Papi" to add to his already Hall Of Fame stats before he enters the HOF officially when he retires...
Oct 17 2039:
No Hitter For Cristian Ventura
-
by Blackbeard on March 3rd, 2019
Devil Rays pitcher Cristian Ventura throws his first career no hitter! Ventura went 9 innings in the Rays 2 to 0 victory over division leader West Haven.
The only blemish on Ventura's pitching gem was the 3 walks he allowed. This is the pitchers first start of the season after agreeing to go in to a starting role for the Devil Rays stretch run and attempt at winning the division.
This complete game no hitter by Ventura is the teams 7th win in a row and it pulls them to with in 2 1/2 games behind West Haven with 6 games remaining on the schedule.
Jan 15 2028:
Mitchell Miners Hire New Skipper
-
by raygen12 on July 4th, 2016
The Miners organization has decided to make a change at the manager position. They would first off all like to thank the old manager for managing 2 good years for the ball club. The main reason this change was made was because the new manager John Rhodes, was much better at developing young talent and pitching, the 2 main things the Miners need right now. Coach Rhodes now looks to take this team to the next level in the league and cup.