Anderson Dogs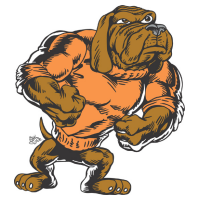 Team: Anderson Dogs
[ID #566]

Location: Anderson, IN (Central)
Owner: None
Rank: #378 - Rating: 90.27
Fan Mood: 101.75
Prestige: 24
Color: Navy & Gold
Team Notes:
• Nov 02 2059:
Brian Agostini
was hired as the new coach.
• Nov 02 2059: Coach
Thad Proctor
leaves to pursue managing opportunities.
• Sep 12 2059:
Hal Montgomery
was released.
• May 03 2059:
Francisco Hernandez
was signed as a free agent.
• Apr 07 2059:
Armando Suárez
was signed as a free agent.
• Mar 14 2059:
Dick Farris
was released.
• Nov 02 2058:
Pedro Ledesma
was named the league MVP.
• Jun 25 2058:
Sam Richardson
was signed as a free agent.
• May 29 2058:
Carlos Alfaro
was signed as a free agent.
• May 03 2058:
Dong Yul Moon
was signed as a free agent.
League Record:
Wins: 0 Losses: 0 Pct: .000 Last10: 0-0 Streak: -
Ave: 0.0 - 0.0 RS: 0 RA: 0 DIFF: 0 Power Index: 100.5
Cup:
Group 69
[0 | Still Alive]
Press Releases:
Sep 20 2047:
Save #50
-
by Coolazhell on November 1st, 2020
Tony Rios has established a new career high with his 5oth save of the season. He is one of the most dominant closers in the game with only 2 blown saves on the season.
Apr 06 2046:
Miranda pitches a gem
-
by Coolazhell on July 2nd, 2020
Third year pitcher, Rogelio Miranda, pitched a complete game one hit shutout last night against the Scottsdale Wranglers. At only 23 years old, Mirand a has potential to develop into one of the franchise's greatest pitchers. Featuring other young talented pitchers, Palma and Carreon, this can be a rotation to fear for years to come.
Oct 07 2043:
Oh Rios Mio!
-
by Coolazhell on January 2nd, 2020
In his first full season as closer, Tony Rios has just amassed his 40th save of the season. This places him 4th all time for the Anderson Dogs single season totals and 8th all time Anderson Dogs career total saves. It is highly unlikely he will get the 11 saves needed with 17 games left to break the single season record, but it looks like he will be obliterating the career saves record.
He is just the latest in exciting young players coming out of the minor league system. Things are looking up here in Anderson, IN!
May 04 2041:
So Far So Good
-
by Coolazhell on June 21st, 2019
It may not seem like it, but the Anderson Dogs are on track to meet their goal for the season. The team was taken over by Coolazhell late last season, along with a skeletal farm system and a negative budget. The bulldogs have had negative financial seasons for the past 3 years, and last year did not make a draft pick until Coolazhell assumed ownership in round 6. Things are looking up for the franchise as they are set to have their first financially positive season in over 4 years, as well as some promising young talent in the minor league system. Lets not overlook the impact of this year's first round pick, Dong Hyun Lim. He currently is the team leader in hits, and second on the team in BA, OBP, and OPS. Things are finally looking up for this franchise.