Bowie Blue Crabs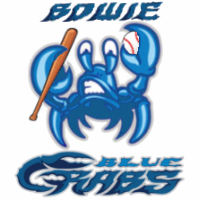 Team: Bowie Blue Crabs
[ID #550]

Location: Bowie, MD (Mid-Atlantic)
Owner: Benchwarmer

[since January 06th 2015 | last seen May 22nd 2022]
Rank: #142 - Rating: 131.84
Fan Mood: 85.00
Prestige: 22
Color: Navy
Team Notes:
• Mar 10 2055:
Sergio Maldonado
was claimed off of waivers.
• Mar 10 2055:
Andrés Rangel
was signed as a free agent.
• Mar 02 2055:
Min Jun Kwak
was signed as a free agent.
• Feb 19 2055:
Mario Padilla
was released.
• Feb 19 2055:
Luis Montalvo
was hired as the new coach.
• Feb 19 2055: Coach
Oscar Grayson
was let go.
• Feb 19 2055:
Patrick Shaw
was claimed off of waivers.
• Feb 19 2055:
Raúl Escobar
was claimed off of waivers.
• Feb 19 2055:
Kiké Godinez
was claimed off of waivers.
• Feb 05 2055:
Daniel Larkin
was released.
League Record:
Wins: 2 Losses: 1 Pct: .667 Last10: 2-1 Streak: W2
Ave: 4.0 - 7.3 RS: 12 RA: 22 DIFF: -10 Power Index: 104.0
Cup:
Group 46
[0 | Still Alive]
Press Releases:
Oct 20 2045:
Moving Up!
-
by Benchwarmer on June 7th, 2020
For the first time ever, the Bowie Blue Crabs have won in LL IV and will be moving up to league level III next season. This historic day was brought on by a combination of heavy hitting from the lineup and stellar pitching by both the starters and the bullpen. On to the league championship series, then up to LL III!
Jan 15 2045:
Spring Training Giveaways!
-
by Benchwarmer on March 28th, 2020
That's right, Blue Crab fans! Come on out to Spring training and get some free stuff! All fans who attend a game during the first week of Spring Training will get a "Blackjack" Blackman bobblehead to celebrate the pitcher's Cy Young winning season last year. For the second week, fans that come out get to choose between t-shirts for either of the team's gold glove winners, Levi Mellberg or Aaron Butler. Fans that come out for the third week will have the opportunity to enter a raffle to win an autographed baseball signed by star closer "The Kazinator" Fujimoto. Come on out and support your team and get some goodies while you're at it!
Oct 20 2044:
Bowie Clinches V.7 East Title
-
by Benchwarmer on March 23rd, 2020
With 2 games remaining in the season, Bowie has locked up the V.7 division title for the first time in over a decade. "This is a special bunch of guys," said manager Pat Allison. "We had a slow start to the season, but the bats woke up and the pitching has become lights out in the second half of the season. I'm looking forward to taking on the West champion in the playoff." The team was anchored by stellar pitching performances by Dante Rodriguez and Miguel Vasquez, both products of the Bowie farm system. "Really glad to see these guys being productive in the big leagues," said owner Benchwarmer. "It's been a while in coming, but these great drafts are starting to pay off. We'll see how we hold up in level IV next season."
Oct 16 2039:
Fujita, Adams to Retire at End of Season
-
by Benchwarmer on March 3rd, 2019
Longtime franchise 1B "Mount" Fujita and P Lloyd "Cash Register" Adams have both announced that they will retire at the end of the season. Adams will retire with the most strike-outs in team history. His propensity for striking out batters earned him the nickname "Cash Register" as he "rang up" batter after batter. Fujita has been a fixture at first base for years, earning numerous gold gloves during his tenure, but seeing a reduced role this season as he has aged and a new up and coming 1B has proved his worth. Both are sure locks to the team hall of fame. Bowie wishes them both well after their careers.
Nov 01 2037:
One Game Away
-
by Benchwarmer on October 3rd, 2018
Bowie Currently leads the league series over National City 3-2. One win will seal the league championship for Bowie!