Coconut Creek Cowboys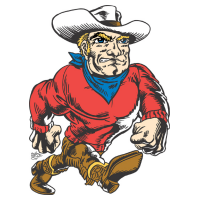 Team: Coconut Creek Cowboys
[ID #489]

Location: Coconut Creek, FL (Southeast)
Owner: None
Rank: #452 - Rating: 83.05
Fan Mood: 99.72
Prestige: 95
Color: Rust
Team Notes:
• Mar 02 2058: Team relinquished by
Metsfan0507
.
• Sep 04 2057: Team acquired by
Metsfan0507
.
• May 29 2057:
Juan Pablo Delgadillo
was released.
• Apr 07 2057:
Travis Franz
was signed as a free agent.
• Mar 14 2057:
Bernardo Cueto
was signed as a free agent.
• Mar 06 2057: Team relinquished by
ice buckets
.
• Nov 02 2056:
Bernardo Benitez
was named the Rookie Pitcher of the Year.
• Sep 12 2056: Team acquired by
ice buckets
.
• Jul 21 2056:
Tory De Santis
was released.
• Jun 25 2056:
Ira Bowden
was signed as a free agent.
League Record:
Wins: 23 Losses: 21 Pct: .523 Last10: 5-5 Streak: L3
Ave: 5.2 - 4.4 RS: 228 RA: 193 DIFF: +35 Power Index: 101.4
Cup:
Group 13
[0 | Eliminated]
Press Releases:
Mar 15 2051:
Brewer Bears Face Relocation
-
by Donnie on July 16th, 2021
Since their move to Brewer, Maine, the Bears organization has struggled immensely. The team has seen its rating plummet and its fans upset. There have only been five winning seasons since the move in 2034, and only one in the last ten years. Because of this recent lack of success, the city council of Brewer has decided not to renew the Bears' lease on their stadium, effectively rendering their stadium, well, no longer their stadium.
Because of this, the owners of the franchise were left with a tough choice: carry this sinkhole of an organization to a new city in Maine, or sell low and cut their losses. They chose the latter. In their pursuit for a potential investor, they came across a man named Donald Jickard, who eventually folded and bought the plummeting franchise.
Mr. Jickard, a rich investor from the state of Florida, has decided to move the franchise south to his hometown, Coconut Creek, in the hopes of a revival.
"It won't be easy," Mr. Jickard stated in an interview last Wednesday, just hours before the purchase of the team. "I know I'm in for a lot of work, but this team has been down and out for too long. I remember watching this team as a child. Seeing their threepeat back in the early 2000s astonished me. Now to see where they've ended up, it's heartbreaking."
The organization will see a name change as well, although it's not be as new as fans may think. Jickard has decided to call back to the organization's roots and rename the organization to the Cowboys.
The Coconut Creek Cowboys, due to a lack of a finished stadium, will reside at the local high school's park until construction is complete on a new "state of the art" (according to Jickard) stadium. More to come soon.