Greenville Leopards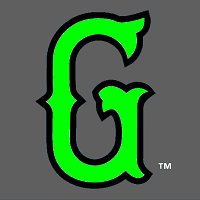 Team: Greenville Leopards
[ID #464]

Location: Greenville, SC (Southeast)
Owner: knoxvol

[since April 16th 2018 | last seen June 22nd 2022]
Rank: #257 - Rating: 106.45
Fan Mood: 125.04
Prestige: 28
Color: Black & Neon Green
Team Notes:
• Jun 04 2055:
Julio Madrigal
was released.
• May 06 2055:
Ramiro Vásquez
was claimed off of waivers.
• May 06 2055:
Miguel Peña
was claimed off of waivers.
• May 06 2055:
José Ontivaros
was claimed off of waivers.
• May 06 2055:
Enrique Briseno
was claimed off of waivers.
• May 06 2055:
Taylor Foy
was released.
• Jan 13 2055:
Leonardo Duran
was selected to the national team of
Puerto Rico
.
• Nov 02 2054:
Micheal Smart
was named the Rookie of the Year.
• Mar 16 2054:
Julio Madrigal
was claimed off of waivers.
• Mar 15 2054:
Crespin Portillo
was released.
League Record:
Wins: 53 Losses: 32 Pct: .624 Last10: 8-2 Streak: L2
Ave: 6.5 - 4.8 RS: 551 RA: 410 DIFF: +141 Power Index: 103.8
Cup:
Group 88
[2 | Eliminated]
Press Releases:
Mar 15 2054:
Muñoz Returns; Keith Cleans House
-
by knoxvol on March 4th, 2022
The Leopards announced a flurry of moves on Friday that will shake things up for both the bullpen and the dugout this season.
At the press conference manager Donald Keith revealed that in addition to the retirement of long-time first baseman Luis Moya, the team had declined to pick up options on eight veteran players, including four members of the pitching staff. Those pitchers included starters Jesus Mares and Jaime Sierra, a former all-star. Relievers Miguel Viciedo and Bernardo Zepeda were also cut.
"We knew these would be pretty substantial adjustments to our pitching staff, especially letting go of two of our starters" Keith said. "But we feel confident that by retaining the veteran core of Foy, Lipscomb, and Callaway we'll be taking most of the pressure off of the new guys we promote from Triple-A."
Greenville's dugout will look different too. The team announced that it had also parted ways with Crespin Portillo, Sammy Kirby, Augustin Rosas, and Alex Orta. Probably the biggest surprise was Portillo who, along with four all-star nods, was named league MVP in 2050.
Originally drafted by the Roanoke Orioles, Sammy Kirby's strong arm made him the team's defensive option at catcher but he struggled to break into the starting line-up, only reaching the 100 game milestone once, in 2049.
Augustin "La Araña" Rosas started at shortstop for the Leopards for six seasons. One of the most highly touted defensive prospects in the organization's history, he never managed to win the Golden Glove.
Centerfielder Alex Orta rounds out the list of Leopards who will have to clean out their lockers. The former fourth-round draft pick by the Cheyenne Colts was only a three year starter for the club but was named an all-star twice.
"This is the most change we've had in one offseason since I've been involved with this franchise" mused the Leopards' owner knoxvol. "We've been stalling in league level V for a few seasons now, and to get back to where we want to be in league level IV and above, we've got to try something new."
When asked by a Greenville News reporter about the 2053 season in which the club contended for the division lead before the all-star break only to finish the campaign 16 games behind first place, the owner said that this only confirmed his feeling that a shake-up was needed.
On a more positive note, the club revealed Friday that they had agreed to a one year extension with third baseman Emilio Munoz. Amid weeks of speculation about his possibly retirement, the club finally put the question to rest when they announced that the seven-time all-star would be returning to West End Field for at least one more season.
And finally, all of the departures from the Greenville clubhouse will mean plenty of new arrivals. The Leopards' front office has been quiet about any potential free agent signings, saying their more likely to focus on promoting from the minors. Triple-A pitchers Gerald Myles and Manuel Munguia have already been spotted practicing at the West End, and first baseman Tim Sheng and catcher/outfielder Dave Thompson are expected to make the opening day roster as well.
Mar 23 2051:
Garcia Retires, The "Doc" Is In, MVP Returns
-
by knoxvol on July 19th, 2021
The Greenville Leopards' line-up card will look quite different on opening day than it did at the end of 2050.
Fans can expect to see some new faces coming to work at 945 South Main Street after the previous few seasons saw only minimal personnel changes for the club.
Those changes began at the top when manager Aaron Garcia announced his retirement following Greenville's championship series against the Appleton Foxes. The 74 year old Garcia left after 10 seasons at the West End where he guided the Leopards from LL6 to LL4 and won 3 division titles.
The turnaround was quick, with local news outlets reporting the club had agreed to terms with former Edmond Bulldogs skipper Donald "Doc" Keith within hours.
"We can't thank Aaron enough for what he's done to bring this ball club back" the owner said at Keith's introductory press conference. "We believe we're ready to make the next step as a franchise and Doc is just the leader we need to take us there."
Keith is best known for his 13 seasons in Edmond which included two league championships and two stints in the Legends League. Despite plenty of success on the field, reports surfaced of tensions between the manager and the front office after the decision was made to rebrand the Bulldogs as the 'Bulldogz,' and Keith left after the 2043 season.
In addition to new management, the Leps' roster has seen a number of changes following the departures of veterans Otis Price (4x all-star,) Zachary Keane (2x all-star,) and Gregory Hatcher (9x all-star) who announced his retirement just weeks after becoming the club's all-time home run leader.
Despite these losses the Leopards' front office seems confident about the upcoming season after agreeing to an extension with reigning MVP Crespin Portillo. The Atlanta native won the honor a year after missing out on an all-star selection for the first time in four seasons.
Crespin will be joined by new pitching arrivals Matias Meza and Matt Farrell. Meza is a reigning Legends League all-star who comes to Greenville after seven seasons with the Concord Jets. Farrell joins the Leopards from last season's west division rivals the Commerce City Night Bees.
"It feels good to be back in LL4" the owner quipped as he exited the press conference. "We're back where we belong."
Oct 30 2050:
Leopards Announce 2050 HOF Class; Trail Foxes 1-3
-
by knoxvol on June 29th, 2021
The Greenville Leopards recently announced their Hall of Fame class of 2050. Rodney Davies, Dave Cowan, and Alphonso Holguin will be recognized later today before the club's game 5 showdown with the Appleton Foxes.
Davies premiered for the franchise in 2015 when he was called up by the Joliet Bulldogs. Between 2015 and 2022 the Toronto native was a four-time all-star, and remains the only player in franchise history to be named league MVP twice (2019 and 2021.) His 731 stolen bases is the most in club history by 234.
Dave Cowan (2027-2040) became a ten-time all-star in 2039, tying Ben McConnell for the franchise record. He spent a total of 14 seasons with the club including the move from Bennington to Greenville (with a season in North Charleston in between) and was league MVP in 2035. Cowan is the franchise's all-time leader in RISP and BBs, and is top-five in hits, doubles, runs, and OBP.
Alphonso Holguin (2028-2044) spent 17 seasons in the majors and left as the club record-holder in games, at bats, hits, and doubles. He was a five-time all-league selection, league MVP in 2037, and won a gold glove in 2042. His 9 all-star selections is second only to McConnell and Cowan.
The Leopards trail the Appleton Foxes 1-3 going into today's game. A grand slam by David McDermott in the fourth inning of game 1 was the difference for the Foxes, but the Leopards came roaring back with an 8-3 win in game 2 to leave Appleton with the series tied 1-1. But a pair of close losses at West End Field which included extra innings yesterday means the Leopards must win today to force game 6 on November 1.
Jabari Agee will get the start for Greenville today.
May 12 2045:
Leopards, Catfish Split First Palmetto Series
-
by knoxvol on April 26th, 2020
Greenville Memorial Stadium had a playoff atmosphere for the first of four consecutive sellouts that would see Columbia split the inaugural Palmetto Series with the Leopards.
It didn't take the Catfish long to get on the board with a Danny Bannon single scoring Daniel Horan in the first inning. The Leopards responded with a pair of RBIs from Moya and Rodriguez in the third, but Columbia went ahead with a two run homer by Domingo Guerrero in the following inning. When Munoz and Rodriguez went yard in the fifth innning the Leopards regained the lead for good, winning the first game against their new rivals 7-3.
Javy Valdes threw a one hit, eight inning gem in the second game to shut out Greenville 3-0. De Fazio and Gaytan partnered to hold off a ninth inning comeback as Columbia fell just short in game three which finished 10-8. And the Catfish responded with pitching yet again as Jung Ho Kim and Francisco Felix allowed just two hits combined as Greenville dropped the final game of the series.
"It was a back-and-forth series and I think they'll be just as tough when we play them at their place" said Leopards' manager Aaron Garcia, who added "I think it's good for the league and good for baseball to have these two teams playing each other more often.
The series promises to be crucial to both clubs this season. The Leopards' last three games will be in Columbia and playoff/relegation implications will likely be on the line.
Apr 12 2040:
Greenville Adds Four to Hall of Fame in 2040
-
by knoxvol on March 30th, 2019
In honor of the 40th season of Broken Bat the Greenville Leopards have added four names to the franchise Hall of Fame. Rafael Cuellar, Antonio Mota, John Spencer, and Raul Valadez will be honored before the first pitch of today's home opener against the Ironbridge City Knights.
Cuellar had one of the greatest seasons in early Broken Bat history when he hit 58 home runs for the Joliet Baseball Club in 2003, setting a Broken Bat record which would stand for 17 seasons. The Durango, Mexico native is 66 years old.
In his 10 seasons at shortstop, Antonio Mota won the Gold Glove a franchise record three times. He was also a three-time all-star and represented Puerto Rico at the 2027 and 2028 World Classics.
Skipper John Spencer was hired in conjunction with the club's move from Joliet to Annapolis in 2018 and managed the squad for the next 14 seasons. Winning 4 league titles, including the club's first in 18 seasons, Spencer earned promotion to league level III for the first time in franchise history. The 2023 Annapolis Cubs' 127-33 record remains the club's best. Across all competitions Spencer amassed 1498 wins and just 1103 losses.
Raul Valadez pitched 11 seasons for the club and is the only pitcher in franchise history to have won two Cy Young awards. He was also part of the Cuban national team for the 2028 and 2030 World Classics. The 2026 V.4 Rookie Pitcher of the Year and two-time all-star holds franchise records for innings pitched, strike outs, complete games, and quality starts.
Congratulations to the Leopards' Hall of Fame Class of 2040.