Lawrence Hawks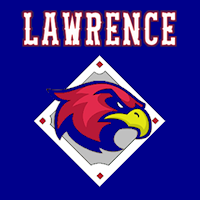 Team: Lawrence Hawks
[ID #452]

Location: Lawrence, KS (Plains)
Owner: Jayhawker

[since January 15th 2021 | last seen September 15th 2023]
Rank: #6 - Rating: 244.54
Fan Mood: 107.07
Prestige: 45
Color: Red & Blue
Team Notes:
• Feb 09 2061:
Charles Parks
was released.
• Feb 09 2061:
Liddell Pickard
was released.
• Jan 13 2061:
Lorenzo Fabbro
was selected to the national team of
Switzerland
.
• Nov 02 2060:
Kiké Torres
was named the league MVP.
• Jan 13 2060:
Leonardo Gallegos
was released.
• Jan 13 2060:
Greg Jewell
was released.
• Jan 13 2060:
Lorenzo Fabbro
was selected to the national team of
Switzerland
.
• Mar 06 2059:
Buck Garner
was hired as the new coach.
• Mar 06 2059: Coach
Brant Jackson
was let go.
• Mar 06 2059:
Scottie Brinkley
was released.
League Record:
Wins: 41 Losses: 39 Pct: .513 Last10: 5-5 Streak: L4
Ave: 5.5 - 5.0 RS: 438 RA: 396 DIFF: +42 Power Index: 104.6
Cup:
Group 116
[0 | Eliminated]
Press Releases:
Mar 12 2059:
Lawrence Flies to New Heights
-
by Jayhawker on March 23rd, 2023
The champagne was flowing in Lawrence well into the offseason as the Hawks, after tying the franchise best performance of 3rd place in League IV the last two seasons, survived the beat'em up IV.2 East schedule and won promotion by way of superior run differential.
At the end of season awards ceremony, Owner Jayhawker had this to say after clinching the first ever trip to League III: "To the fans, you have the been the lifeblood of this organization since moving to Lawrence. When I first joined, I said we aspired to be the envy of all other franchises. It's a nice ending to the season but this only the first chapter; we now have to keep climbing into uncharted territory. Coach Bings & this group of guys are hungry for more!"
Feb 19 2055:
Lawrence dumps Glynn; Promotes 'Bings' as new manager
-
by Jayhawker on May 13th, 2022
Lawrence made a surprising change today, letting go of Jim Glynn, their skipper of 7 years who was fresh off a 104-win promotion season in VI.6. Glynn's expertise in player development was a key point in his hiring and he has been lauded for his draft evaluations during his time in Lawrence, bringing thru the ranks
Shafer
,
Cochrane
, and
Proctor
among others.
The move makes way for Stu 'Bings' Bengtsson, who was promoted from Hitting Coach to lead the Hawks in 2055. 'Bings' has been on the Lawrence staff the last 3 years and has largely been credited with increasing the Hawks run production from 4.3 to 6.1 during that span. Miguel Guzman will slide over from 3rd base Coach to Hitting Coach.
At the presser this morning, owner Jayhawker explained the unforeseen change. "Jim has done a great job navigating the challenges at the lower league levels. Our core nucleus is under long term contracts and we are adjusting our organizational strategy to focus more on in-game management decisions rather than player development. 'Bings' has been with us for a couple years, understands our organizational values, and is adept with his decision making & player evaluations. I'm sure the rest of the league has taken notice of Jim's skill in evaluating and developing players; he'll be able to help another organization that is requiring a rebuild. We thank Jim for his time and effort manning the wheel during a tumultuous time and wish him the best."
May 21 2054:
Hawks Advance to Elimination Rounds!
-
by Jayhawker on March 23rd, 2022
Lawrence faithful have been kept waiting 15 years since last advancing out of the group stage in the Cup Tournament, but that ended with the Hawks taking 2nd in Group on Monday.
Manager Jim Glynn downplayed the result when asked how he viewed the accomplishment. "Our young core pieced together enough close wins to get above .500, and received a generous portion of good fortune to move on the the elimination rounds. We'll take it, and prepare for a talented Grand Blanc team."
Fans were generally pleased, but some questioned why celebrate the Hawks going 12-8 against largely lesser competition.
Oct 06 2051:
VI.5 East Champions!
-
by Jayhawker on September 9th, 2021
With 13 games left on the schedule the Lawrence Hawks were already breaking out the goggles and champagne! When asked on what the key to this successful season was, Jayhawker elaborated:
"When we hired Coach Glenn, he had a reputation for getting the most out of his players - we have seen that again this year. The whole team contributed to help us lead the division wire to wire. A great accomplishment for the boys.
It'll be an interesting next couple of years as the veterans are close to retirement and will be battling some of the youngsters for spots on the team. I feel confident in what we have major league talent throughout the farm system, but it will be put to the test soon."
With the division in hand, 3 players were promoted to majors:
P - Rodney Elliot
OF - Lazaro Peralta
2B - Jordan O'Shea
Fans should get a nice look at the next generation, as 10 of the 13 remaining games are in Lawrence.
Apr 29 2051:
Lawrence Hawks Update on Long-Promised New Logo
-
by Jayhawker on July 28th, 2021
As part of the growing trend in the US, owner Jayhawker unveiled the next steps in Lawrence's plan for a new logo as part of the team rebrand:
"We have submitted our proposal to the League Commissioner. I'm told that with the influx of naming and image changes, the Commissioner has set aside a specific time during his weekly schedule to review these requests. I would anticipate knowing the status within a week. Once it gets the all clear, we will immediately transition to the new uniforms and release merchandise for purchase by the public. We were targeting to have this change during spring training, but some delays forced us to push this change into the current season."
When pressed on what guided the desire for the change, he had this to say:
"Upon taking ownership, there was already an eye towards a logo change as it felt like we too closely resembled some other teams in the league, notably Kennilworth's Charleston Hawks that rebranded in 2044. The league rules for new ownership specify a 'freeze' period where minimal changes can occur and this provided time for feedback from the fans. Like the approach in guiding the club, capturing the authentic spirit of the club was the top priority. The project team tried to blend our location and club history together when creating this part of our identity. Locals will recognize the circus font and coloration from a certain well-known establishment and the modernized hawk represents the refined predator our team is on the field. In my eyes, this change, along with the color scheme introduced in 2049 completes our "rebrand". I also want to assure our fans there never was and will never be any consideration to change our nickname from the 'Hawks ."
"We would especially like to give thanks for the support of "Not Half(ling) Bad Designs" out of Haverhill, MA. Their input during all design phases of this project was key to its success, and they were a top class organization to work with."
The Hawks swept Evansville this evening to occupy the top spot in the division for the first time in 7 years. They go on the road for a 4 game set against the Plantation Polar Bears before resuming cup group play against Tempe Titans.