Pittsburgh Pirates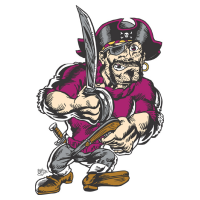 Team: Pittsburgh Pirates
[ID #418]

Location: Pittsburgh, PA (Northeast)
Owner: Bennett11

[since June 03rd 2020 | last seen January 04th 2023]
Rank: #532 - Rating: 74.75
Fan Mood: 100.83
Prestige: 21
Color: Yellow
Team Notes:
• Mar 18 2058:
Jeff Best
was claimed off of waivers.
• Mar 12 2058:
Bobby Bush
was signed as a free agent.
• Mar 12 2058:
Wes Jones
was hired as the new manager.
• Mar 12 2058:
Carlos DeLeon
was fired as manager.
• Mar 12 2058:
Enrique Reyes
was released.
• Jan 13 2058:
José Luis Ayala
was selected to the national team of
Honduras
.
• Jun 25 2057:
Rueben Contreras
was signed as a free agent.
• Jun 25 2057:
Allen Kaufman
was signed as a free agent.
• Jun 22 2057:
Ken Behrens
was released.
• Jun 22 2057:
Dexter Munson
was signed as a free agent.
League Record:
Wins: 36 Losses: 27 Pct: .571 Last10: 5-5 Streak: L1
Ave: 5.4 - 4.2 RS: 343 RA: 264 DIFF: +79 Power Index: 101.1
Cup:
Group 26
[0 | Eliminated]
Press Releases:
Jan 13 2056:
New season, new expectation
-
by Bennett11 on July 24th, 2022
Dispite some poor teams that have been put out the last few seasons, GM Tyler Bennett has stated the team is showing growth. "We have made very good picks in the early rounds over the last few seasons. And some of those guys have made huge impacts for our big league roster as of last season." The team has stripped down its pitching rotation and has cut ties with many vets who have spent time with the organization.
Manager Tyler Rawlings had this to say after his first year on the job. "It was a interesting year, obviously we weren't in any position to contend since most of our talented players are still in the minors. But we played surprisingly well and we fought hard, I expect the same thing this season and I think we could have a chance."
Bennet stated in his latest press conference "I have looked in to many free agents and have offered them the chance to play for us, if all goes well, we could have a very well balanced team and give our young guys time to develop rather than rush them. Hopefully we can get the guys we're looking into."
Jan 13 2054:
New manager
-
by Bennett11 on February 20th, 2022
After 2 seasons at the helm, Paul Austin was fired and we hired 47 year old frank hoffman to manage the team. He last managed for 9 seasons before being fired. Welcome to the team frank
Aug 29 2053:
Coaching changes
-
by Bennett11 on January 31st, 2022
We have fired 1st base coach Jason connely after 2 seasons and hired 39 year old Wally Perkins to replace him.
We wish Jason the best of luck elsewhere
May 17 2053:
Former top pick released
-
by Bennett11 on January 4th, 2022
After over 10 years of pitching, former top pick from our organization Luca Kamaji was released today, at 34, we wish him the best of luck onward
Feb 19 2053:
Release
-
by Bennett11 on December 10th, 2021
After 2 season of struggling on our roster, former 4th round 2B Jeliel Hawkins was released today after the signing of 2B Barry Kholer, a former 1st round pick. We wish Hawkins the best of luck in the future.