Casper Cowboys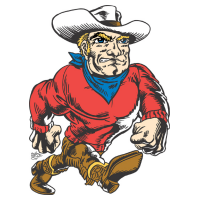 Team: Casper Cowboys
[ID #387]

Location: Casper, WY (Mountain)
Owner: None
Rank: #246 - Rating: 112.56
Fan Mood: 95.78
Prestige: 25
Color: Red Pinstripes
Team Notes:
• Jun 25 2061:
Gonzalo Zamora
was signed as a free agent.
• May 29 2061:
Truman Bray
was signed as a free agent.
• Apr 07 2061:
Jonathan Stoddard
was released.
• Mar 14 2061:
Thomas Ivey
was released.
• Jan 13 2061:
Oleg Sadowski
was selected to the national team of
Russia
.
• Jan 13 2061:
Armstrong Knight
was selected to the national team of
Jamaica
.
• Jan 13 2061:
Marco Barbieri
was selected to the national team of
Italy
.
• Sep 12 2060:
Ramón DeJesús
was released.
• Aug 19 2060:
Thad Atkins
was released.
• Aug 19 2060:
Joel Keller
was signed as a free agent.
League Record:
Wins: 42 Losses: 39 Pct: .519 Last10: 3-7 Streak: W1
Ave: 4.5 - 4.9 RS: 363 RA: 393 DIFF: -30 Power Index: 99.4
Cup:
Group 51
[0 | Eliminated]
Press Releases:
Oct 28 2028:
Improvement
-
by bluedog on September 13th, 2016
Casper better by 22 games over 2027. Still a long way to go.
Mar 05 2027: -
by bluedog on April 17th, 2016
Oct 04 2024:
Straight Outta League VI.1
-
by 12Parsecs on October 29th, 2015
Straight Outta League VI, crazy motherf*cker named Leo Barr.
The Sandy Scorpions have officially clinched their second consecutive West Division title. It took 141 games and a move to godforsaken Utah, but the revamped Scorpions squad, led by a trifecta of elite pitching, ultimately put the division out of its misery.
Sandy held a wire to wire lead on rivals Compton and Tulare, taking possession of first place after a sweep in their season opening series and never letting up. Today, with 16 games left to play, Compton sits at 20.5 games back and Sandy has a chance to set the team record for RD in a season.
Scorpions Owner 12_Parsecs said the only disappointing part of the season has been the near-certain relegation of the Santa Roman "Old Sandy" Sharks.
"Look, I can't say that another shot at old Sandy wasn't a major motivating factor to win the division this year," !2_Parsecs. "But the bottom line, whether we meet them next year or not, is that the people of Sandy have back-to-back division title T-Shirts. That's because of us."
Jul 02 2024:
Dennis Rodman to sing national anthem at 4th of July celebration
-
by 12Parsecs on October 3rd, 2015
On July 4th, baseball fans of Hoover, Alabama will learn the answer to a question of great national importance: What would it sound like if Dennis Rodman sang the national anthem?
That wasn't a typo. The NBA All-Star turned diplomat and notorious Sandy Scorpions fan has accepted an offer from the Hoover Hornets to sing the national anthem at this year's 4th of July game.As part of the festivities, Rodman dyed his hair red, white and blue to match the Hornets' uniforms.
In order to make his appearance, Rodman told the Scorpions he wouldn't sing unless the team gave him official Sandy Scorpion jerseys as payment. Owner 12Parsecs agreed, assuming he wanted memorabilia from the series with Hoover. However, because Rodman took them in advance, the Scorpions will be playing without uniforms until they return to Utah at the conclusion of the series.
Independence Day will mark the first time Sandy and Hoover meet this season, in a battle of league heavyweights. Hoover holds a 6 game lead on the Joplin Sluggers, and Sandy commands a 17 game gap on both Compton and Tulare.
Some of that massive differential is due to interleague play, which has revealed just how far the West division lags behind its eastern counterpart. Five East division teams are now above .500 with positive run differentials. Only three teams in the West can say the same.
The depth of the East has had its effect on Sandy, too. After finishing 41-9 in the first half of division play, the Scorpions have gone just 13-7 against East teams. Hoover has gone 16-4 against the weaker West, compared to 34-16 within their division.
The series may very well come down to how Hoover's bats fare against the pitching staff of Sandy. The Scorpions have three pitchers ranked in the top ten in both wins and ERA. Barr (11) Murray and English (9 each) account for more than half of Sandy's total wins.
The Hornets offense counters with four of the top ten players in batting average and OBP. "Hammerin'" Josh Harrison has paced the team. He leads the league in home runs, Slugging percentage, and RBIs.
Even Steve projects this series to be extremely close. Sandy is currently ranked 345 in the polls with Hoover just two spots behind at 347.
May 14 2024:
Scorpions set date for 2024 Division Championship party
-
by 12Parsecs on September 21st, 2015
Loyal fans,
On August 22nd, you are all invited to join us to celebrate the Sandy Scorpions clinching the 2024 West Division Championship!
After just 110 games, and with half the division schedule left to play, the Scorpions will have already taken care of business and clinched a spot in the title game. This dominant performance tops even last year's championship squad which, for some reason, featured none of the same players.
The Tulare Eagles fought well, and their impressive offensive production speaks to that. The Eagles lead the division in both hits and runs scored. But looking at the stat the matters most, Tulare has failed to win a single game against the Scorpions.
The event is free to the public at Sandy Stadium at 7p.m. Welcome your hometown heroes home from interleague play with a party to remember! Complimentary beer and hotdogs will be provided free to the first 500 people at the door and Pitcher Leo Barr will be performing his rendition of DJ Kahled's "All I Do is Win."
Dennis Rodman has announced he will be in attendance along with presidential candidate Bernie Sanders.
We have a special luxury box seat reserved for former Scorpions owner levittmike, should he choose to attend and see what new leadership has achieved.