Manteca Cerdos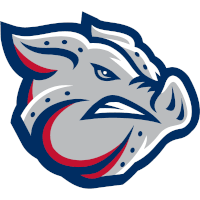 Team: Manteca Cerdos
[ID #375]

Location: Manteca, CA (West)
Owner: miszapatos

[since November 02nd 2019 | last seen June 09th 2023]
Rank: #246 - Rating: 108.51
Fan Mood: 105.06
Prestige: 28
Color: Black & White
Team Notes:
• Oct 22 2059:
Rex Fumagalli
was released.
• Feb 19 2059:
Geraldo Velarde
was released.
• Feb 19 2059:
J.J. Impellizzeri
was released.
• Jan 13 2058:
Deon Steele
was released.
• Aug 19 2057:
Bill Fanelli
was released.
• Feb 05 2057:
Dwight McCormick
was claimed off of waivers.
• Jan 13 2057:
Salvador Galindo
was released.
• Jan 13 2057:
Eduard Augustin
was selected to the national team of
Haiti
.
• Nov 02 2056:
Carl Saito
was hired as the new coach.
• Nov 02 2056: Coach
Ralph Allison
leaves to pursue managing opportunities.
League Record:
Wins: 0 Losses: 0 Pct: .000 Last10: 0-0 Streak: -
Ave: 0.0 - 0.0 RS: 0 RA: 0 DIFF: 0 Power Index: 98.0
Cup:
Group 75
[0 | Still Alive]
Press Releases:
Oct 20 2046:
Nos quedamos como estamos
-
by miszapatos on August 24th, 2020
Hasta el día de ayer tuvimos ocasión de llegar al ascenso, pero en este juego los bots y los que entran de forma ocasional no pierden ventajas frente a los que entramos todos los días.
Enhorabuena al que ascienda esta noche.
Nov 04 2044:
Un placer
-
by miszapatos on March 27th, 2020
Ha sido un placer pelear en este grupo lleno de bots y gente que no se conecta. La verdad es que se ha hecho un juego muy poco interesante pero duro a la vez. Los bots son duros de pelar puesto que eligen las alineaciones de una forma fría y basada únicamente en los números, lo que les hace que dificilmente produzcan errores.
El caso es que nos vamos de esta división y esperemos haber aprendido lo suficiente para no volver a ella nunca más.
Un saludo a todos mis compañeros bots.
Sep 18 2044:
Corona is coming
-
by miszapatos on March 14th, 2020
And we are not talking about viruses ...
We have the Corona Condors team right behind us. This team, despite being led by a bot, does not miss an opportunity to cut us victory after victory. Hopefully our pitchers hold out and we can finally take the championship.
Jul 14 2044:
Llegamos al ecuador en primera posición
-
by miszapatos on February 26th, 2020
Quién nos iba a decir hace unos días que íbamos a terminar la primera vuelta destacados 5 victorias y con más de 200 carreras a favor. La verdad es que los cambios introducidos en el equipo han dado resultado y va dando gusto cómo el equipo va superando los obstáculos.
Es curioso que ponga esta nota de prensa en español cuando nadie de mi liga la va a leer, pues son todos bots, y el único que no lo es hace un mes que no entra al juego.
Suerte a todos, nos vemos esta noche en el partido de las estrellas. A ver cuántos seleccionados de nuestro equipo caen.
Jan 15 2044:
Bienvenido Rico
-
by miszapatos on January 14th, 2020
Una nueva y joven estrella se ha unido a nuestro club en el día de hoy.
Esperemos que su formación sea la adecuada y nos permita llegar a cuotas insospechadas en próximas temporadas.