West Fargo Turtles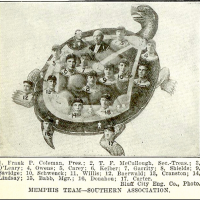 Team: West Fargo Turtles
[ID #363]

Location: West Fargo, ND (Plains)
Owner: timothy

[since March 18th 2020 | last seen February 01st 2023]
Rank: #17 - Rating: 222.54
Fan Mood: 118.39
Prestige: 27
Color: Green Pinstripes
Team Notes:
• Jun 15 2058:
Michel Lafleur
was released.
• Jun 15 2058:
Barry Fennell
was signed as a free agent.
• Jun 10 2058:
Michel Lafleur
was signed as a free agent.
• May 14 2058:
Darren Driscoll
was released.
• May 14 2058:
Alexander Childs
was released.
• Mar 20 2058:
Freddy Pierson
was claimed off of waivers.
• Mar 20 2058:
Pedro DeJesús
was claimed off of waivers.
• Mar 18 2058:
Tim Mast
was claimed off of waivers.
• Mar 16 2058:
Gavin Stewart
was signed as a free agent.
• Mar 10 2058:
Aramis Blanco
was claimed off of waivers.
League Record:
Wins: 32 Losses: 28 Pct: .533 Last10: 5-5 Streak: L3
Ave: 5.0 - 3.8 RS: 300 RA: 230 DIFF: +70 Power Index: 99.0
Cup:
Group 126
[3 | Still Alive]
Press Releases:
Jan 22 2056:
Emiliano Baez Named Turtles MVP for 2055
-
by timothy on July 26th, 2022
The Turtles have named Emiliano Baez team MVP for the 2055 season. Baez was a crucial part of the III.4 championship this year with a .303 BA and .578 SLG, 38 homers (97 XBH total), a league leading 133 RBI, and 94 runs scored. His 17 POTG awards this past year also topped the circuit. In the six game playoff series against Atlanta, Baez hit .320 with four dingers!
Feb 05 2055:
Dick Pearce Named Turtles Team MVP for 2054
-
by timothy on May 11th, 2022
Starting pitcher Dick Pearce has been named the West Fargo Turtles' team MVP for 2054. The former Cy Young winner compiled an 8-4 record for the team, posting an outstanding 2.84 ERA and a WHIP of 1.152 in 136 1/3 innings. Opponents were held to a .230 batting average this past season against Pearce.
Jan 13 2054:
Lazaro Guzman Named West Fargo MVP for 2053
-
by timothy on February 19th, 2022
Lazaro Guzman, the 2053 IV.8 league MVP, has added another award to his growing shelf with the announcement by the team that he has also been chosen as the team's 2053 MVP. In 142 games at third base, Guzman posted a remarkable slash line of .337/.394/.543, with 97 RBI and 87 runs scored. Guzman won the league batting title and also topped the circuit in POTG awards with 15. He slugged an outstanding 77 XBH, adding another 11 in Cup play, and dazzled all year with his remarkable arm from the Hot Corner.
Jan 13 2053:
Turtles Name Emiliano Baez Teamp MVP for 2052
-
by timothy on December 5th, 2021
Although somewhat of a foregone conclusion, the West Fargo Turtles have named Emiliano Baez, also the V.15 league MVP, the team's Most Valuable Player for 2052.
In his age 24 season, Baez produced a stellar .344/.360/.642 slash line, with 91 XBH and an eye-popping 146 RBI. Appearing in 138 games, Baez divides his time between right field, left, designated hitter, first base, and even caught ten games for the Snappers.
Jan 13 2052:
West Fargo Announce Emiliano Baez and Francisco Carrasco as 2051 Co-MVPs
-
by timothy on September 17th, 2021
The West Fargo Turtles have announced outfielder/catcher Emiliano Baez and relief pitcher Francisco Carrasco as the team's Co-MVPs for the 2051 season.
Baez, Co-MVP for the second year in a row in only his second full season, had a slash line of .282/.301/.523, with an extraordinary 81 XBH. Baez led the team in both RBI (94) and runs scored (85).
In his first year as closer, the 24 year old Carrasco converted an incredible thirty-nine of forty save opportunities, finishing the year with a 2.09 ERA and holding batters to a meager .186 batting average.
Congratulations to Emiliano and Francisco!