College Park Panthers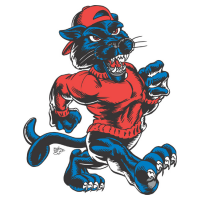 Team: College Park Panthers
[ID #262]

Location: College Park, MD (Mid-Atlantic)
Owner: None
Rank: #459 - Rating: 82.30
Fan Mood: 108.03
Prestige: 25
Color: Orange
Team Notes:
• Apr 07 2056:
Marshall Meyer
was signed as a free agent.
• Mar 14 2056:
Danny Conti
was released.
• Mar 14 2056:
Arnold Flanagan
was signed as a free agent.
• Jan 13 2056:
Michać Baran
was selected to the national team of
Poland
.
• Nov 02 2055:
Adrian Mansfield
was named the league MVP.
• Aug 19 2055:
Xavier Soto
was released.
• Jul 21 2055:
Rodolfo Olivarez
was released.
• Jun 08 2055: Team relinquished by
angler
.
• Jan 13 2055:
Michać Baran
was selected to the national team of
Poland
.
• Feb 19 2054:
Mason Proietti
was hired as the new coach.
League Record:
Wins: 6 Losses: 4 Pct: .600 Last10: 6-4 Streak: W1
Ave: 4.6 - 4.0 RS: 46 RA: 40 DIFF: +6 Power Index: 104.3
Cup:
Group 98
[0 | Still Alive]
Press Releases:
Feb 19 2051:
Early Spring Training Pranks Abound
-
by angler on July 8th, 2021
It is well known that management and coaches are all quite busy building up to the first day of Spring Training. However, the players are quite a different matter. And this year, it appears that veterans are pulling pranks on some of the newer guys. For instance, long-time catcher, Corncob Edgar, was discovered recruiting a very attractive model to wear a bikini and pose in front of the locker of College Park's youngest 3rd baseman, Adrian Mansfield, with the caption "See ya soon...Stud!" Of course everyone knows this Spring Training will be most interesting very early on, especially when Adrian's 'new wife' gets her hands on the photo. Yes, this definitely ensures that this 2051 Spring will be 'very interesting' indeed!!!
May 03 2026:
The Slow Start
-
by Stormkrow on February 19th, 2016
"Good afternoon, and welcome to the BBR. Broken Bat's all radio news show. I am your host, Chris Hoke, and my colleague, at the desk is James Durant."
Chris continues, "Well James, this year's season is well on its way; any surprises for you so far?"
James clears his throat and begins, "well the slow start out of the gates for the Hempstead Giants is rather disappointing. After last year's performance, a lot of baseball elites thought the Giants were on their way up."
Chris replies, "I agree. But when they dropped their proven manager for a more developmental manager, it turned a lot of heads. Let's go now to colleague, Janice White, who is at the Giants stadium for this afternoon's practice.
"Afternoon Chris and James, I am Janice White of BBR, and I am currently at the Hempstead Field stadium for the Giants practice. After a surprisingly successful inaugural year under new ownership, the Hempstead Giants seem to have stumbled out of the gates this season. Last year's 2nd place finish in the Eastern Division, with a record of 92 – 68, seems like it may have been just luck, as the Giants seem to be outmatched against their league rivals this year.
New team manager, Bruce "The Boss" Abercrombie, was quoted as saying, "our boys in the farm are developing nicely, but they're not ready to cut their teeth in the big league as yet. However, as an organization, we need to keep in mind that these young guys are investments into our future, and bringing them up too soon may hinder their progress. Our veterans have more than proven themselves on the field. We may be battle-worn, but I have full confidence this club will find it's groove. We just need a catalyst to kick it off, I just hope he doesn't wait too long to start this year's spark."
Janie continues, "Well that seems to be the teams position, the rookies are staying were they are for now. Let's hope the Giants find that spark with the current roster, otherwise we might have another year of transition come next season."
Jan 20 2024:
Rebuildind and Relocated
-
by RoyalCard on August 22nd, 2015
A new era beginning in Hempstead. The Gulfport A`s franchise
was moved to Hempstead, New York Local fans already begin
to want to know the team, it seems that we will be a successful
franchise. Manager "Skipper Hogan
Go Giants! Go Giants