Overland Park Monarchs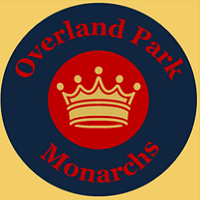 Team: Overland Park Monarchs
[ID #253]

Location: Overland Park, KS (Plains)
Owner: RoyalBrave

[since June 25th 2020 | last seen May 30th 2023]
Rank: #92 - Rating: 156.25
Fan Mood: 118.45
Prestige: 41
Color: Navy & Red
Team Notes:
• Jan 13 2060:
Rueben Garcia
was released.
• Jan 13 2060:
Robert Ingrosso
was released.
• Jan 13 2060:
Min Jun Kim
was released.
• Jan 13 2060:
Tim Mitchell
was released.
• Jan 13 2060:
Bruno Moreira
was selected to the national team of
Portugal
.
• Jan 13 2060:
Mathy Lefevre
was selected to the national team of
France
.
• Jan 13 2060:
Moises Polonius
was selected to the national team of
Aruba
.
• May 31 2059:
Sebastián Vázquez
was released.
• Apr 21 2059:
Tyler Hines
was claimed off of waivers.
• Apr 10 2059:
Sebastián Vázquez
was claimed off of waivers.
League Record:
Wins: 0 Losses: 0 Pct: .000 Last10: 0-0 Streak: -
Ave: 0.0 - 0.0 RS: 0 RA: 0 DIFF: 0 Power Index: 102.5
Cup:
Group 7
[0 | Still Alive]
Press Releases:
Mar 12 2059:
Monarchs Reign - Back to Back Promotions
-
by RoyalBrave on March 23rd, 2023
RoyalBrave took to the podium to address the crowd at the end of season celebration at Crown Park: "Two seasons I've sat right there, in the owner's suite & in those two seasons we have won our league. As we plan for expansion of Crown Park, I'm not letting anyone move that owner's suite!"
"In all seriousness, Coach 'Dubs' & his coaching staff have done an amazing job. Putting 10+ guys on a staff that does not always produce the results as what the pitching staff have been able to achieve. As a player, it's not easy coming in with immense pressure to perform right away. The support you have shown this group of players the past 2 years has been tremendous. I applaud you all, as the uncertainties & changes of both an ownership change & a rebrand at the same time are difficult. I am also grateful for the input during the rebrand evaluation phase, as having an identity that local fans support is a key piece to making this a successful franchise."
"I look forward to continuing to build out our talent pool and be able to watch the Monarchs climb up the leagues from the same spot in the stands!"
Nov 02 2056:
Change in Ownership for First Time
-
by RoyalBrave on October 7th, 2022
After founding owner nelson_dog, who led Overland Park for 42 seasons announced his sudden departure earlier in the season, speculations ran rampant on who would move into the owner suite. A primary concern of the fanbase was if they would target moving the franchise, as OP's best seasons have long been a distant memory.
All anxiety left the fanbase when it was announced RoyalBrave, of the Jayhawker conglomerate that has spearheaded the turnaround of the Lawrence, KS franchise, is the new owner. He kept his introductory news conference succinct:
"Our goal is have this team in Legends year after year. We are in a better spot than many other franchises when ownership changes. This team is on solid ground as far as the starting nine, but it will be a busy off season to rebuild the pitching staff and secure building blocks for the future in the minors.
As for how we plan to go about it, I think you look no further than what happened down the road in Lawrence. Shrewd drafting & development of talent has taken them to the highest finish they have achieved in their history. The team will stay in Overland Park, but undergo a slight rebrand with a new color scheme & nickname. Additionally, investments to upgrade the stadium will occur on a timeline yet to be determined.
The Jayhawker conglomerate views this as an opportunity to strengthen Kansas baseball, but also grants exposure to new markets as Overland Park is unique in that it is the only Kansas team to compete in the West."