Novi Doubledays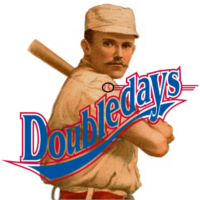 Team: Novi Doubledays
[ID #233]

Location: Novi, MI (Midwest)
Owner: Haselrig

[since April 13th 2014 | last seen October 20th 2021]
Rank: #173 - Rating: 126.31
Fan Mood: 75.79
Prestige: 93
Color: Red & Blue
Team Notes:
• May 10 2052:
Domingo Barrios
was claimed off of waivers.
• Apr 07 2052:
Billy Russell
was released.
• Mar 20 2052:
Mike Muller
was claimed off of waivers.
• Mar 18 2052:
Doug Livingston
was hired as the new coach.
• Mar 18 2052: Coach
Joey Michaels
was let go.
• Mar 16 2052:
Vicente Barbosa
was released.
• Mar 16 2052:
Jimmy Dobson
was hired as the new coach.
• Mar 16 2052: Coach
Russ Baker
was let go.
• Mar 16 2052:
Dennis Burge
was hired as the new coach.
• Mar 16 2052: Coach
Jeff Zielinski
was let go.
League Record:
Wins: 18 Losses: 21 Pct: .462 Last10: 4-6 Streak: W2
Ave: 4.3 - 4.8 RS: 166 RA: 188 DIFF: -22 Power Index: 103.0
Cup:
Group 78
[0 | Eliminated]
Press Releases:
Aug 21 2025:
2025 Cup Run
-
by Haselrig on January 2nd, 2016
Despite having made the Final Four for the first time in franchise history, the series loss to a superb Seattle team was still a bitter one for Wildcat fans.
After the series, Norwalk manager Sparky Schmitt had this to say: "When my friend and mentor Eddie Pagliarulo was forced to step down due to health concerns, the entire team dedicated the 2025 season to him. I think he'd be proud of this very young group of guys and what they were able to accomplish this season".
Jul 23 2023:
Youth Movement in Norwalk?
-
by Haselrig on July 25th, 2015
With the release of two-time All-League First-Baseman Ray Cavalli at the All-Star break, the organization appears to have turned its attention from battling for the pennant to developing its young talent for the future.
When reached for comment, Norwalk manager "Yogi" Pagliarulo seemed baffled by the move: "We're four games back of a very vulnerable Santa Barbara team. I just don't understand why the front office would hamstring us at the mid-point of the season like this. Ray was a solid leader in the clubhouse and a valuable part of the team. Cutting him don't make a lick of sense."
Jul 07 2023:
Wounded Cats
-
by Haselrig on July 20th, 2015
A rash of early season injuries has prompted many in the local media to question Manager Eddie Pagliarulo's notoriously tough off-season conditioning program featuring a grueling two week stint training with the Navy SEALS. When asked about the injuries after yesterday's game in Tuscaloosa in which three more Wilcats went down, Pagliarulo had this to say: "Our goal every off-season is to be the best conditioned team in the game. To be as strong in game #160 as we are in game #1. You can chalk these injuries up to bad luck 'cause that's all it is. Simple bad luck". Even so, questions will remain if these injuries to key players persist.
Sep 30 2022:
Most Victories in Franchise History
-
by Haselrig on May 27th, 2015
With 104 wins, The Norwalk Wildcats eclipse the old mark of 103 (set in the 2012 season) for most wins in a season in franchise history. With 19 games remaining on the schedule, the 'Cats should only add to that total.
When asked about the achievement, the famously taciturn manager of the Wildcats, Yogi Pagliarulo, had this to say: "We play to win games. That's our job".
Oct 16 2019:
Norwalk's New K King
-
by Haselrig on October 5th, 2014
With 215 strike outs, The Blackhawk, Adam Marshall, passed Armando Sierra for most ever Ks in a single season in the history of the franchise.