Prattville Black Cats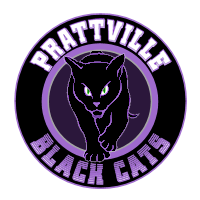 Team: Prattville Black Cats
[ID #226]

Location: Prattville, AL (South)
Owner: NotGood88

[since August 28th 2020 | last seen August 09th 2022]
Rank: #218 - Rating: 113.42
Fan Mood: 109.33
Prestige: 37
Color: Purple & White
Team Notes:
• Mar 30 2056:
Shun Ono
was claimed off of waivers.
• Mar 25 2056:
Joaquín Martín
was claimed off of waivers.
• Mar 25 2056:
Antonio Briones
was claimed off of waivers.
• Mar 18 2056:
Rashad Hill
was claimed off of waivers.
• Mar 18 2056:
Charlie Martinelli
was claimed off of waivers.
• Mar 18 2056:
Eric Valentini
was claimed off of waivers.
• Mar 14 2056:
Russ O`Neil
was released.
• Mar 06 2056:
Matt Arnett
was claimed off of waivers.
• Mar 06 2056:
Marco Valasquez
was signed as a free agent.
• Mar 02 2056:
Johnnie McElroy
was signed as a free agent.
League Record:
Wins: 2 Losses: 2 Pct: .500 Last10: 2-2 Streak: W2
Ave: 3.0 - 2.3 RS: 12 RA: 9 DIFF: +3 Power Index: 103.2
Cup:
Group 95
[0 | Still Alive]
Press Releases:
Mar 14 2053:
Prattville News: Training Update 1
-
by NotGood88 on December 17th, 2021
Well, Training Update 1 has finally happened, and there is much to say. First off, there were some coaching moves. Manager
Elwood Miller
hired 3rd base coach
Jamie Neil
, bench coach
Peter McAllister
, and 1st base coach
Billy Grassi
, in hopes of getting the team closer to getting promoted.
In terms of off-season player development, pitcher
Mateo De La Cruz
popped to 14 POT and then back to 13, elite prospect pitcher
Hunter Childs
went to 13 POT, and multi-positional player
J.D. Houck
followed suit. The latter two saw increases in SI this training update as well. Meanwhile, the team's ace of 7 years,
Vincent De Smet
, lost 6 SI and will be a reliever this year, allowing 29 year old stud
Benito Mendoza
to be the Opening Day starter.
During spring training, the Black Cats sit at 7-14 as they try to develop minor leaguers. While most of them suck, Childs, underdeveloped pitcher
Pete Whitemore
, who gained 4 SI, 3B/C prospect
Spencer Kelley
, speedster
Jesse Bond
, and future ace
Miguel Casas
, who addd 3 SI to his build, have done surprisingly well.
The team has made a flurry of moves, acquiring minor leaguer
Elián Saldívar
, major leaguer
Kelvin Hunt
, starting CF
Kraig Hemphill
, starting RF
Cole Nolan
,
Corey Guest
, who has a career BAA of .193, LHS
Steve Bradford
, extra bullpen arm
Keith Nelson
, potential future starter
Victor Castillo
, and backup OF/C
Tyler Cramer
, who probably won't last long.
Training Update 1 was a success, with much SI being gained.
Vance Hess
relearned SS, Houck mastered it, and homegrowns
Genaro Lira
,
Norman Gardener
(+2 SI),
Korey Abel
(+1 SI), and
Charley Ritter
were all promoted to AAA, AAA, AA, and A, respectively. But the big highlight was the Round 1 selection, outfielder
Kelly Trout
, who immediately drew comparisons to another outfielder named Trout. He is the 6th New Yorker on our club, joining top prospect
Rodger Dobbs
, All Star
Brendan Flangan
, Victor Castillo, everyone's favorite,
Billy Bob Yeager
, and bullpen star
Laurence Barbee
. Seems like good company.
All right, that's that, thanks for reading, and I'll see y'all next week!
Jan 13 2052:
2051 Prattville In The Record Books
-
by NotGood88 on September 17th, 2021
Over the course of last season, current Prattville players set records and just did great in general. Let's take a look at who cracked the top 20 of something.
Ceaser Vélez
: 17th all time in single season runs (103), 12th all time in stolen bases (179), 17th all time in Game MVPs (30)
Edgar Gil
: All time leader in OBP (.372), 11th all time in OPS (.786), 7th all time in RISP (.265), 16th all time in walks (547), 19th in outfield assists (43).
Omar Marquez
: 16th in single season CS% (39%), 20th all time in CS% (39%)
Marvin Wilkins
: 19th all time in RISP (.262), 17th all time in outfield assists (48)
Morgan Foster
: 10th in single season games (106)
Rudy Llamas
: Single season record holder for holds (34), 12th all time in holds (37).
Vincent De Smet
: 19th all time in innings pitched (1377.2), 15th all time in strikeouts (991), 5th all time in complete games (21), T-10 all time in shutouts (2), 11th all time in quality starts (109), 20th all time in ERA (4.05), 17th all time in WHIP (1.332), 5th all time in single season Game MVPs (12), 7th all time in Game MVPs (46).
Oct 10 2051:
David, Hansen, To Make First Starts
-
by NotGood88 on September 10th, 2021
Following a 5-game injury dealt to offense-first 1B Kike Vazquez and a 35-game stint on the IL for pitcher Benito Mendoza, Prattville manager Gary Schmidt has named replacements in the starting lineup for them.
In Kike's place will be perhaps the polar opposite of him at first base,
Azriel David
. He's a defensive centered singles hitter from Israel, and unlike Vazquez, a seasoned veteran at 26, Azriel has only been in the Show for 1 training update and is only 23. The fans have fallen for David in a way they never loved previous homegrowns Oswaldo Davila and Yukio Saitō. In our weekly popularity poll, Azriel was by consensus everyone's favorite played, receiving 64% of the vote. Arnie North, Seung Min Kwak, Vincent De Smet, and Mateo De La Cruz were the next top 4 vote getters. Whereas Kike is relatively devoid of charisma in interviews, David is always providing great answers and is just super hyped to be a major leaguer.
Replacing Mendoza in the rotation for the remainder of the year will be Tom Hansen, whose captured the fanbases heart not for his interviews, but for his extremely young age (19). While he is extremely overmatched against VI.30 hitters, he says that "right now, ERA is not what matters. I'm just getting all the experience I can get, just trying to have fun." On the mound, he has fun, too, even when it's going bad.
Sep 20 2051:
Prattville Top Prospects, According To Me
-
by NotGood88 on September 5th, 2021
1.
Rodger Dobbs, 2B
2.
Norman Gardener, CF
3.
Hunter Childs, P
4.
Genaro Lira, OF/1B/2B
5.
Vance Hess, Utility
6.
Korey Abel, OF
7.
J.D. Houck, Utility
8.
Adam Wall, 2B/OF/1B
9.
Pablo Navarro, 2B/OF
10.
Jeremy Harley, P
11.
Hal Krieg, C
12.
Jesse Bond, OF/1B
13.
Billy Bob Yeager, OF/1B
14.
Guillermo Cintrón, P
15.
Andrés Muñoz, P
16.
Paxton Boyer, 2B/3B
17.
Gary Santoro, OF/2B/1B
May 03 2050:
Casas, Sweat, And Diaz Granted 2nd Chances
-
by NotGood88 on May 14th, 2021
Recently, the Black Cats signed
Sebastian Casas
to be an underdeveloped utility man for us after a tough start to his career (4-33, 2 2B, 2 RBI so far), while veteran
Daryl Sweat
, a 4-time All Star and 2041 Cy Young + All League winner with Providence, plays on a team for the first time in 3 years, and 2-time pennant winner
Anibal Diaz
to be relievers. Now, here is everyone claimed off waivers and drafted this season still on the team...
Billy Bob Yeager, Carl Nash, Pepijn Van Der Linden, Ethan Crowley, Mike Bingham, Carl Vance, Dallas Moreland, Archie Cunningham, Clark Humphries, Ian Sheperd, Raul Vasquez, Kent Griffin, Anthony Cash, Benito Mendoza, Mark Savage, Sterling Murphay, Azriel David, Norman Gardener, Juan Carlos Cavazos, Vance Hess, and Jesus Gomez.