Prattville Black Cats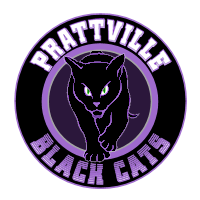 Team: Prattville Black Cats
[ID #226]

Location: Prattville, AL (South)
Owner: NotGood88

[since August 28th 2020 | last seen September 28th 2023]
Rank: #71 - Rating: 162.24
Fan Mood: 130.25
Prestige: 40
Color: Purple & White
Team Notes:
• Jun 15 2061:
Tony Barajas
was claimed off of waivers.
• Jun 15 2061:
Kirk Horton
was signed as a free agent.
• Jun 04 2061:
Adam Tillman
was claimed off of waivers.
• Apr 14 2061:
Jorge Hernández
was claimed off of waivers.
• Mar 25 2061:
Charlie Wilkinson
was claimed off of waivers.
• Mar 18 2061:
Tom Brown
was signed as a free agent.
• Mar 10 2061:
Rod Ewing
was claimed off of waivers.
• Mar 02 2061:
Roberto Meda
was claimed off of waivers.
• Jan 13 2061:
Gaspar Pino
was claimed off of waivers.
• Jan 13 2061:
Arnie North
was inducted into the team Hall of Fame.
League Record:
Wins: 56 Losses: 25 Pct: .691 Last10: 7-3 Streak: W4
Ave: 6.0 - 3.3 RS: 483 RA: 266 DIFF: +217 Power Index: 101.8
Cup:
Group 89
[2 | Eliminated]
Press Releases:
May 11 2061:
Harley Throws No-Hitter!
-
by NotGood88 on September 10th, 2023
In
a game
against the Cape Coral Blue Locks, Prattville pitcher
Jeremy Harley
was in the groove. "My pitches were really moving well today," he said afterwards. "The batters seemed more fooled than usual." And right he was. The 30-year old righty locked down the Blue Locks, allowing 2 walks and no hits for a no-hitter. After the game, owner NotGood88 could not recall whether his franchise had ever thrown a no-hitter prior to Harley's 100-pitch effort. The game ball will be sent to the team Hall of Fame.
Oct 21 2060:
Woodall Impresses In Brief Debut
-
by NotGood88 on August 6th, 2023
Even as Prattville struggled to a 70-90 result in III.4 (en route to a demotion), bright spots of youth shone through.
Kelly Trout
made an excellent case for Rookie of the Year, and a host of other rookies debuted this season. However, one of them, considered an underdog and a longshot his entire career, excited players and fan alike.
Berry Woodall
, who hails from Calgary, didn't have much going for him. He didn't have a cannon arm, or a slugger's bat, and he was a Canadian with a meager 10 POT to his name. But he could cover some real ground (18 SPD and 16 RNG), so the Alabama-based Black Cats picked him up in the 5th round of the 2057 draft.
Even as he shined in the minors and became a fan favorite, his doubters hounded him. Multiple teams advised his team to release him, even after gaining a POT. Owner NotGood88 saw something in him, though, and kept him on board.
Woodall shot his way up through the ranks, and at age 20, got the call to the bigs to play out the season after Prattville had clinched relegation, and he made the most of it. In 5 games, Woodall went 6-18 with 2 doubles and 3 steals, good for a .333 AVG and .813 OPS, sparking rumors that he could be the leadoff man next year. Will he? Only time will tell…
Oct 22 2059:
Prattville Wins Division
-
by NotGood88 on May 21st, 2023
As Prattville 2B Rodger Dobbs threw out Kenosha 2B Peyton Webster to close out a 6-2 win, pandemonium erupted as a watch party at the Black Cats' home stadium, the Andrian Briggs Athletic Field, rejoiced. And for good reason, too. With that victory, Prattville clinched the IV.8 East Division Title and punched its ticket to the III level for the first time since 2034.
8th-year manager
Elwood Miller
lauded his team's determination and experience, as well as the midseason acquisition of
J.B. Carlton
. Owner NotGood88, meanwhile, praised Miller and the coaching staff's performance, and noted that the 33-year old skipper was getting dangerously close to matching the achievements of Briggs, who took Prattville from VI.7 to Legends in just 8 seasons.
Prattville faces Battle Creek (99-61) in the playoffs as Miller goes for his 2nd playoff win in 3 tries.
Oct 02 2059:
An Update From Davey
-
by NotGood88 on May 16th, 2023
Although former Prattville Black Cats (not Panthers, as previously reported) hitting coach Nick Davey wishes his old team the best going forward, he does not retract his comments, nor has his disgruntlement with his time there magically dissipated. He also expressed his belief that North Port could draw more fans and sponsors if their press releases were grammatically correct. "Just putting text on to a Word document and spell and grammar checking it there before copying and pasting on to Broken Bat can do wonders," Davey said.
Sep 13 2059:
BREAKING NEWS!!!
-
by NotGood88 on May 12th, 2023
Longtime Black Cats hitting coach
Nick Davey
has been fired from his managerial job at North Port, and called his termination a "mercy killing" in an interview with some middle-of-nowhere, Alabama reporters via Zoom.
"Thank God," he said. "I had been trying to get the owner to change his ways forever. Yeah, y'all heard in that one press release about how I hate the team name [Davey asked for the "f" in "fortress" to be capitalized, or for the team to be renamed the North Port B-17s. Neither has come to fruition as of press time), but I also tried to get him to do things that successful teams like Prattville do. Ya know, like using waivers to get good players! But he never listened and kept making me manage that clown show. So, I guess I wish him all the best, but you won't find me gaping in shock if they keep losing 100+ games, year in year out."
Sep 13, 2059
Stay safe and have fun