Gadsden Friars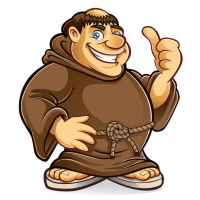 Team: Gadsden Friars
[ID #212]

Location: Gadsden, AL (South)
Owner: None
Rank: #521 - Rating: 75.64
Fan Mood: 76.04
Prestige: 26
Color: Brown & Yellow
Team Notes:
• Nov 02 2059:
Justin Clinton
was released.
• Oct 10 2059:
Mike Trotter
was released.
• Oct 02 2059: Team relinquished by
Bat Speed
.
• Nov 02 2058:
Don Simmons
was hired as the new coach.
• Nov 02 2058: Coach
Luis Valdez
leaves to pursue managing opportunities.
• Oct 26 2058:
Rafael Mejia
was released.
• May 31 2058:
Josh Gotz
was claimed off of waivers.
• May 31 2058:
Matt Pierce
was claimed off of waivers.
• May 29 2058:
Reuben McCoy
was claimed off of waivers.
• May 29 2058:
Federico Pagan
was claimed off of waivers.
League Record:
Wins: 0 Losses: 0 Pct: .000 Last10: 0-0 Streak: -
Ave: 0.0 - 0.0 RS: 0 RA: 0 DIFF: 0 Power Index: 99.5
Cup:
Group 81
[0 | Still Alive]
Press Releases:
Mar 30 2058:
From the Rumor Mill
-
by Bat Speed on January 11th, 2023
There is an unconfirmed report, coming from sources inside the Gadsden Friars Headquarters, that the Friars are over budget. Sources tell me that "CEO Bartholomew "Bat" Speed, GM Napoleon "Nap" Lajoie and Manager Manuel Villanueva have been in several meetings in the last few weeks trying to come up with a solution."
Fans, don't let this alarm you too bad. The Friars war chest is fairly large but being over budget is never a good thing. Rumor has it that the team is somewhere between $500,000-$1M over budget.
The Friars have only have 4 veterans who are paid more than $1.5M. The highest paid players on the team are SP Ramón Ayala and INF Vicente Ornelas, each making $2.1M. However, 8 other players make $1M or more and The Friars currently have a full 30 man MLB roster and a 46 man total roster. All those salaries add up.
The club really has a few options to deal with this problem.
1. Do nothing this season and deal with it over the winter.
2. Cut several minor league prospects and/or low paid major leaguers.
3. Count this as a rebuilding year and let the high dollar veterans go and rely on their youngsters.
4. A combo platter of all 3 options.
I personally think The Friars have a solid youth movement and would do just fine user players 28yrs old and younger, with maybe 1 or 2 low salary veterans. The batting order will be competitive that way but the pitching staff may not be able to afford losing it's veterans right now.
Keep in mind, this is only a rumor at this point but it did come from a trusted source. I'm waiting to see if it's true and how the team reacts.
Mar 14 2058:
Coaching Staff Shakeup
-
by Bat Speed on January 5th, 2023
The 2058 season will feature an entirely new coaching staff, for all intent and purposes. The only exception is the Friars manager Manuel Villanueva. However, Villanueva took over late in the 2057 season. He was at the helm for a total of 41 games, in which Gadsden went 20-21. Not the best record but they finished strong, making it a very tight race for the pennant. The rest of the coaching staff is completely new. The Friars are exited to announce the new staff:
1.Hitting Coach - Jason Andrews
2.Pitching Coach - Marvin Christie
3.Bench Coach - Tad Ward
4.First Base Coach - Luis Valdez
5.Third Base Coach - C.J. Sun
Apr 29 2043:
On the verge of greatness!
-
by Dr. Walcoffe Homerson on November 21st, 2019
"With the month of April behind us, it's a good time to reevaluate our club and the decisions we made over the off-season." Dr. Walcoffe Homerson, the Friars' owner\GM, had a lot to say during a last minute press conference yesterday. "We got off to a sluggish start but we're playing much better lately. I believe that we are on the verge of greatness. We lead the league in most offensive categories. The team has a BA .281, 135 Runs, 71 doubles & a .472 slug%. One might think that with these numbers we should be leading the league, but we are hovering around .500. Why? Pitching! I took a chance in keeping several pitchers over the age of 30. Mainly because they're great pitchers who haven't shown any signs of letting up. Now I'm afraid they've all jumped the shark. With few, if any, prospects ready to make that step to the big leagues, we're forced to look elsewhere. Fans should expect some changes soon as we raid the waiver wire and free agents. This may include releasing long time fan favorites. Since we're not hurt for money, every move will be to better the team now for a playoff run."
Sep 18 2018:
Tarapiotapioco?
-
by lephio on July 13th, 2014
Come se fosse antani, brematurata la supercazzola!