Provo Pioneers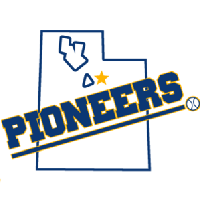 Team: Provo Pioneers
[ID #197]

Location: Provo, UT (Mountain)
Owner: jamanys

[since September 18th 2018 | last seen May 24th 2022]
Rank: #196 - Rating: 116.48
Fan Mood: 135.17
Prestige: 23
Color: Navy & Gold
Team Notes:
• Mar 02 2055:
Víctor Correa
was signed as a free agent.
• Jan 13 2055:
Blake Maduro
was claimed off of waivers.
• Jan 13 2055:
Salvador Reyes
was released.
• Jan 13 2055:
Brent Higdon
was released.
• Jan 13 2055:
Marco Gutierrez
was selected to the national team of
Puerto Rico
.
• Jan 13 2055:
Claudio Valdivia
was selected to the national team of
Honduras
.
• Jan 13 2055:
Floris Molen
was selected to the national team of
Curaçao
.
• Jan 13 2055:
Kiké Sarmiento
was selected to the national team of
Chile
.
• Jan 13 2055:
Brad Sullivan
was selected to the national team of
Bahamas
.
• Mar 04 2054:
Dexter Coates
was claimed off of waivers.
League Record:
Wins: 3 Losses: 1 Pct: .750 Last10: 3-1 Streak: W3
Ave: 4.5 - 4.3 RS: 18 RA: 17 DIFF: +1 Power Index: 101.6
Cup:
Group 99
[0 | Still Alive]
Press Releases:
May 02 2046:
MOVES IN PROVO
-
by jamanys on July 9th, 2020
Big changes in Utah. with Provo's team's poor performance the GM had no choice but to upset the team. Mr. Jamanys owners and GM announced at a press conference that the team is going through a rebuilding phase. So there are a total of 7 new faces in the team and 5 who have left.
Cut
:
-Lindell Duncan (P)
-Max Hauer (P)
-Marv Newell (P)
-Rodolfo Elias (C)
-Yuto Ayoama (2B)
-Danny McClanahan (3B)
Signatures
:
-Orlando Garza (P), Waiver
-Raphaël Girard (P), Waiver
-Juan Manuel Ruiz (P), FA
-Jeronimo Duran (C), FA
-Lucas Mott (OF/2B), FA
-Jesus Galarraga (3B),FA
re-asignment
:
Antonio Villalobos (OF) 33 games on AAA, Drafted Round #8 2039
We can see through his changes that the team's mindset has changed. veterans with big salaries have left the team and leaving their place to players with small impacts in the wage bill have arrived. these players are experienced and very good defensively. for the first series with the team the new teammates allowed the Carp to finally bring back a 2-1 away win after 16 games without a win in league against Faibanks who was at 50% of victory before. after 27 games in league the Carp are 15 games behind Anchorage (20-7). the team of Provo will thus go to play its cup series against the Conroe tigers (6th DIV III/ 1st cup group #122) to hope to get good results especially at home after 5 defeats at home.
The Salt Lake Forum, Utah's life news
Mar 18 2046:
1ST ROUNDER AT PROVO
-
by jamanys on June 27th, 2020
DRAFT PROSPECT :
the newly arrived team has just drafted its first player.
Francisco Sandoval
a player from Mexico.
Sandoval is an exciting player. he can play either OF or Catcher. he is 19 years old and after 4 years playing in the Latin league he is ready to rub up against the level of American Baseball. he is known to be a fast player and has a strong arm especially when it comes to power. His ease with his arm and the fact that he pitches with his right hand allows him to be versatile in defense in his two favorite positions. He is also a right handed batter and is not bad but not incredible. He has hit over the last four seasons with an average of 0.259 but it is mostly his SLG of 0.365 that makes Fidel Mata say that he can be a good slugger. Sandoval expressed his joy at being part of the organisation and said "I'm ready to play for the team and climb the ladder one by one". All this is promising.
Article From KZL
Mar 18 2046:
Relocation Of The Wheaton Thunders
-
by jamanys on June 27th, 2020
OFFICIAL ANNOUNCEMENT:
The team from Wheaton, IL will be relocating to Provo, UT. Chairman Mr.Jamanys told the press, "I'm very pleased that the team can play in a bigger market with more opportunities."
These are wise word, Surely guided by his pronounced sense of business.
An insider heard that the president also wanted to change the name of the team to "carp". In fact, this animal is part of the local wildlife in Lake Utah. Lake which is in contact with the city of provo.
Article From the Daily Herold the suburban Chigago's source