Manassas Rebels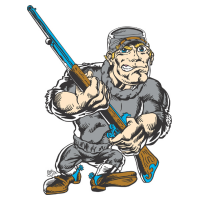 Team: Manassas Rebels
[ID #167]

Location: Manassas, VA (Mid-Atlantic)
Owner: None
Rank: #729 - Rating: 45.05
Fan Mood: 72.13
Prestige: 22
Color: Red & Gray
Team Notes:
• May 29 2058:
Jeff Andrews
was signed as a free agent.
• Apr 18 2058: Team relinquished by
mrprogamer2021
.
• Jan 13 2058:
Edgardo De La Cruz
was selected to the national team of
Philippines
.
• Nov 02 2057:
Marco Angeles
was hired as the new coach.
• Nov 02 2057: Coach
Dwight McMillen
leaves to pursue managing opportunities.
• Nov 02 2057:
Jesús Morales
was named the Rookie of the Year.
• Jul 16 2057: Team acquired by
mrprogamer2021
.
• May 29 2057:
Edgardo De La Cruz
was signed as a free agent.
• May 03 2057:
Federico Medina
was released.
• May 03 2057:
Chase Honeycutt
was signed as a free agent.
League Record:
Wins: 13 Losses: 30 Pct: .302 Last10: 5-5 Streak: W1
Ave: 5.3 - 7.5 RS: 229 RA: 324 DIFF: -95 Power Index: 97.0
Cup:
Group 72
[0 | Eliminated]
Press Releases:
Mar 20 2049:
"Cruz"ing Out
-
by NOVYimH49 on February 15th, 2021
Cruz Duenas, OF, has been released by the Manassas Rebels after a poor performance during Spring Training. He struggled to have plate discipline and and barely got hits. Even though he is only 23 years old, the organization decided to cut ties with him in an effort to ease the financial burden on the team. In addition, he plays in a ball club with many other outfielders and the GM didn't see potential in Duenas.
Mar 14 2049:
Building the Ultimate 5 Man Rotation
-
by NOVYimH49 on February 12th, 2021
The Manassas Rebels have made their first ever draft pick of the season, drafting Rogelio Montero. He is pitcher from the University of Utah and has hopes to become a part of the future starting rotation. The GM has heavily emphasized in improving in pitching citing the lack of pitchers in the organization. This draft pick is good start to building a good farm system. As a young pitcher, he has been developing quite well and this is his scouting report: He can be a strike out pitcher. He will have the stamina to be a starting pitcher. He has good overall potential.
As far as Round #2, there is much speculation of who the Manassas Rebels might draft; would it be another pitcher, outfielder, infielder? Well, we would just have to wait and see.
Mar 12 2049:
The Living Legend Still Continues to Shine
-
by NOVYimH49 on February 11th, 2021
Ken Tate, 3B, is continuing to shine at Spring Training batting at .500 average and .875 slugging percentage. He also has no errors so far at 3B. His past is even more awe-admiring. In only 11 years, he has 6 All-Star appearances. He is the reigning MVP of the league for 2 years and has two 2 All League Awards. He is poised to take a whopping 4.75 million dollar contract this year that he deserves. Even though he may not be around for the Manassas Rebels to make it to the Legends League,"The Secret Weapon" (his nickname) will always have a place in the Hall of Fame.
Mar 08 2049:
The Rebels
-
by NOVYimH49 on February 9th, 2021
The Manassas Bulls are now the Rebels as they begin a new era with a new GM and owner. The GM is planning to possibly move the location of the team or minor league facilities.
On more important matters, 2B Conor Moore AAA is a real stud batting at .328 against Major League pitchers and has no errors. This is when he is playing in the outfield! As of right now, Moore has a very high chance of making the Major League Roster.
Stay tuned for more analysis of players! The GM is planning to release final rosters in the last week of spring training.
Mar 04 2049:
New Future ; The Start of New Dynasty
-
by NOVYimH49 on February 7th, 2021
The Manassas Bulls have hired a new GM recently. The new GM is hoping to develop the players and advance further in these leagues. Head Coach Sean "The Boss" Shipley is an experienced head coach with much talent in all areas. The new GM is also hoping to build around elite players like 3B Ken Tate and 1B Valentin Estep.
Ken Tate had batting average.341 and 10 Player of the Game awards.
Valentin Estep had a batting average of .328.
I will be posting a new press release every weekend.