Vero Beach Gulls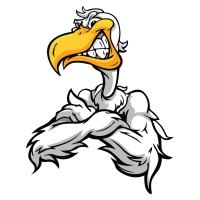 Team: Vero Beach Gulls
[ID #166]

Location: Vero Beach, FL (Southeast)
Owner: None
Rank: #312 - Rating: 98.57
Fan Mood: 118.89
Prestige: 37
Color: Purple & White
Team Notes:
• May 29 2058:
Diego Arriaga
was released.
• May 29 2058:
Jeff Koehn
was signed as a free agent.
• Apr 07 2058:
Austin Hayes
was released.
• Jan 13 2058:
Doug Branson
was selected to the national team of
United States
.
• Nov 02 2057:
Doug Branson
was awarded the Cy Young award.
• Aug 19 2057:
Garrett Collins
was signed as a free agent.
• Jul 27 2057: Team relinquished by
the gizmo
.
• Jan 13 2057:
Brady Moe
was released.
• Jan 13 2057:
Preston Chapman
was released.
• Jan 13 2057:
Taylor Medlin
was released.
League Record:
Wins: 22 Losses: 21 Pct: .512 Last10: 6-4 Streak: W2
Ave: 4.5 - 4.8 RS: 195 RA: 205 DIFF: -10 Power Index: 101.9
Cup:
Group 93
[2 | Still Alive]
Press Releases:
Aug 19 2025:
Gulls continue to flounder
-
by the gizmo on December 31st, 2015
Since losing 15 of the last 16 games and seeing their 3rd 7 game losing streak in the last month, Gulls players, management and fans are shaking their heads over such a horrendous mid season slump.
After finishing 3 games out of first last season, The Gulls went out and signed hot hitting FA, Derrick Leach with his lifetime .340 average looking to aide the power game that had over 260 HRs last season with a lot more RBI chances. Leach was cut before AllStar break.
The offense has struggled against left handed pitching, hitting 30 points less and on track to hit about 100 home runs less than last season.
Pitchers have already given up more home runs than they did all last year and no one can find any consistency in their appearances since Gary Yuan throw back to back shutouts at the beginning of July
Gulls owner T. Gizmo R. Dogg is already planning on teams upcoming demotion and will be making some difficult roster moves in the near future as it is now more about finances than winning.
Rusty Penn
Gulls beat writer
May 28 2025:
Gulls remove Leach
-
by the gizmo on December 10th, 2015
After gambling 15 million on 3 time Legends League All Star and batting champ, Dustin Leach, The Gulls voided his contract after a salty post game altercation with utility infielder Larry Ely. An informed source said that Ely started guestioning his lack of leadership and hitting prowess this season. Leach had to forcibly removed from Elys leg after clamping down with his teeth and drawing blood. Team physician, Nomar Payne said that Leach did lose some teeth when he was removed and that Elys blood loss was minimal. Payne also added that Leach had done nothing but suck the attitude and life from all The Gulls players in the locker room.
Rusty Penn
Gulls beat writer
Oct 05 2023:
Gulls Fly high over Pioneers
-
by the gizmo on August 13th, 2015
Since seeing their team batting average drop almost 20 points in the 2nd half of season, the Gulls swooped all over Harrisburg with 18 hits, including 4 home runs in spacious Harrisburg Grounds. Chad McGee had 3 hits, including 2 home runs with one banging off the right field foul pole, then deflecting into the window of the mezzanine party seats. " What a pane" stated one fan.
The Pioneers have 6 starters on th D.L. and a pretty beat up pitching staff, so hopefully the Gulls can continue their winning ways and stay close enough to Athens to make the last series of the season, the most important one.
Rusty Penn
Gulls beat writer
Sep 24 2023:
Gulls woes continue
-
by the gizmo on August 10th, 2015
Once soaring high atop League IV.6 with an 8 game lead, winning 13 out of 15 games right after the AllStar break,the Gulls have now have lost 10 of their last 12, falling 3 games behind Athens.
Oscar Cueto, who is leading the league with 46 home runs has only hit one in his last 15 games, batting .146
Saves leader, Manny Spencer has blown 4 opportunities and has lost 2 games in last 10 days.
"This game can be so exciting one moment, then turn around and beat you down the next" Gulls manager Javier Valdez said. "Guess that's why we play 160 and might have to resort to human sacrifice if this string of bad luck continues, and I might be the one offered to the baseball Godz"
Jul 18 2023:
Gulls dominate IV.6 All-Star game
-
by the gizmo on July 23rd, 2015
Gulls 1st baseball, 32 year old Adam Montgomery, making his first All-Star appearance in 11 seasons, hit a game winning grand slam, barely clearing the left field fence and the outstretched glove of Josue Velasco, in the bottom of the 8th inning off of relief pitcher Toni Ortega of the Kearney Bearcats, to give the East All-Stars, a 10-7, come from behind victory over the West, in front of 54,482 screaming fans at All Star Field. Edisons Beom Seok (Lefty) Yoo picked up the win.
Montgomery drove in 5 runs and was named the 2023 games MVP. During a postgame interview with Fox Sports Joe Buck: "I was pumped, for sure. I was really excited before that at-bat. It's the All-Star Game. Who doesn't get
excited? It was awesome."
Teammate Oscar Cueto, who is leading the league with 30 home runs, while only playing in 70 of the Gulls 81 games, went 3 for 3 with 2 monstrous shots to the upper deck in left field, with ESPN Home Run Tracker measuring the lead off 2nd inning solo shot at 467 feet off of Fairbanks, Angelo Aviles, while the other, leading off in the 6th inning was measure at 452, off of Jason Copeland from Twin Falls.
Gulls closer, Manny Spencer, who is leading the league with 22 saves, pitched a hitless 9th, saving the game for the East
Also, appearing in the game were 3B, Ricardo Zuniga and SS Vince Adkins who had one hit each, while OF Benito Quinones went hitless in 5 at bats