East Orange Knights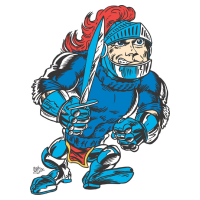 Team: East Orange Knights
[ID #105]

Location: East Orange, NJ (Northeast)
Owner: None
Rank: #88 - Rating: 151.97
Fan Mood: 120.65
Prestige: 23
Color: Blue
Team Notes:
• May 03 2053:
Agustín Gamez
was signed as a free agent.
• Apr 07 2053:
Gonzalo Gonzalez
was released.
• Mar 14 2053:
Andrew Graff
was released.
• Mar 14 2053:
Sem Verhoeven
was signed as a free agent.
• Jan 13 2053:
Ariel Cuellar
was selected to the national team of
Mexico
.
• Nov 02 2052:
Gus Green
was awarded the Cy Young award.
• Aug 19 2052:
Clay Beasley
was released.
• Aug 19 2052:
Jean Beverly
was signed as a free agent.
• Jul 21 2052:
Jack Simmons
was released.
• Jul 16 2052: Team relinquished by
Keienboer
.
League Record:
Wins: 53 Losses: 37 Pct: .589 Last10: 6-4 Streak: W5
Ave: 5.1 - 4.3 RS: 463 RA: 386 DIFF: +77 Power Index: 107.5
Cup:
Group 31
[1 | Eliminated]
Press Releases:
Mar 12 2019:
Garret and Owls look to compete in D5
-
by zwmorris on August 7th, 2014
When Garret took the Albany Owls job three years ago things were in complete rebuilding mode. A youthful club plagued by inexperience and lack of depth struggled to keep pace with the D6 crowd. Brian Garret quickly made an impact posting a respectable 81-79 record in his first season calling the shots. The team went on to improve again in his sophomore season but caught a bug on the home stretch and were unable to pull out the league title. Last year in the third version of Garret's Owls they posted a 114-46 record and crushed the D6 competition. Now, Garret returns a starting rotation anchored by CY young winner Ron Kline (age 26). Kline posted 17 wins and a 2.76 ERA last season. Along with the ace, garret has four more guys who can compete with anyone in D5, including up and comer Clyde Johnson and Owls favorite Gary Russo.
Not only was the pitching staff dominant last year but the offense was the best in team history. It's going to be an exciting year for the Owls. Be on the lookout for a complete team preview.