Atlantic City Broadwalkers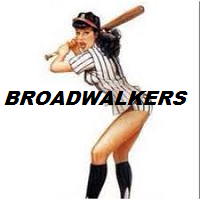 Team: Atlantic City Broadwalkers
[ID #694]
Location: Atlantic City, NJ (Northeast)
Owner: metalbat13

[since January 18th 2016 | last seen August 23rd 2019]
Rank: #12 - Rating: 250.43
Fan Mood: 112.43
Prestige: 23
Color: Black Pinstripes
Team Notes:
• Mar 10 2042:
Lucas Coffey
was claimed off of waivers.
• Mar 09 2042:
Brian Larsen
was released.
• Mar 02 2042:
Ricky Saunders
was claimed off of waivers.
• Feb 19 2042:
Tim Osbourne
was signed as a free agent.
• Feb 05 2042:
Cristian Chavez
was claimed off of waivers.
• Jan 22 2042:
Claudio Ramón
was claimed off of waivers.
• Jan 15 2042:
Chico Rojas
was claimed off of waivers.
• Jan 15 2042:
Young Nam Choi
was claimed off of waivers.
• Jan 15 2042:
Rene Lewis
was claimed off of waivers.
• Jan 15 2042:
Oswaldo Rosas
was released.
League Record:
Wins: 0 Losses: 0 Pct: .000 Last10: 0-0 Streak: -
Ave: 0.0 - 0.0 RS: 0 RA: 0 DIFF: 0
Cup:
Group 63
[0 | Still Alive]
Press Releases:
Jan 15 2042:
Little League to Big League?
-
by metalbat13 on August 12th, 2019
This afternoon Milo Metalbat was fined 69 cases of Bud Light and suspended from the entire 2042 spring training slate. Commissioner Steve Muller penalized Milo after learning that the notorious Atlantic City GM/owner had placed illegal waiver claims on the entire starting lineup of the Elmora Troopers, the Mid-Atlantic Little League champions from nearby Elizabeth, New Jersey (located just 100 miles north of AC).
Elmora snagged a trip to this year's Little League World Series in Williamsport by pasting New York, 19-4, in the regional title contest on Saturday.
"The Broadwalkers are aging fast," explained Metalbat. "We're now one of the oldest teams in League II.2. Faced with the prospect of being pummeled by recently demoted Legends clubs like the Novi Doubledays and Allen '54 Chevy, we need to immediately inject some young blood into our current roster."
The Commish countered that it would be "severely detrimental to the clean-cut image of Broken Bat Baseball" to permit the Broadwalkers to sign the youngsters.
"We can not let a bunch of impressionable 12-year-olds ink professional contracts with the proprietor of a string of casinos, massage parlors, and other questionable adult entertainment enterprises!" stated Commissioner Steve. "This would be even worse than allowing them to be sponsored by Chico's Bail Bonds, like the kids in the Bad News Bears flicks!"
Nov 04 2040:
Costly La Cucaracha Dance Dooms Cucamonga
-
by metalbat13 on May 24th, 2019
Atlantic City copped Game 7 of the 2040 League III.4 World Series when Rancho Cucamonga first sacker Bennie "Jet Crash" Ramsey decided to imitate his real-life idol, Bill Buckner. With RC leading 4-2 in the top of the ninth, the visitors from New Jersey loaded the bases with two outs. Arthur "The King" Goddard then tapped an easy dribbler down the baseline to Ramsey, for the apparent game-ender. As 38,500 crazed Californians in attendance began to prematurely celebrate, Ramsey suddenly began jumping around spasmodically just as the ball approached his mitt. The bouncing baseball smacked the off-balance defender in the groin, and then sailed into right field. Ramsey's costly error opened the boardwalk for the Broadwalkers, who eventually tallied five runs, and triumphed, 7-4.
"Bennie claimed that some unknown critter crawled into his jock strap and bit him in the nether region," grunted Rancho GM Noodle. "However, I don't care if he got attacked by a monstrous Mexican cucaracha, an anemic American palmetto bug, or Flea and the other three current members of the Red Hot Chili Peppers. He still should have made the play!"
Following the contest, Ramsey was placed on the ten-day disabled list for "a contusion to his middle leg." After hitting just .100 in the seven games versus AC, the infielder also received the series "Least Valuable Player Award," the not-so-coveted "Fifty Cent Love Glove Trophy," and a certificate good for free lifetime hot-oil finger massages at any of Milo Metalbat's adults-only health spas.
Jun 09 2040:
Early Shower, No April Flowers for Milo Metalbat
-
by metalbat13 on April 15th, 2019
In a highly "questionable" BB Cup scheduling matchup, Atlantic City was, for the second year in a row, forced to play a road series with the Dayton Hawks at their decrepit ballpark located directly adjacent to the Greater Ohio Waste Management Facility. Unfortunately, the Broadwalkers neglected to adequately equip themselves with sufficient numbers of SCBA (Self Contained Breathing Apparatus).
"It was an extremely ugly and odoriferous encounter!" growled AC owner and GM, Milo Metalbat. "We were eliminated from further competition when relief pitcher Bill Harper, gasping for a sniff of clean air, surrendered a walk-off gopher ball to Christian Casanova in the bottom of the ninth inning.
In addition, Milo's entire ballclub was intimidated by a collection of cantankerous cassowaries brought into the park by Dayton GM Gully Foyle to provide "extra security" for the seamy and less-than-silken series. Described by many avian experts as "the world's most dangerous bird," an adult cassowary can reach six feet in height and possess "dagger-like" claws that are four inches long.
Following the defeat, the always-colorful Metalbat lamented, "I always thought that a cassowary was one of those seven shipwrecked idiots stranded on Gilligan's Isle!"
Sep 21 2039:
Dingers and Day Spas
-
by metalbat13 on February 24th, 2019
Broadwalker owner and GM Milo Metalbat did not offer much sympathy to New England Patriot billionaire Robert Kraft. As the entire country knows by now, Kraft was cited for engaging in "lewd and illicit activity" and "solicitation" at the Orchids of Asia Day Spa in Jupiter, Florida.
"Heck, my full-body massage parlors and adult entertainment centers in Atlantic City are a lot closer to Foxboro than some sleazy back-door strip mall location in the so-called Sunshine State!" observed Metalbat. "And we would have given Robert much better service at a lower price. I would even have thrown in freebies for Tom Brady and Gronk. All interested Broken Bat executives and players are always welcome at my chain of totally discreet Pleasure Palace establishments. Remember our motto: WHAT HAPPENS AT MILO'S STAYS AT MILO'S!"
May 31 2039:
Bee Boppers and Spaced Out Space Invaders
-
by metalbat13 on January 25th, 2019
The Commerce City (CO) Night Bees utilized their other-worldly offense to eliminate the Atlantic City Broadwalkers from the BB Cup, two games to one. In a bizarre series featuring a combined 57 runs scored, 72 base hits, and 17 home runs by the pair of acerbic and adversely addlepated adversaries, AC owner Milo Metalbat finally met another GM who is probably just as strange as he is.
"The Commerce City Crew Chief, a self-proclaimed whacked-out interplanetary escapee from Project Blue Book, calls himself ALIEN FETUS," stated Metalbat. "Although personally, I think he looks more like Deputy FESTUS on those old Gunsmoke reruns on MeTV. And his team logo resembles some psychotic kid's drawing depicted in a flashback episode of the X-FILES."
According to the bombastic head Broadwalker, Night Bee manager Roman Nash (aka "Judas") first tried to induce the AC front office to throw the series by offering Milo "30 silver Congressional challenge coins, commemorating the 2019 Government Shutdown," and "a piece of reflective fabric from a 1947 weather balloon recovered near Roswell, NM." When this rather lame attempt at bribery failed, Judas and Mr. Fetus unveiled a suspicious saucer-shaped device concealed in a large box of Honey Nut Cheerios. The ghoulish gizmo apparently caused baseballs to fly out of the stadium like a fleet of ubiquitous UFOs from the planet Uranus
"I knew that I should have hired local exterminators to spray the entire visiting team dugout with 69 gallons of DDT and Black Flag!" grunted Metalbat.