Atlantic City Broadwalkers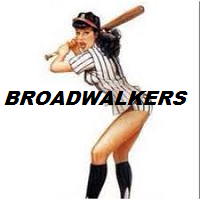 Team: Atlantic City Broadwalkers
[ID #694]
Location: Atlantic City, NJ (Northeast)
Owner: metalbat13

[since January 18th 2016 | last seen April 18th 2019]
Rank: #20 - Rating: 226.70
Fan Mood: 117.84
Prestige: 15
Color: Black Pinstripes
Team Notes:
• Jun 25 2040:
Jason Warren
was claimed off of waivers.
• Jun 20 2040:
Jose Arce
was claimed off of waivers.
• Jun 15 2040:
Willie Harden
was released.
• Jun 08 2040:
Adrian Olivo
was released.
• Jun 04 2040:
Elvis Massie
was released.
• May 21 2040:
Willie Harden
was claimed off of waivers.
• May 14 2040:
Mikkel Olsen
was claimed off of waivers.
• Mar 06 2040:
Jimmie Byler
was claimed off of waivers.
• Mar 06 2040:
Martin Bowen
was signed as a free agent.
• Jan 15 2040:
Nathan Tillens
was released.
League Record:
Wins: 41 Losses: 24 Pct: .631 Last10: 4-6 Streak: L2
Ave: 5.6 - 4.2 RS: 364 RA: 274 DIFF: +90
Cup:
Group 16
[2 | Eliminated]
Press Releases:
Jun 09 2040:
Early Shower, No April Flowers for Milo Metalbat
-
by metalbat13 on April 15th, 2019
In a highly "questionable" BB Cup scheduling matchup, Atlantic City was, for the second year in a row, forced to play a road series with the Dayton Hawks at their decrepit ballpark located directly adjacent to the Greater Ohio Waste Management Facility. Unfortunately, the Broadwalkers neglected to adequately equip themselves with sufficient numbers of SCBA (Self Contained Breathing Apparatus).
"It was an extremely ugly and odoriferous encounter!" growled AC owner and GM, Milo Metalbat. "We were eliminated from further competition when relief pitcher Bill Harper, gasping for a sniff of clean air, surrendered a walk-off gopher ball to Christian Casanova in the bottom of the ninth inning.
In addition, Milo's entire ballclub was intimidated by a collection of cantankerous cassowaries brought into the park by Dayton GM Gully Foyle to provide "extra security" for the seamy and less-than-silken series. Described by many avian experts as "the world's most dangerous bird," an adult cassowary can reach six feet in height and possess "dagger-like" claws that are four inches long.
Following the defeat, the always-colorful Metalbat lamented, "I always thought that a cassowary was one of those seven shipwrecked idiots stranded on Gilligan's Isle!"
Sep 21 2039:
Dingers and Day Spas
-
by metalbat13 on February 24th, 2019
Broadwalker owner and GM Milo Metalbat did not offer much sympathy to New England Patriot billionaire Robert Kraft. As the entire country knows by now, Kraft was cited for engaging in "lewd and illicit activity" and "solicitation" at the Orchids of Asia Day Spa in Jupiter, Florida.
"Heck, my full-body massage parlors and adult entertainment centers in Atlantic City are a lot closer to Foxboro than some sleazy back-door strip mall location in the so-called Sunshine State!" observed Metalbat. "And we would have given Robert much better service at a lower price. I would even have thrown in freebies for Tom Brady and Gronk. All interested Broken Bat executives and players are always welcome at my chain of totally discreet Pleasure Palace establishments. Remember our motto: WHAT HAPPENS AT MILO'S STAYS AT MILO'S!"
May 31 2039:
Bee Boppers and Spaced Out Space Invaders
-
by metalbat13 on January 25th, 2019
The Commerce City (CO) Night Bees utilized their other-worldly offense to eliminate the Atlantic City Broadwalkers from the BB Cup, two games to one. In a bizarre series featuring a combined 57 runs scored, 72 base hits, and 17 home runs by the pair of acerbic and adversely addlepated adversaries, AC owner Milo Metalbat finally met another GM who is probably just as strange as he is.
"The Commerce City Crew Chief, a self-proclaimed whacked-out interplanetary escapee from Project Blue Book, calls himself ALIEN FETUS," stated Metalbat. "Although personally, I think he looks more like Deputy FESTUS on those old Gunsmoke reruns on MeTV. And his team logo resembles some psychotic kid's drawing depicted in a flashback episode of the X-FILES."
According to the bombastic head Broadwalker, Night Bee manager Roman Nash (aka "Judas") first tried to induce the AC front office to throw the series by offering Milo "30 silver Congressional challenge coins, commemorating the 2019 Government Shutdown," and "a piece of reflective fabric from a 1947 weather balloon recovered near Roswell, NM." When this rather lame attempt at bribery failed, Judas and Mr. Fetus unveiled a suspicious saucer-shaped device concealed in a large box of Honey Nut Cheerios. The ghoulish gizmo apparently caused baseballs to fly out of the stadium like a fleet of ubiquitous UFOs from the planet Uranus
"I knew that I should have hired local exterminators to spray the entire visiting team dugout with 69 gallons of DDT and Black Flag!" grunted Metalbat.
Apr 20 2039:
No More Dugout Dancing for Danny Lewis?
-
by metalbat13 on January 14th, 2019
Long-time manager Dancin' Danny Lewis was discovered lying unconscious last Saturday morning at the Double Play Club, a local adult entertainment enterprise owned by Atlantic City GM, Milo Metalbat.
Prior to directing the Broadwalkers for the past 13 years, the 71-year-old Lewis gained notoriety (as well as his nickname) for appearing in Las Vegas as the "World's Oldest Chippendale." He also led the women's softball team from the Palms Resort to the 2025 championship of the Clark County Lingerie League.
Compiling a brilliant 1243-851 (.594) record with just two losing seasons during his time in Atlantic City, Lewis is the author of a self-help book for aspiring pro players, titled "Erotic Hip Movement Exercises for a Better Batting Average." Unfortunately, Dancin' Danny had recently experienced multiple health issues.
"Our Broadwalker boss man had serious knee and back problems; last year he also tore his rotator cuff and could no longer throw batting practice," stated catcher Clyde Hatch. "Heck, whenever he limped into a bar after a game, he even had a tough time lifting a beer pitcher or a full shot glass!"
According to EMTs and other emergency responders, Danny ill-advisedly tried to show his team on Saturday that he was still "nimble." While attempting to imitate the pole-prancing fat guy in those Duluth Buck Naked Underwear television commercials, the septuagenarian took a severe nose dive. He remains in a coma at Our Lady of Jersey State Lotteries Hospital in Newark.
Lewis was replaced on an interim basis by 55 year-old Jose "Zumba" Zambrano, former skipper of the Missoula Polar Bears. Zambrano gained notoriety, as well as a $500,000 fine, after forcing Missoula players to practice in deep snow and 25-degree weather conditions during mandatory off-season workouts in Yellowstone Park, while only wearing jock straps and non-sanitary hose.
Aug 04 2037:
Milo Needs New Shoes
-
by metalbat13 on September 10th, 2018
Atlantic City owner/GM Milo Metalbat became the center of additional controversy this weekend when he was featured in the first of a new series of Nike ads. A gigantic electronic
billboard in Times Square portrayed a colorful image of the always off-beat adult entertainment magnate sniffing a pair of lightly-used Colin Kaepernick athletic shoes. Underneath Metalbat's picture was the caption, "Don't Ask If Your GM is Crazy, Ask If He's Crazy Enough!"
Nike stock immediately plummeted ten percent, while equity in MNM International (Milo's Nude Massages) and B&B Consolidated (Broadwalkers and Bookmakers) increased an average of three dollars per share.