Atlantic City Broadwalkers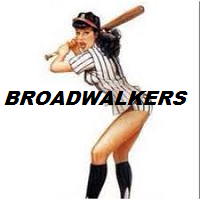 Team: Atlantic City Broadwalkers
[ID #694]
Location: Atlantic City, NJ (Northeast)
Owner: metalbat13

[since January 18th 2016 | last seen May 27th 2018]
Rank: #125 - Rating: 155.14
Fan Mood: 134.94
Prestige: 5
Color: Black Pinstripes
Team Notes:
• Mar 02 2036:
Salomón Alfaro
was released.
• Mar 02 2036:
Claudio Reyes
was claimed off of waivers.
• Feb 19 2036:
Matthew Green
was claimed off of waivers.
• Feb 19 2036:
Felipe Pizarro
was claimed off of waivers.
• Feb 19 2036:
Alfonso Puentes
was claimed off of waivers.
• Feb 19 2036:
Steven Atkins
was claimed off of waivers.
• Jan 15 2036:
Julián Roche
was claimed off of waivers.
• Jan 15 2036:
Gerardo Castellanos
was released.
• Jan 15 2036:
Larry Davis
was released.
• Jan 15 2036:
Demarco Dorsey
was released.
League Record:
Wins: 12 Losses: 5 Pct: .706 Last10: 8-2 Streak: W4
Ave: 5.6 - 4.2 RS: 95 RA: 71 DIFF: +24
Cup:
Group 117
[0 | Still Alive]
Press Releases:
Mar 18 2036:
More Pain from Mo Lane?
-
by metalbat13 on May 19th, 2018
With just three hours remaining until today's waiver claim deadline, former Atlantic City pitcher Mo "Woe" Lane somewhat surprisingly appears to be a very popular young man.
The 24-year-old righthander, a 2032 Round 1 draft selection of the Broadwalkers, has compiled a less-than-spectacular 5.49 ERA in four totally uninspiring minor league seasons. Opposing hitters have lit Lane up to the tune of a cumulative .305 batting average.
"We gave Mo one final opportunity this spring," stated AC owner and GM, Milo Metalbat. "But he regressed even further, compiling a 5.23 ERA and a 1.935 WHIP in four appearances, so we sent him down the road."
Then why are nearly 70 other BB teams attempting to claim the unsuccessful second-rate hurler?
"It's because of the rumor that he is the illegitimate offspring of Clark Kent and Lois Lane!" revealed Metalbat. "However, it's pretty obvious that Mo is no junior Superman, unless he has cleverly concealed his true athletic ability by constantly wearing a jock strap laundered in Kryptonite. Hey, the kid looks about as adept as Jimmy Olsen's 50-pound overweight cocker spaniel on the mound!"
Sep 30 2033:
Pennant, No Protests for Broadwalkers
-
by metalbat13 on September 26th, 2017
After averaging 101.5 victories during the past four BB seasons without ever having won a League VI.28 Eastern Division pennant, Atlantic City finally broke the mold this year. Currently leading the second-place Lynn Wolves by 22 games with just 18 remaining, the Broadwalkers clinched the title this past weekend.
Owner Milo Metalbat attributed this year's success to "peace and harmony in the dugout," part of which was the direct result of a change in the club's pregame ceremonies.
Stated the semi-notorious AC adult entertainment and massage parlor magnate, "I wanted to eliminate all the recent controversy and on-field protests, particularly before NFL games, regarding the playing of our National Anthem. So I came up with an alternative that even Donald Trump would agree with. Hey, for those of us who are either tone-deaf or have voices like a cement mixer, the Star-Spangled Banner is extremely difficult to sing, anyway. So our organization simply replaced Francis Scott Key's 200-year-old standard with two more appropriate tunes that summarize the REAL American Dream: 1) Barrett Strong's original Motown recording of MONEY, THAT'S WHAT I WANT, and 2) I LUV DEM STRIPPERS by 2 Chainz, featuring Nicki Minaj."
Oct 24 2032:
We're #2 -- AGAIN!
-
by metalbat13 on July 17th, 2017
Yes, despite averaging 101.5 wins for the past four seasons, the Atlantic City Broadwalkers have yet to win an Eastern Division title in League VI.28.
"We racked up 98 victories in 2029, 97 in 2030, 104 in 2031, and 107 this season!" roared controversial AC owner and GM, Milo Metalbat. "And our average run differential during this time period has been +304 runs, including +400 this year. Has Donald Trump put a hex on me for foreclosing on his New Jersey casinos? Or have the Russians hacked into Commissioner Steve's database? Or maybe my entire division is being manipulated by CIA and IRS emojis cleverly concealed in private server e-mails!"
A somewhat metaphoric and myopic Metalbat muttered that his goal for the 2033 season is "to win 120 games and still finish as the Eastern Division runner-up."
"Our team motto will continue to be WE'RE NUMBER TWO!" continued the AC massage parlor and adult entertainment mogul.
However, several on-line trolls, obviously queasy at the team's quadruple and querulous quotient of questionable quixotism, posted an image of a porta-potty with a sign reading, "We're TAKING a Number Two!"
Mar 29 2032:
I Go, We Go, Hugo
-
by metalbat13 on May 23rd, 2017
Atlantic City owner Milo Metalbat recently gave 22-year old pitcher Hugo "Dipstick" Dupont his unconditional release.
Dupont, a somewhat narcissistic native of Strasbourg, France, accumulated a less-than-stellar 1.609 WHIP in three frustrating seasons of mound misery for two of the Broadwalkers' bottom-rung minor league affiliates, the Athol (Idaho) Afterburners and the Climax Springs (Missouri) Volcanoes. Opposing hitters have racked up a .300 lifetime batting average against him.
The rancid righthander is best remembered for his ESPN lowlight performance versus Dearborn Heights in a 2030 spring training contest. The horribly hammered hurler set an unofficial franchise record by surrendering 16 runs on 13 hits and 6 walks in less than three innings. During the 21-1 blowout, Hugo threw 106 pitches, only 54 of which were strikes.
Surprisingly, with less than eight hours remaining until Dupont clears waivers, nearly 60 broken-headed Broken Bat GMs have placed a claim on him.
"I don't understand it!" exclaimed Metalbat. "I have NEVER released a player that has attracted this much interest! Maybe these BB bozos believe that our French Fried Fireballer is the only living heir to DuPont Industries, which boasts a stock price of $77 per share and annual revenue of more than $25 billion. Either that, or they think that he has a twin sister that looks like Kate Upton!"
Jan 15 2032:
No Su, Metalbat Blue
-
by metalbat13 on May 7th, 2017
Owner Milo Metalbat was widely criticized by fans, sportswriters, and even Commissioner Steve, for releasing 2B Zhihuan Su ("the best position player in BB Baseball,") with approximately 50 games remaining in the 2031 season.
"At the time, my Broadwalkers were ten games out of first place in Division VI.28," explained the AC overseer. "And the franchise was in the midst of losing almost 11 million bucks during the last 24 months. Heck, in addition to everything else, Su wanted to renegotiate his contract so that he'd get a 20% stake in my massive chain of massage parlors and adult entertainment centers!"
After letting the stud second sacker (current salary $9.2 Million) sign with the Pharr Falcons, Atlantic City made a late-season comeback, won 104 games, and actually went into the last day of the season tied with New York for the eastern division title. Unfortunately, the New Jersey based squad dropped the finale to the hated Yankees, 3-1, and placed second.
"Metalbat is an IDIOT!" tweeted fellow real estate magnate, reality TV star, and political potentate, Donald Trump. "In four seasons with the Broadwalkers, Su hit .321 in 566 games, smacked 106 taters, and compiled an OPS of .940. With those kind of offensive stats, he could take a Louisville Slugger and flatten the entire government of North Korea!"
Undeterred, Milo replied, "Yeah, but Zhihuan has a limp weenie for a throwing arm (rating of 5), and he plays with Dennis Rodman superhero dolls. He also voted for Hillary Clinton in the last election!"