Atlantic City Broadwalkers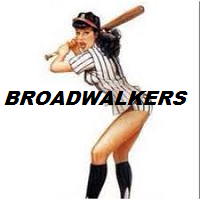 Team: Atlantic City Broadwalkers
[ID #694]
Location: Atlantic City, NJ (Northeast)
Owner: metalbat13

[since January 18th 2016 | last seen August 21st 2018]
Rank: #146 - Rating: 140.61
Fan Mood: 94.77
Prestige: 9
Color: Black Pinstripes
Team Notes:
• May 17 2037:
Zhen Tong
was signed as a free agent.
• Apr 29 2037:
Jayden Taylor
was claimed off of waivers.
• Apr 25 2037:
Jason Diamond
was claimed off of waivers.
• Apr 18 2037:
Robbie Hendrickson
was claimed off of waivers.
• Mar 02 2037:
Jacob Lowe
was claimed off of waivers.
• Jan 15 2037:
Jan Kaczmarek
was selected to the national team of
Poland
.
• Jan 15 2037:
Juan Carlos Flores
was selected to the national team of
Guatemala
.
• Jan 15 2037:
Arthur Goddard
was selected to the national team of
Great Britain
.
• Jan 15 2037:
Nathan Tillens
was selected to the national team of
Belgium
.
• Jan 15 2037:
Scott Carneglia
was released.
League Record:
Wins: 15 Losses: 22 Pct: .405 Last10: 3-7 Streak: L5
Ave: 4.5 - 4.6 RS: 168 RA: 172 DIFF: -4
Cup:
Group 18
[0 | Eliminated]
Press Releases:
Apr 14 2037:
Milo Metalbat Refuses to Be Buffaloed
-
by metalbat13 on August 11th, 2018
The Broadwalkers weren't the only individuals who opened the 2037 season with an extended road trip. After ten "away" games, AC finally returned home to take on the first-place Lexington Colonels this afternoon. Also returning to the friendly confines of New Jersey was colorful owner/GM Milo Metalbat.
Milo had spent the last two weeks in a Jackson Hole (Wyoming) jail after drunkenly taunting and attempting to head-butt a 2000-pound adult male bison in Yellowstone National Park. The controversial massage parlor and adult entertainment magnate was arrested for "touching, frightening, and/or intentionally disturbing wildlife." Metalbat was released on Thursday after posting a $1 million bail and promising to return 13 pair of Air Jordan athletic shoes illegally purchased from a score of North Carolina football players.
Atlantic City management is now contemplating a special "One-Buck Bacardi and Buffalo Breath Bobblehead Night" during a future Eastern Division matchup . . .
Jul 16 2036:
Pina Escapes Hospital to Play in All-Star Game
-
by metalbat13 on June 20th, 2018
Despite being in the middle of a 12 game "injury," Broadwalker centerfielder Mateo Pina still somehow suited up and batted leadoff for the Eastern Division in the League V.14 All Star game on Wednesday afternoon. Having suffered a so-called "groin pull" during a controversial one-on-one encounter at Milo Metalbat's Friendly Fingers Full-Body Massage Parlor, the Atlantic City OF went 2 for 5 with a home run, and led his team to a 9-1 victory over the Western Division.
"Extremely suspicious behavior!" grunted AC manager, Dancin' Danny Lewis. "It appears that Mateo is apparently going spend another week on the disabled list following the all-star break. With this kind of pathetic clubhouse effort, I'd like to break his noggin instead of his dobbin!"
When asked what he meant by the term "dobbin," Lewis referenced listeners to the urban dictionary slang for a "well hung horse." However, he also emphasized that Pina was definitely not as athletic as Justify, the recent winner of the Triple Crown.
"Heck, he's not even as studly as that raccoon who climbed the 25-story building in St. Paul, Minnesota last week!" concluded Lewis.
Mar 18 2036:
More Pain from Mo Lane?
-
by metalbat13 on May 19th, 2018
With just three hours remaining until today's waiver claim deadline, former Atlantic City pitcher Mo "Woe" Lane somewhat surprisingly appears to be a very popular young man.
The 24-year-old righthander, a 2032 Round 1 draft selection of the Broadwalkers, has compiled a less-than-spectacular 5.49 ERA in four totally uninspiring minor league seasons. Opposing hitters have lit Lane up to the tune of a cumulative .305 batting average.
"We gave Mo one final opportunity this spring," stated AC owner and GM, Milo Metalbat. "But he regressed even further, compiling a 5.23 ERA and a 1.935 WHIP in four appearances, so we sent him down the road."
Then why are nearly 70 other BB teams attempting to claim the unsuccessful second-rate hurler?
"It's because of the rumor that he is the illegitimate offspring of Clark Kent and Lois Lane!" revealed Metalbat. "However, it's pretty obvious that Mo is no junior Superman, unless he has cleverly concealed his true athletic ability by constantly wearing a jock strap laundered in Kryptonite. Hey, the kid looks about as adept as Jimmy Olsen's 50-pound overweight cocker spaniel on the mound!"
Sep 30 2033:
Pennant, No Protests for Broadwalkers
-
by metalbat13 on September 26th, 2017
After averaging 101.5 victories during the past four BB seasons without ever having won a League VI.28 Eastern Division pennant, Atlantic City finally broke the mold this year. Currently leading the second-place Lynn Wolves by 22 games with just 18 remaining, the Broadwalkers clinched the title this past weekend.
Owner Milo Metalbat attributed this year's success to "peace and harmony in the dugout," part of which was the direct result of a change in the club's pregame ceremonies.
Stated the semi-notorious AC adult entertainment and massage parlor magnate, "I wanted to eliminate all the recent controversy and on-field protests, particularly before NFL games, regarding the playing of our National Anthem. So I came up with an alternative that even Donald Trump would agree with. Hey, for those of us who are either tone-deaf or have voices like a cement mixer, the Star-Spangled Banner is extremely difficult to sing, anyway. So our organization simply replaced Francis Scott Key's 200-year-old standard with two more appropriate tunes that summarize the REAL American Dream: 1) Barrett Strong's original Motown recording of MONEY, THAT'S WHAT I WANT, and 2) I LUV DEM STRIPPERS by 2 Chainz, featuring Nicki Minaj."
Oct 24 2032:
We're #2 -- AGAIN!
-
by metalbat13 on July 17th, 2017
Yes, despite averaging 101.5 wins for the past four seasons, the Atlantic City Broadwalkers have yet to win an Eastern Division title in League VI.28.
"We racked up 98 victories in 2029, 97 in 2030, 104 in 2031, and 107 this season!" roared controversial AC owner and GM, Milo Metalbat. "And our average run differential during this time period has been +304 runs, including +400 this year. Has Donald Trump put a hex on me for foreclosing on his New Jersey casinos? Or have the Russians hacked into Commissioner Steve's database? Or maybe my entire division is being manipulated by CIA and IRS emojis cleverly concealed in private server e-mails!"
A somewhat metaphoric and myopic Metalbat muttered that his goal for the 2033 season is "to win 120 games and still finish as the Eastern Division runner-up."
"Our team motto will continue to be WE'RE NUMBER TWO!" continued the AC massage parlor and adult entertainment mogul.
However, several on-line trolls, obviously queasy at the team's quadruple and querulous quotient of questionable quixotism, posted an image of a porta-potty with a sign reading, "We're TAKING a Number Two!"