Los Angeles Isótopos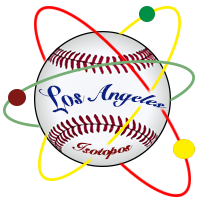 Team: Los Angeles Isótopos
[ID #687]
Location: Los Angeles, CA (West)
Owner: AlexgrrpLA

[since September 16th 2015 | last seen October 18th 2017]
Rank: #45 - Rating: 216.68
Fan Mood: 98.82
Prestige: 16
Color: Blue
Team Notes:
• Nov 04 2033:
Leonard York
was named the league MVP.
• Aug 19 2033:
Victor DiMaggio
was released.
• Aug 19 2033:
Gene Cross
was released.
• Aug 19 2033:
Alonzo Gamboa
was released.
• Jul 21 2033:
Ivan Cabrera
was released.
• May 03 2033:
Quentin Brady
was released.
• Jan 22 2033:
Mike Landry
was released.
• Jan 22 2033:
Brian Parrott
was released.
• Jan 22 2033:
Adam Schmidt
was released.
• Jan 22 2033:
Quentin Brady
was signed as a free agent.
League Record:
Wins: 0 Losses: 0 Pct: .000 Last10: 0-0 Streak: -
Ave: 0.0 - 0.0 RS: 0 RA: 0 DIFF: 0
Cup:
Group 109
[0 | Still Alive]
Press Releases:
Jan 15 2029:
M.V.P!
-
by AlexgrrpLA on September 17th, 2016
At age 23, York
http://brokenbat.org/player/107430
received his first MVP trophy of his young career. Los Isótopos hope that many more will come in the future. Congrats!
Nov 01 2025:
Los Angeles won the pennant!
-
by AlexgrrpLA on January 21st, 2016
After an impressive offensive season the Dodgers are bringing the pennant back to LA, led by
Mike Landry
and
Crespin Osorio
's amazing performances the Dodgers are looking forward to remain competitive in League V next season, but probably a couple of pitching additions will be necessary for that goal to be achieved.
Congrats Los Angeles, we'll see you on League V 2026!
Mar 25 2022:
2022 Opening Day Starter
-
by slugfest2015 on April 7th, 2015
It's Official! 24 yo prospect
Gene Cross
is our Opening Day starting Pitcher and #5 Starter for the 2022 League Season. Him and
Mark Huff were both initially promoted before Spring Training began but were demoted after a rocky start in Spring Training, However, a financial scare: losing 4m this week alone, caused me to release expensive veterans. And after picking up the slack and showing his wort, Gene has come in to help replace them, Huff may be promoted later in the season.
Nov 04 2021:
Champions!
-
by slugfest2015 on March 19th, 2015
In slugfest2015's very first season as GM of Wheaton, we have captured the Championship! Thanks to all our fans, Leaguemates (Especially the Silver Spring Falcons) and especially our great players! Plus our Manager Nicolas Campos, who is in his first year of Managing any team. And lets get ready for Level V!
Sep 18 2021:
The Wheaton Diamond Bat Award
-
by slugfest2015 on March 7th, 2015
The first Annual Wheaton Diamond Bat Award winner has been announced.
It is
Golden Tim Gamble
who currently leads the league in Home Runs with 26, he is second in the league Runs Scored and runs batted in with 105 each. He currently has a batting Average of .300. This year he made All-Stars for the third consecutive time, and is being considered for AllPro, which he previously won in 2019.