Los Angeles Isótopos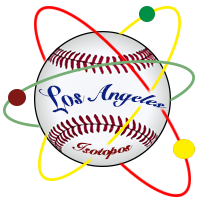 Team: Los Angeles Isótopos
[ID #687]
Location: Los Angeles, CA (West)
Owner: AlexgrrpLA

[since September 16th 2015 | last seen June 18th 2019]
Rank: #25 - Rating: 223.13
Fan Mood: 92.65
Prestige: 30
Color: Blue
Team Notes:
• Jan 15 2041:
Jeremy Tangen
was selected to the national team of
United States
.
• Jan 15 2041:
Tao Choi
was selected to the national team of
Taiwan
.
• Nov 04 2040:
Cory Reid
was released.
• Nov 04 2040:
Lucas Daly
was released.
• Sep 14 2040:
José Luis Chávez
was released.
• Sep 14 2040:
Jerry Wood
was released.
• Sep 14 2040:
Irwin Wiles
was released.
• Aug 29 2040:
Jerry Wood
was signed as a free agent.
• Aug 19 2040:
Takuro Tomori
was released.
• Jul 28 2040:
Takuro Tomori
was signed as a free agent.
League Record:
Wins: 5 Losses: 15 Pct: .250 Last10: 3-7 Streak: L4
Ave: 3.5 - 4.5 RS: 69 RA: 89 DIFF: -20
Cup:
Group 103
[0 | Still Alive]
Press Releases:
Nov 04 2039:
Finally!
-
by AlexgrrpLA on March 8th, 2019
Legends League here we go!
And hopefully at the right time... Age is starting to be a concern in Los Angeles with some of the big starts in their 30s or just getting there. The most anticipated first full season of our young superstar
Tangen
, clearly made a difference this season but leaves the minors without much to be excited about. Hopefully our luck will change next season in that regard.
It's been a much closer season than the final standings shown and we also got away with the League title! really can't complain.
It's time to play Legends, and hopefully remain there for a few season. We are seeing some bright days in LA, let's keep shining!
Nov 04 2037:
Celebrating York
-
by AlexgrrpLA on October 5th, 2018
In a season that hopefully will be a transition to Legends assault next year,
York
, in yet another amazing year, got the 4th MVP award of his career. At age 32 some could think this will be his last, but you never know with this guy... He also passed the 2000 career hits and based on age and the way he keeps performing he would surprised no one if he retires with a 3000+ hits record. Also the number one prospect in all baseball and young pitching promise of the team,
Tangen
Made his first appearances with the team. He will probably still start next season at AAA, but his 2.48 ERA with 2 wins over 5 starts, indicates his future can only be as bright as fans expect it to be. Future looks great for the Isótopos!
Aug 22 2034:
Comeback?
-
by AlexgrrpLA on December 2nd, 2017
With
York
and
Montgomery
finally waking up from a slow start of the season and
Valencia
continuing his second youth in his 30s with yet again another amazing season, looks like Los Angeles is finally getting hot and enjoy now 11 consecutive victories. Will it be too late for a comeback? In a year when plenty of rookies made their debut, a slow start was expected, but finally putting things together looks like an encouraging sign for seasons to come.
Jan 15 2029:
M.V.P!
-
by AlexgrrpLA on September 17th, 2016
At age 23, York
http://brokenbat.org/player/107430
received his first MVP trophy of his young career. Los Isótopos hope that many more will come in the future. Congrats!
Nov 01 2025:
Los Angeles won the pennant!
-
by AlexgrrpLA on January 21st, 2016
After an impressive offensive season the Dodgers are bringing the pennant back to LA, led by
Mike Landry
and
Crespin Osorio
's amazing performances the Dodgers are looking forward to remain competitive in League V next season, but probably a couple of pitching additions will be necessary for that goal to be achieved.
Congrats Los Angeles, we'll see you on League V 2026!