Los Angeles Isótopos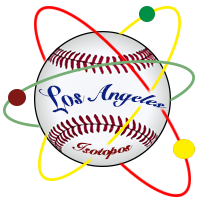 Team: Los Angeles Isótopos
[ID #687]
Location: Los Angeles, CA (West)
Owner: AlexgrrpLA

[since September 16th 2015 | last seen December 16th 2017]
Rank: #68 - Rating: 186.76
Fan Mood: 92.53
Prestige: 16
Color: Blue
Team Notes:
• Sep 13 2034:
Joe Greene
was released.
• Aug 20 2034:
Russell Daniel
was signed as a free agent.
• Aug 19 2034:
Ed Harmon
was released.
• Mar 14 2034:
Juan Aragon
was released.
• Mar 14 2034:
Sean Johnson
was released.
• Mar 14 2034:
Joe Greene
was signed as a free agent.
• Mar 14 2034:
Harry Bennent
was released.
• Mar 14 2034:
Craig Schmidt
was released.
• Nov 04 2033:
Leonard York
was named the league MVP.
• Aug 19 2033:
Victor DiMaggio
was released.
League Record:
Wins: 71 Losses: 82 Pct: .464 Last10: 3-7 Streak: W1
Ave: 5.0 - 5.3 RS: 772 RA: 816 DIFF: -44
Cup:
Group 109
[2 | Eliminated]
Press Releases:
Aug 22 2034:
Comeback?
-
by AlexgrrpLA on December 2nd, 2017
With
York
and
Montgomery
finally waking up from a slow start of the season and
Valencia
continuing his second youth in his 30s with yet again another amazing season, looks like Los Angeles is finally getting hot and enjoy now 11 consecutive victories. Will it be too late for a comeback? In a year when plenty of rookies made their debut, a slow start was expected, but finally putting things together looks like an encouraging sign for seasons to come.
Jan 15 2029:
M.V.P!
-
by AlexgrrpLA on September 17th, 2016
At age 23, York
http://brokenbat.org/player/107430
received his first MVP trophy of his young career. Los Isótopos hope that many more will come in the future. Congrats!
Nov 01 2025:
Los Angeles won the pennant!
-
by AlexgrrpLA on January 21st, 2016
After an impressive offensive season the Dodgers are bringing the pennant back to LA, led by
Mike Landry
and
Crespin Osorio
's amazing performances the Dodgers are looking forward to remain competitive in League V next season, but probably a couple of pitching additions will be necessary for that goal to be achieved.
Congrats Los Angeles, we'll see you on League V 2026!
Mar 25 2022:
2022 Opening Day Starter
-
by slugfest2015 on April 7th, 2015
It's Official! 24 yo prospect
Gene Cross
is our Opening Day starting Pitcher and #5 Starter for the 2022 League Season. Him and
Mark Huff were both initially promoted before Spring Training began but were demoted after a rocky start in Spring Training, However, a financial scare: losing 4m this week alone, caused me to release expensive veterans. And after picking up the slack and showing his wort, Gene has come in to help replace them, Huff may be promoted later in the season.
Nov 04 2021:
Champions!
-
by slugfest2015 on March 19th, 2015
In slugfest2015's very first season as GM of Wheaton, we have captured the Championship! Thanks to all our fans, Leaguemates (Especially the Silver Spring Falcons) and especially our great players! Plus our Manager Nicolas Campos, who is in his first year of Managing any team. And lets get ready for Level V!