Waterloo Dinosaurs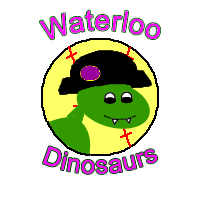 Team: Waterloo Dinosaurs
[ID #659]
Location: Waterloo, IA (Midwest)
Owner: Seca

[since May 05th 2014 | last seen November 29th 2020]
Rank: #30 - Rating: 205.62
Fan Mood: 120.40
Prestige: 80
Color: Purple
Team Notes:
• Feb 05 2048:
Charles Roberts
was claimed off of waivers.
• Jan 22 2048:
Al Pope
was claimed off of waivers.
• Jan 15 2048:
Luis Herrera
was selected to the national team of
Colombia
.
• Sep 12 2047:
Joel Pringle
was released.
• Aug 21 2047:
Johnny French
was claimed off of waivers.
• Aug 18 2047:
Rueben De Leon
was released.
• Aug 02 2047:
Rueben De Leon
was claimed off of waivers.
• Jul 16 2047:
Rasheed Gordon
was signed as a free agent.
• Jul 02 2047:
Chad Hooper
was signed as a free agent.
• Jun 25 2047:
Alfredo Correa
was claimed off of waivers.
League Record:
Wins: 0 Losses: 0 Pct: .000 Last10: 0-0 Streak: -
Ave: 0.0 - 0.0 RS: 0 RA: 0 DIFF: 0
Cup:
Group 117
[0 | Still Alive]
Press Releases:
Aug 09 2043:
Marino Hangs 'Em Up
-
by Seca on December 18th, 2019
Dinos OF
Chris Marino
has retired.
When drafted in the 6th round, Marino was viewed and groomed as the team's shortstop of the future. However, the team's acquisition of
Greg McCarty
meant a move for Marino to the OF. He would ultimately play 14 seasons out there, and was a multiple gold glove winner, all-star, and all-league in CF.
Marino was the prototypical lead-off batter; a switch hitter with excellent contact skills, a discerning eye, and enough speed to keep opposing pitchers distracted when he reached the basepaths.
Marino retires as the team leader in games by a position player (1875), hits (1939), walks (914) and stolen bases (552). He is a certain addition to the team's hall of fame.
The organization and fans thank Chris for his contributions to the Dinos, and wish him well in his retirement.
Apr 07 2043:
Killer Bs Inducted
-
by Seca on November 15th, 2019
In a group ceremony Waterloo has added its vaunted 2020 draft class – the Killer Bs Vince Bagley, Pat Booth, and Ray Butler – to the team's hall of fame.
Vince Bagley
began his career in the shadow of team icon Eric Hardy. It was after Hardy's retirement that Bagley assumed the roles of workhorse and ace of the staff. Bagley won all hardware available to pitchers (rookie of the year, all-star, all-league, Cy Young). He was twice a 20 game winner, and team all-time ranks 2nd in wins, IP, Ks (all behind Hardy). Though he never threw a no-hitter, Bagley came close several times with 1 hitters.
Dino management was determined to make
Pat Booth
a starting pitcher. But after 2 failed seasons in the rotation Booth moved to the bullpen where he flourished. A long time member of the US national team Booth finished his career with a team record 1443 games played. He's 2nd all time in both holds and saves, and 5th all time in wins and Ks.
Ray Butler
wasn't gifted with the greatest raw power, but he made up for it with lots of slash and dash. A solid defender at both infield corners, it was hoped Butler would be the first Dino to collect 2000 hits. He came up short, but his 1742 hits does rank him 4th in team history. He's also 4th in games, 2nd in doubles, 3rd in runs and RBIs. He played a pivotal role in the Dinos first Legends championship hitting over 1200 OPS in a 4 game sweep of Thunder Bay.
All 3 players spent their entire Dino careers in Legends, where the team won 3 East titles (and another 4 2nd place finishes) and 2 championships during their tenure. Dino staff and fans with to thank the Killer Bs for their unforgettable contributions to the franchise.
Jun 27 2041:
Memories of Lou James
-
by Seca on July 6th, 2019
The Dinos have signed an expensive bat first 2B recently of a Legends West team in hopes of stabilizing the position and perhaps the season.
That was the news back in 2024 when Waterloo brought in
Lou James
. James provided some starch for the middle of the order, hitting 25 HRs and earning an all star selection while helping the Dinos to a 3rd place finish in their inaugural Legends season.
Poor defensive play led to James and the Dinos parting ways during the 2025 season, but he returned to the club in 2029 and was part of the club's first Legends pennant and championship.
The James story is playing out again in 2041 with the Dinos signing expensive bat first 2B
Juan Tirado
, recently of a Western division rival.
"This season has taken an unexpected turn, as we've added a number of ML ready prospects off the wire." said GM Seca. "With a lot of youth at the bottom of the order, it's really important to get some production from our veterans. In truth, we can only afford Tirado for a payday or two. Hopefully Juan can help turn our fortunes in that time."
Jun 10 2041:
Evolution
-
by Seca on July 2nd, 2019
There is always churn on a BrokenBat roster. But Waterloo fans may be forgiven if they feel a little dazed by the amount of turn over on the Dinos this season.
Gone from last season's pennant winning team are starting pitchers Narvaez, Brooks, and Wolf, as well as relief pitcher Ashley. Also elsewhere are 1B/DH Stroud and Markham, 3B Boyd and Chae, and C DeJesus.
New to the team are starting pitchers Sinclair and Gutierrez, C/DH Aguilera, 3B/1B Toscano and Sheridan, and 3B Garcia. Other new faces from the minors include RP Burton and Hacker, and OF Gomez.
Many of the new players are aged 24-28. 'It's a demographic we've historically targeted, never more so than the past few seasons." Said GM Seca. "We had a very poor run of luck in the early '30s with our draft. We've tried to supplement through waivers without a lot of success. For whatever reason this season there have been a number of guys slip to us we really like. We're very optimistic these players will have an impact."
Most are pretty green tho. A little more weight to carry for Dino veterans Marino and Schuler. And continued brisk program sales as Dino fans try to figure out who the heck all these guys are.
Apr 14 2041:
Yips-asaurus
-
by Seca on June 16th, 2019
Dino 2B Rodger Olson seems to have contracted the yips.
The "outstanding" fielder was amoung the league leaders in errors last season with 18. Through 14 games this season he already has half that total. 9 errors means Olson, as an individual, has as many or more errors than 10 teams in the league. More than twice as many errors as any other individual, and there are some shockingly bad defensive players in the league.
What's worse; Olson has been taking his defensive struggles to the plate with him, batting .196 with a 528 OPS to begin the season.
2B has long been a problem for Waterloo. The signing of Olson in '39 was seen by many as a repreive. And the Dinos have gotten 1.5 serviceable seasons from him. But now ...
"It's untenable." said a grim faced GM Seca. "We'd love to let Rodger 'figure it out', but we have neither the roster space nor the financial flexibility to carry him. Frankly, if there were any decent options to replace him, he'd be gone already."