Waterloo Dinosaurs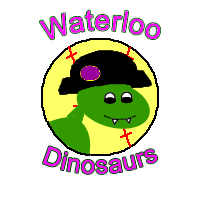 Team: Waterloo Dinosaurs
[ID #659]
Location: Waterloo, IA (Midwest)
Owner: Seca

[since May 05th 2014 | last seen February 18th 2019]
Rank: #4 - Rating: 325.62
Fan Mood: 107.82
Prestige: 70
Color: Purple
Team Notes:
• Aug 29 2039:
Luis Herrera
was claimed off of waivers.
• Aug 24 2039:
Andy Bannon
was released.
• Jul 23 2039:
René Gomez
was claimed off of waivers.
• Jul 23 2039:
Rodger Olson
was claimed off of waivers.
• Jul 21 2039:
Marc Paulsen
was signed as a free agent.
• Jul 20 2039:
Raúl Bueno
was released.
• Jul 20 2039:
Sadao Kaku
was released.
• Jul 14 2039:
Sherman Lafferty
was claimed off of waivers.
• Jul 14 2039:
Mateo Narváez
was claimed off of waivers.
• Jul 07 2039:
Sadao Kaku
was signed as a free agent.
League Record:
Wins: 67 Losses: 50 Pct: .573 Last10: 5-5 Streak: L1
Ave: 4.8 - 3.9 RS: 556 RA: 461 DIFF: +95
Cup:
Group 21
[1 | Eliminated]
Press Releases:
Aug 09 2039:
Lupusectomy
-
by Seca on February 12th, 2019
Dino manager Larry Cleary held a press conference after today's game against Conroe to announce that second year starting pitcher
David Wolf
has been removed from the rotation.
It has been a tumultuous season for Wolf who posted respectable numbers in his rookie season (3.94 ERA, 4.60 FIP) and finished 2nd in RPOTY voting. This season has seen regression on all fronts; an ERA hovering near 6 and just 1 quality start in 17 attempts.
"We are extremely frustrated with David's performance." Said Cleary. "Our staff has shown him time and again what he needs to do to improve, but he goes out and repeats all the same mistakes. He's just not putting the effort in, and that's not fair to the rest of the guys on this team who are."
Effective immediately Wolf will be consigned mop up duty in the bullpen. Rogelio Alvarado will assume his spot in the rotation.
May 10 2039:
McMVP
-
by Seca on January 19th, 2019
The Dinos are celebrating Greg McCarty's 2038 MVP award with a bobblehead giveaway preceding today's game against Kalamazoo. The first 20,000 fans through the gate will get the keepsake.
It is McCarty's second MVP award, though his first with the Dinos. His other award was back in 2028 with the then Palo Alto Aliens in VI. Coincidentally, Waterloo's only previous MVP award was won by
Teshaun Larsen
, also in 2028.
Despite turning 36 this offseason, McCarty has returned and looks just fine. Through the first 30 games he has 5 home runs, a batting average over 300, and an OPS over a thousand. He was asked to move from short to the hot corner last season, and has done so seemlessly having played 47 games at the unfamiliar position without an error.
"Dude's a ball player." said Dino outfielder Josh Lewis while trying to encase one of the mini McCartys in a Double Bubble bubble. "Gives us all something to aim for."
Apr 12 2039:
Keep it
-
by Seca on January 12th, 2019
Were the words Pat Booth told the ballboy when asked if he wanted anything from his locker.
The venerable Booth had just lost his second game in four appearances this season. Of the 19 batters that faced him, 10 came away with hits. After surrendering the game ending hit against Roanoke Booth tossed his glove in the garbage and headed straight to the parking lot.
"Paddy was an iconic Dino". said GM Seca. "His competive fire helped direct the team for over a decade. He's a sure hall of famer. Everyone here wishes him well in his retirement."
May 03 2034:
Hardy Boy
-
by Seca on November 2nd, 2017
A raccous crowd was on hand April 28 - not just to celebrate one of Rogelio Alvarado's better starts of the season - and a 7-4 win over long time rival Birmingham. But to appreciate the absolute best Dino there has been, the venerable Eric Hardy, as his cherished #58 was raised to the level of awesomeness. His likeness just the 2nd added to Waterloo's hall of fame.
Hardy was the mystery opposing batters struggled to solve, and the reason Waterloo ascended the ranks, ultimately making it to Legends. During his time with the team the Dinos climbed from V to I, winning a cup and 2 legends titles.
Hardy retires leading the team in wins (217), innings pitched (1k more than next closest), strike outs (700 more than next), shut outs, quality starts, ERA, MVPs ... basically any category not related to the bullpen.
The Dinos had a 5-1 record in playoff series with Hardy anchoring the squad. He could be counted on to to go 1-4-7 and put the screws to whoever the unfortunate opponent happened to be.
"Had a blast." said Hardy after the induction ceremony with his standard lopsided smile. "Not every byte gets a chance to do something they love and get paid for it. I was a lucky one."
Apr 07 2034:
Inductions Announced
-
by Seca on October 27th, 2017
It came as no surprise when the Waterloo Dinosaurs announced today that
Eric Hardy
and
Doug Greene
will become the 2nd and 3rd players inducted into the team Hall of Fame.
Hardy' induction ceremony will take place April 28th preceding a series windup against long time rival Birmingham. It will also be the 13th (and potentially final) Eric Hardy bobble head night.
Greene's induction will take place August 17th in the middle of a series against last season's championship opponent College Station. Fans in attendance will receive a snappy "Greene Cleane" t-shirt.