Waterloo Dinosaurs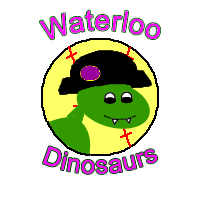 Team: Waterloo Dinosaurs
[ID #659]
Location: Waterloo, IA (Midwest)
Owner: Seca

[since May 05th 2014 | last seen December 15th 2018]
Rank: #3 - Rating: 346.05
Fan Mood: 117.97
Prestige: 70
Color: Purple
Team Notes:
• Sep 12 2038:
Aarón Lara
was released.
• Sep 12 2038:
Motonobu Nakashima
was released.
• Aug 25 2038:
Motonobu Nakashima
was signed as a free agent.
• Aug 19 2038:
Ralph Nagel
was released.
• Aug 04 2038:
Octavio Nieto
was claimed off of waivers.
• Aug 01 2038:
James Knepper
was released.
• Jul 23 2038:
Bennie Montgomery
was signed as a free agent.
• Jun 25 2038:
Xavier Benavides
was signed as a free agent.
• Jun 08 2038:
Ralph Nagel
was claimed off of waivers.
• May 14 2038:
Billy Rutledge
was claimed off of waivers.
League Record:
Wins: 88 Losses: 65 Pct: .575 Last10: 8-2 Streak: W4
Ave: 4.7 - 4.3 RS: 725 RA: 659 DIFF: +66
Cup:
Group 91
[0 | Eliminated]
Press Releases:
May 03 2034:
Hardy Boy
-
by Seca on November 2nd, 2017
A raccous crowd was on hand April 28 - not just to celebrate one of Rogelio Alvarado's better starts of the season - and a 7-4 win over long time rival Birmingham. But to appreciate the absolute best Dino there has been, the venerable Eric Hardy, as his cherished #58 was raised to the level of awesomeness. His likeness just the 2nd added to Waterloo's hall of fame.
Hardy was the mystery opposing batters struggled to solve, and the reason Waterloo ascended the ranks, ultimately making it to Legends. During his time with the team the Dinos climbed from V to I, winning a cup and 2 legends titles.
Hardy retires leading the team in wins (217), innings pitched (1k more than next closest), strike outs (700 more than next), shut outs, quality starts, ERA, MVPs ... basically any category not related to the bullpen.
The Dinos had a 5-1 record in playoff series with Hardy anchoring the squad. He could be counted on to to go 1-4-7 and put the screws to whoever the unfortunate opponent happened to be.
"Had a blast." said Hardy after the induction ceremony with his standard lopsided smile. "Not every byte gets a chance to do something they love and get paid for it. I was a lucky one."
Apr 07 2034:
Inductions Announced
-
by Seca on October 27th, 2017
It came as no surprise when the Waterloo Dinosaurs announced today that
Eric Hardy
and
Doug Greene
will become the 2nd and 3rd players inducted into the team Hall of Fame.
Hardy' induction ceremony will take place April 28th preceding a series windup against long time rival Birmingham. It will also be the 13th (and potentially final) Eric Hardy bobble head night.
Greene's induction will take place August 17th in the middle of a series against last season's championship opponent College Station. Fans in attendance will receive a snappy "Greene Cleane" t-shirt.
May 25 2032:
Got Game
-
by Seca on June 8th, 2017
Doug Greene
has got game.
1241 games actually. As the 35 year old toils in his 14th season with Waterloo, he has passed Colorado Spring's Juan Prado to became 1st all-time in games played by a BrokenBat pitcher.
The record breaking
game
saw Greene once again called from the pen to extinguish a fire. As he's done many times before, Greene left the 2 inherited runners standing where they were.
Greene's longevity is not just persistence. He continues to pitch at a high level. So far this season he's pitched to a 2.84 ERA, holding opponent batters to a .229 BA.
A certain hall of famer, Greene leads the Dinos in career holds (116) and saves (159), along with 100 wins. He also has the most games played by a pitcher in the Legends division.
When asked to reflect on his achievements a surly Greene replied "Come back in November. I've got work to do."
Mar 30 2032:
The Roar
-
by Seca on May 24th, 2017
Its hard to say which roar was louder. That which accompanied 36 year old
Eric Hardy
to the mound to begin his 15th campaign with the Dinos, or that which carried him off the field after
7 solid innings
of work.
The offense finally rallied in the bottom of the 7th, pushing just enough across the plate to give Hardy the win.
"I'll never get used to that." said Hardy of the cheers. "Not used to the trainer sticking to me like an industrial adhesive either. I'm 36. I'm not made of porcelain."
And while that may be true, there is enough inexperience behind Hardy that team fortunes this season may well ride on his health. Dino fans must hope Advil and hot tub will keep Hardy together.
Jul 23 2031:
The Meteor
-
by Seca on April 8th, 2017
That little speck on the horizon keeps getting bigger and bigger.
The looming threat is the departure of
Hardy
and
Dawson
, the duo that has anchored Waterloo's starting rotation for the past dozen seasons.
Both are in the twilight of their career. With Hardy struggling through an injury plagued first half, and Dawson just plain struggling, there is growing apprehension amoung Dino fans regarding the team's future.
When asked about the team's plans, an unnamed source in the Dino coaching staff replied "You do know what happens to dinosaurs when meteors strike, right? Just try to enjoy this season."