Waterloo Dinosaurs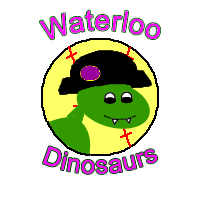 Team: Waterloo Dinosaurs
[ID #659]
Location: Waterloo, IA (Midwest)
Owner: Seca

[since May 05th 2014 | last seen October 20th 2017]
Rank: #4 - Rating: 377.07
Fan Mood: 107.88
Prestige: 70
Color: Purple
Team Notes:
• Feb 19 2034:
Ian Betto
was signed as a free agent.
• Jan 15 2034:
Fernando Camarillo
was claimed off of waivers.
• Jan 15 2034:
Ignacio Zarate
was selected to the national team of
Cuba
.
• Nov 04 2033:
Rogelio Alvarado
was named the Rookie Pitcher of the Year.
• Nov 04 2033:
Ramon Del Toro
was released.
• Sep 22 2033:
Jerry Harvey
was released.
• Aug 31 2033:
Jerry Harvey
was signed as a free agent.
• Aug 31 2033:
Ramon Del Toro
was signed as a free agent.
• Aug 19 2033:
Grant Newton
was released.
• Aug 19 2033:
Max McMahon
was released.
League Record:
Wins: 0 Losses: 0 Pct: .000 Last10: 0-0 Streak: -
Ave: 0.0 - 0.0 RS: 0 RA: 0 DIFF: 0
Cup:
Group 49
[0 | Still Alive]
Press Releases:
May 25 2032:
Got Game
-
by Seca on June 8th, 2017
Doug Greene
has got game.
1241 games actually. As the 35 year old toils in his 14th season with Waterloo, he has passed Colorado Spring's Juan Prado to became 1st all-time in games played by a BrokenBat pitcher.
The record breaking
game
saw Greene once again called from the pen to extinguish a fire. As he's done many times before, Greene left the 2 inherited runners standing where they were.
Greene's longevity is not just persistence. He continues to pitch at a high level. So far this season he's pitched to a 2.84 ERA, holding opponent batters to a .229 BA.
A certain hall of famer, Greene leads the Dinos in career holds (116) and saves (159), along with 100 wins. He also has the most games played by a pitcher in the Legends division.
When asked to reflect on his achievements a surly Greene replied "Come back in November. I've got work to do."
Mar 30 2032:
The Roar
-
by Seca on May 24th, 2017
Its hard to say which roar was louder. That which accompanied 36 year old
Eric Hardy
to the mound to begin his 15th campaign with the Dinos, or that which carried him off the field after
7 solid innings
of work.
The offense finally rallied in the bottom of the 7th, pushing just enough across the plate to give Hardy the win.
"I'll never get used to that." said Hardy of the cheers. "Not used to the trainer sticking to me like an industrial adhesive either. I'm 36. I'm not made of porcelain."
And while that may be true, there is enough inexperience behind Hardy that team fortunes this season may well ride on his health. Dino fans must hope Advil and hot tub will keep Hardy together.
Jul 23 2031:
The Meteor
-
by Seca on April 8th, 2017
That little speck on the horizon keeps getting bigger and bigger.
The looming threat is the departure of
Hardy
and
Dawson
, the duo that has anchored Waterloo's starting rotation for the past dozen seasons.
Both are in the twilight of their career. With Hardy struggling through an injury plagued first half, and Dawson just plain struggling, there is growing apprehension amoung Dino fans regarding the team's future.
When asked about the team's plans, an unnamed source in the Dino coaching staff replied "You do know what happens to dinosaurs when meteors strike, right? Just try to enjoy this season."
Jun 15 2031:
A Hardy's Night
-
by Seca on March 29th, 2017
He's been working like a dog for 13+ seasons, and on a cloudy June evening, he recorded career win
#200
.
Eric Hardy
leads the Dinos in all career pitching categories not related to the bullpen. Over his long career he has compiled a 2.74 ERA and 3 Cy Young awards - the most recent in Legends at age 33.
"I'm definitely feeling like a dinosaur these days." smirked Hardy. But at age 35 he continues to pitch well. His 200th win was a typical Hardy outing, holding rival Birmingham to 4 hits, 2 walks, and 2 earned over 7 innings.
When asked if he would be returning for a 15th season at age 36, Hardy stated "I haven't ruled it out. Will depend on how I feel. I don't want to be one of those guys who has to be asked to leave."
Apr 21 2031:
Go West Young Man
-
by Seca on March 14th, 2017
The Dinos have parted ways with field manager
Dan West
. West was the most successful manager in team history, compiling a 631-500 record (all in Legends), winning back to back championships and taking a cup title.
The parting occurred after an incident involving West's wife Carrie. Its not easy being a manager's wife. A typical fan finds ways to blame the manager for everything from infield hits to broken bats to bats in the infield. After a few pints in the stadium bar a "You suck West" finally pushed her over the edge. She jumped the fan and landed 3 right jabs before being restrained. While no charges were laid, the Wests decided it was time to move on. Dan, just 45, has begun his next challenge managing the Milton Athletics in V.8.
The Dinos have filled the vacancy from within, promoting AAA Foster Center manager
Jonathan Butler
(no relation to
Ray
) to replace West. It is hoped Butler's prior relationship with Foster Center alumni like
Marino
and
Rangel
will help with player development.