Florissant Falcons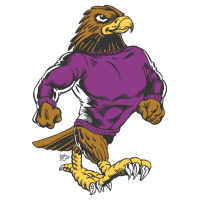 Team: Florissant Falcons
[ID #656]
Location: Florissant, MO (Central)
Owner: JohnnyBoi62

[since June 21st 2019 | last seen November 19th 2019]
Rank: #487 - Rating: 71.80
Fan Mood: 103.75
Prestige: 6
Color: Purple & White
Team Notes:
• Mar 30 2043:
Harvey Knox
was claimed off of waivers.
• Mar 20 2043:
Cristian Galindo
was claimed off of waivers.
• Mar 18 2043:
Robert Atkinson
was claimed off of waivers.
• Mar 06 2043:
Don Lundy
was claimed off of waivers.
• Feb 05 2043:
Bernie McClain
was claimed off of waivers.
• Jan 26 2043:
Claudio Castro
was signed as a free agent.
• Jan 15 2043:
Sergio Rubio
was claimed off of waivers.
• Jan 15 2043:
Jessie Pedersen
was claimed off of waivers.
• Jan 15 2043:
Paul Chappell
was claimed off of waivers.
• Jan 15 2043:
Ed Parris
was released.
League Record:
Wins: 9 Losses: 9 Pct: .500 Last10: 5-5 Streak: W2
Ave: 5.6 - 4.8 RS: 101 RA: 87 DIFF: +14
Cup:
Group 17
[0 | Still Alive]
Press Releases:
Aug 19 2042:
Pivotal Upcoming Week Will Determine Falcons Flight Plan for 2042
-
by JohnnyBoi62 on October 4th, 2019
Even though this year has been a success in many aspects, with 50 games left and still 10 back from seemingly unbeatable Charleston, Florissant is at a crossroads.
Luckily, its next 9 games are against the remaining contenders for the VI.24 East division title. The club should have an answer after that stretch as to whether they need to fight the good fight and keep pressure on Charleston, or shed even more salary and set its sights on 2043.
Sheriff Dan had this to say about his ball club: "Looks like we've already streamlined the team a good deal in 2042, but I guess I could shave some more payroll if I had to. We need some space anyways to give enough at bats to all of these borderline guys the GM keeps shoveling into the clubhouse. Did they buy a team bus yet to shuttle all these rando's around?!? I have to keep one of those annoying little back pocket cards all the pitchers seem to be using these days just so I can keep the names straight when it's time to bark out orders!"
Jul 09 2042:
Humberto Florez Can't Catch a Break, back on the Manager Chopping Block
-
by JohnnyBoi62 on September 23rd, 2019
"What do I gotta do to catch a break?" was Humberto Florez's official comment in regards to the decision handed down to bring in high dollar Dallas native Dan Osbourne as the new Falcons skipper just shy of the all-star break.
Objectively, Florez has a point. He came in mid season to right the ship on Florissant's epic nose dive, finishing the season 15-15. He then got the organization out of Cup Group Play for the first time since 2021, then led them to a 41-34 league record and a respectable +67 run differential.
Team ownership was very candid: "This was a tough decision, as Humberto has really done a great job with the club. Ultimately we needed to get a skipper in who had the potential to stick around and build a core group, which can take years. Even though I know I'll be sued for this, age was getting to be a concern. Plus, Sherriff Dan looks like he'll be able to develop some in house talent for us in the minors, which in this day and age is a must."
El Maestro said he plans on spending a year or two living simply in his hometown of Zapopan, Mexico, unless the right manager spot was opened for him. "You know? I have managed my way to multiple LL6 Division titles, and had another in the bag until I got canned by Oxford with the race all locked up last year. I always wanted a shot at the higher leagues, and just never got my chance."
Falcons ownership added: "To all teams out there, consider this disgruntled old Zapopanian for your club, especially if you're fighting demotion and need a Maestro to swoop in and get some big league results. Plus, we're hoping he lands on his feet and the age discrimination lawsuit can be amicably settled out of court. We really can't afford to shell out much more money, Sherriff Dan isn't cheap you know."
Feb 19 2042:
Flurry of Off Season Acquisitions for Falcons
-
by JohnnyBoi62 on August 16th, 2019
It was a noisy off season for Florissant, much like when the club was acquired by new management JB midway through the 2041 season. Hall of fame falcons manager Cesar Becerra (now GM) had this to say via webcast from a remote location:
"The top priority was to acquire some no doubt batting talent to bolster our lineup vs RHP. This both grew the payroll and average age at the highest level. We then trimmed some of our middling minor leaguers and went for what we deemed were players ready to quickly make the jump from AAA to the majors. If and when they do they should be able to replace high dollar talent that doesn't live up to hype. We are also happy with some of the moves we made at relief pitching, and think that can be a strength of our this season."
When specifically asked about his time as club manager when the team was located in Scranton, if he was in fact "The Scranton Strangler", Becerra had no comment.
Notable additions were Quincy Hale, a young pitching phenom with 61 waiver claims, and Frank "The Tank" McNulty. McNulty insisted on listing his weight at "218" instead of using the teams official scale. He was the first player in team history to negotiate an "opt-out" clause in his contract concerning team conditioning. Lastly, he made headlines by bringing an entire fried-turkey for lunch on his first day with the club. Hopefully "The Tank" can turn all that protein intake into some homers this season!
Sep 18 2041:
Giddy Florissant Ownership Happy to Give Florez Another Shot at VI.24 League Title in 2042
-
by JohnnyBoi62 on July 27th, 2019
As the old saying goes: "If you can't beat 'em, hire 'em"
That's just what Florissant did by hiring Humberto Florez, former manager of their league rivals the Oxford Phoenix. If you're keeping up with the drama in the VI.24 league, you'll know that the Phoenix absolutely crushed it this year, and it's looking like their stay at LL6 will be a short one. Still, the decision to part ways under such terms is a somewhat contested one. A huffing Florez stormed into the Florissant clubhouse looking for answers after having just been let go on the eve of yet another LL6 championship for the aging skipper.
Apparently it only took a 90 second conversation between Florez and Falcons Ownership to decide now was the time to make the unpopular decision to replace Monte Harding after a frustrating career with the franchise that sadly never produced a winning season.
"You never like to admit it, but Mr. Harding simply lost control of this team after the all star break" remarked Falcons owner Johnnyboi. "We did nothing but support Mr. Harding all year. We operated at a loss, we restructured the franchise to play to his strengths, we brought in even more talent when his gaps at generating offense became more evident. And what did we get out of all of that? No noticeable change in direction. Frankly, this was the only next step that we had in mind. To be fair we didn't foresee that a proven winner would come storming in demanding a job with over a month left in the season, but that was a pleasant little surprise to end an otherwise disappointing year."
Florez will hit the ground running as he squares up against his old team in his first assignment at the Florissant helm. "I just want to get back to work and get back to LL5 as soon as possible" remarked Florez. "I don't know how many more years I have left in this game, so I'm just going to take it one day at a time and leave my mark on the Falcons franchise as best I know how."
Aug 28 2041:
Harding in the Hot Seat as Falcons Nose Dive Drags On
-
by JohnnyBoi62 on July 21st, 2019
It hasn't been pretty for the Florissant Falcons since the all star break. They managed to win the first two series and then went on an epically bad 4-24 run that takes us to today.
Primarily to blame is a complete lack of offense. While this was a known weakness of aging manager Monte Harding, fans and ownership are realizing just how bad this guy can be at getting his players out of slumps quickly.
As Harding has been less and less available for post game interviews, the general manager has this to say: "The approach as this losing swoon has intensified has been to maintain a winning season and keep looking for better players via free agency, but at some point decisions have to be made as to whether Mr. Harding is the right manager to rebuild this franchise."